Our Cute and Colorful Circus Nursery
| Updated:
It took me a long time to decide on a theme for our second little boy's nursery in our new house. It had been difficult saying goodbye to the Beatrix Potter room we had all loved in our first home, and I wanted something equally cute and imaginative for the new baby. When I found a great deal on some circus-themed crib bedding, my imagination finally kicked into gear.
A circus theme wasn't my favorite idea from the outset–I don't like clowns, and so much about circuses screams tacky. But a quick Google image search showed me a world of possibilities, and I was soon excited about the idea. I set about gathering ideas on Pinterest, as I do with all of my room projects now. I collected and refined decor choices digitally while my husband and dad set about the monumental task of preparing the room to be decorated.
Challenges abounded. The room had a single electrical outlet, placed in the middle of a wall several feet off the floor. Wall-mounted lights on two walls impeded furniture placement, and they just looked ugly. And to top it all off, the fixtures were on knob-and-tube wiring. Before I could have fun decorating, rewiring and patching had to take place.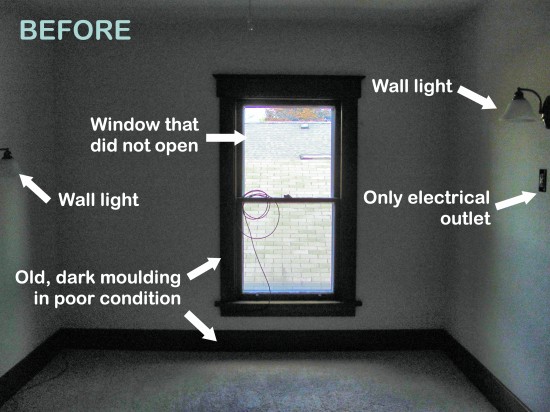 The project came down to the wire, and I was very worried that we wouldn't finish in time for our baby's arrival. Thankfully, we completed the room just in time, and I couldn't have been happier with the end result–everything came together as I imagined it would.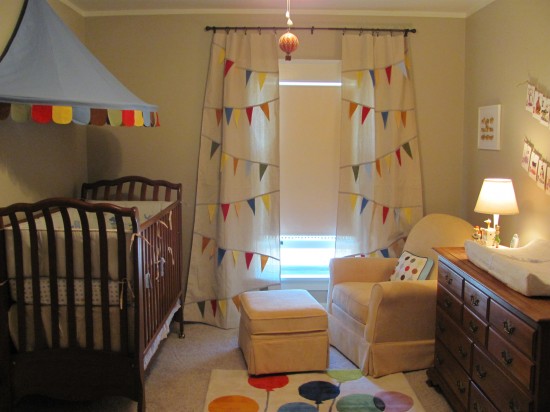 We painted the woodwork white, a decision that I struggled greatly with, but that I don't regret now that it's done–it makes the room look clean and new. The walls are a "greige" color that matches the existing carpet and provides the perfect backdrop for a variety of colorful accessories. The end result is a fun room with plenty to look at, but it's not so bold that it's overstimulating for the baby.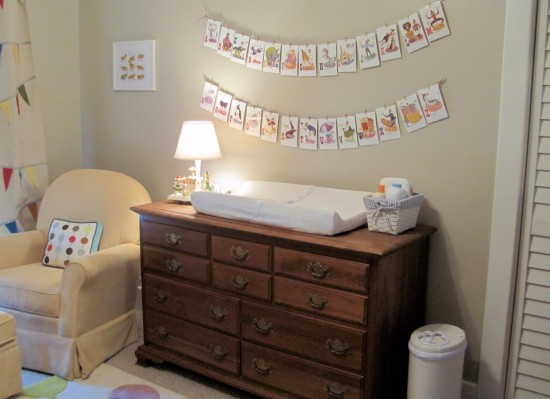 I re-used the furniture from our oldest son's nursery. A wide dresser provides plenty of storage for clothing and diapers, and also has enough space on top for a changing pad. I steam cleaned our creamy yellow upholstered glider, which after 5 years is still in beautiful shape, and it blends nicely into its new surroundings.
I enjoyed hunting down decor that matched the crib bedding and was fun, but not tacky. I bought a vintage circus alphabet picture book full of whimsical illustrations, which I scanned and printed on photo paper. I painted tiny clothespins gold, and hung the alphabet prints from lengths of twine above the dresser.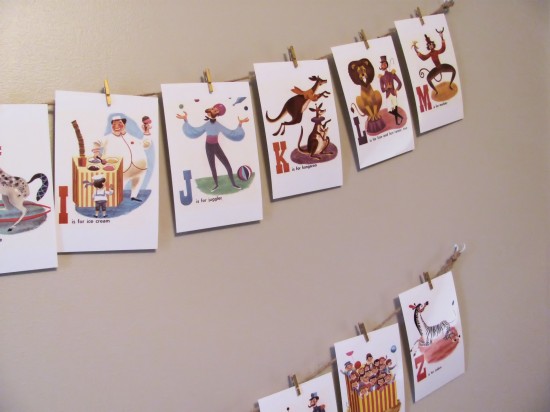 Another great vintage find was this adorable IRMI switch plate cover, which I purchased in its original box from eBay.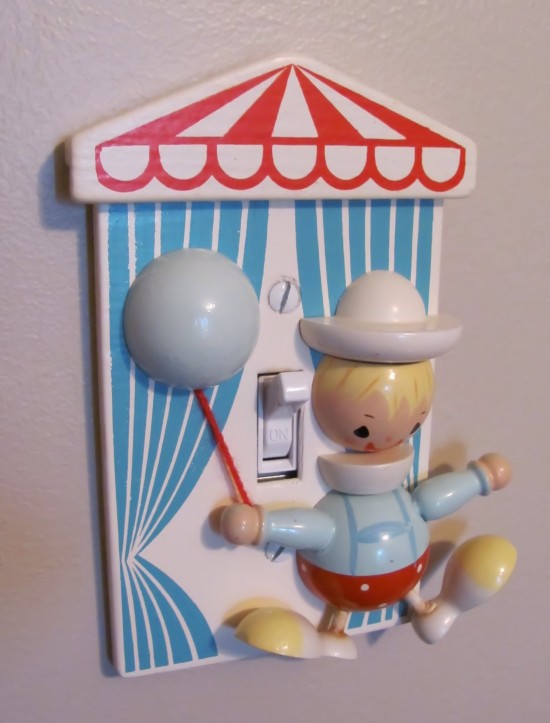 I learned that IRMI was known for their wooden nursery lamps, which are highly collectible. I was lucky to snag a bargain from Goodwill on this sweet lamp. The little dog turns to wind up a music box that plays a lullabye. Note: if you ever buy one of these lamps I highly recommend removing the lightbulb inside the wagon and rewiring the lamp (a relatively easy project). The original setup, with a nightlight inside the circus wagon, was a fire hazard.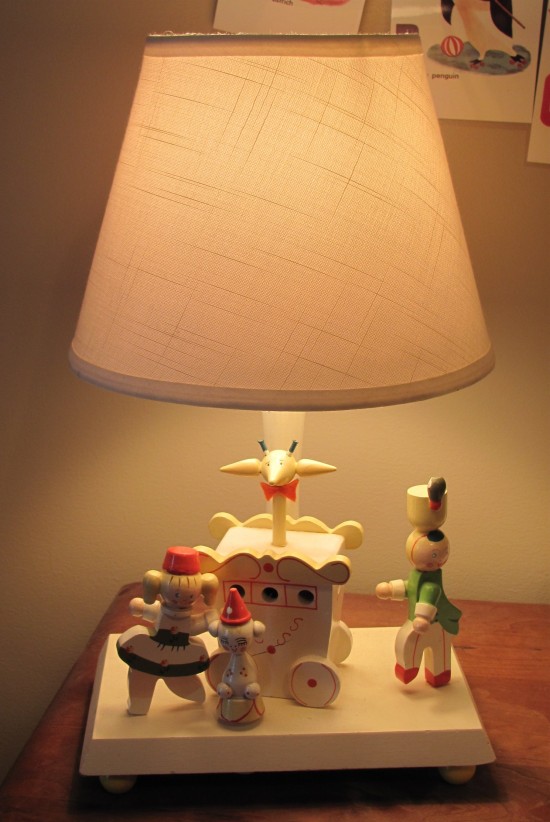 Re-purposing items we already owned helped to stretch our decorating budget further. We painted an old bookshelf a fun red and use it to hold the CD player, toys and books. The sunburst mirror was in our master bedroom before we moved.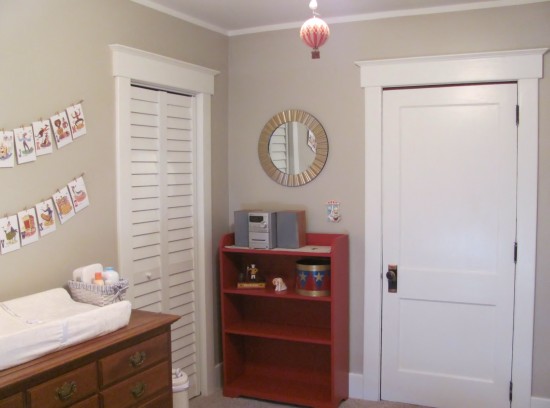 The closet is large, but with only one door off to the side, it's not easy to access all of the space. To improve the functionality, I had my husband mount bars the short way on either side of the door. It creates the feeling of a walk-in closet, and allows me to see everything at a glance instead of having to reach into the deep, dark recesses. We installed hooks on the back wall to hold the baby's towels. A closet organizer on the right provides easy storage for blankets and washcloths.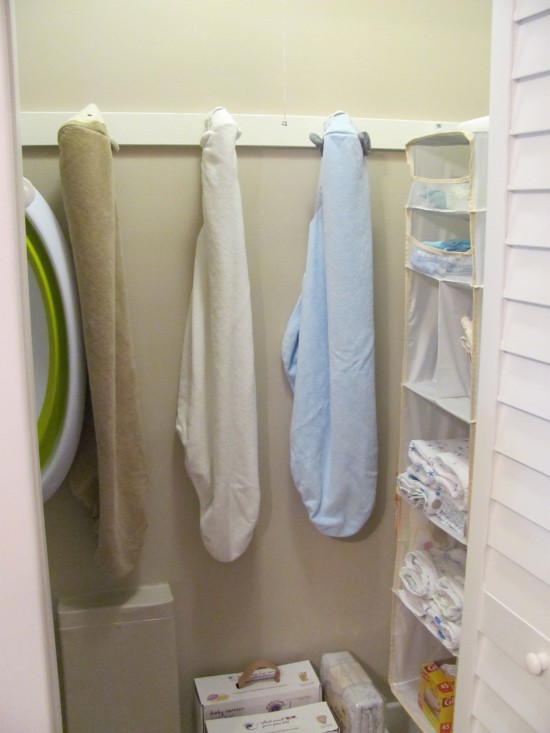 The large stuffed giraffe was a must-have item for the nursery before I had any idea what kind of theme I would do. Every idea I considered had to work with that giraffe. Isn't he fun? I found a cute and inexpensive wall canopy from Ikea that had all the right colors and works perfectly over the crib (very securely fastened and out of baby's reach).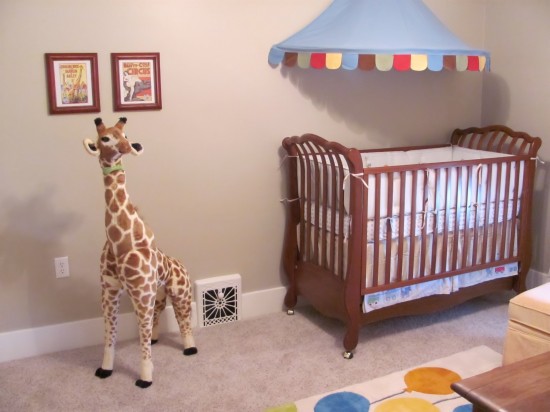 Although I made crib bedding for my oldest son, I wanted to avoid the extra work this time. I invested in this cute, organic bedding from Pottery Barn Kids, which I bought on sale with a coupon.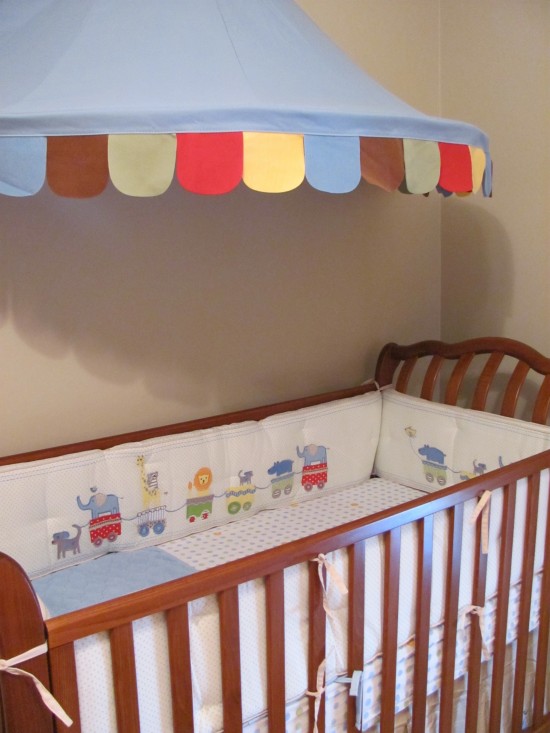 I found vintage circus posters online to print and frame.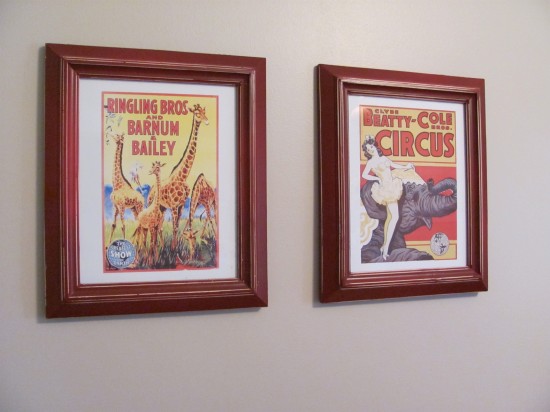 And I created this cute Pinterest-inspired mounted menagerie by painting some plastic animals gold.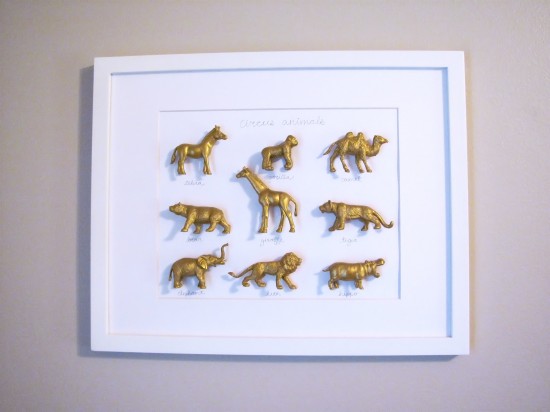 My mom and I hand made the drapes. I had found some curtains from Ikea that I loved, but without a store nearby I couldn't buy them directly, and the price on eBay was outrageous. So, we made our own version from a canvas drop cloth and pieces of felt sewn to bias tape. I think they're my favorite part of the room.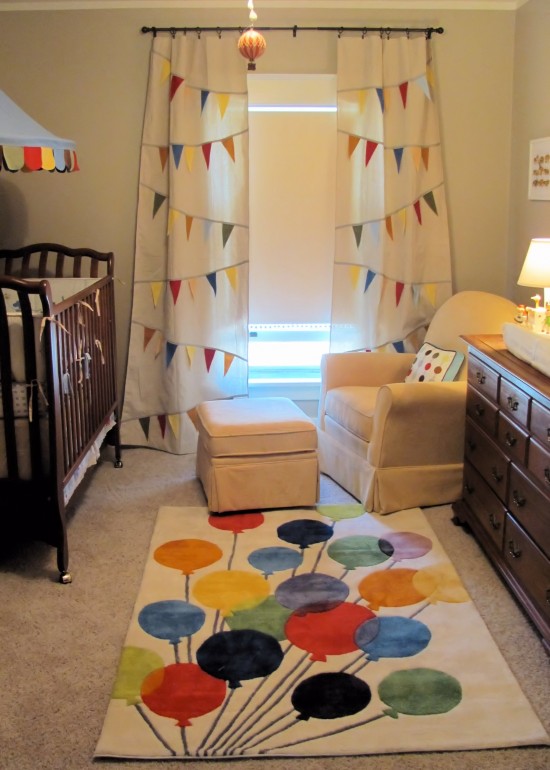 The colorful balloon rug was my splurge item. I wanted an area rug to bring in some more color, and I loved the whimsical design. In hindsight, the cream colored background was a bad, bad idea for a high-traffic nursery, but I love it anyway.
I was so pleased with the nursery, but the greatest reward is seeing how much my baby boy loves it. We've spent many hours in that yellow glider, and he loves to smile, wide-eyed at the colorful pennants on his curtains. When we change his diaper, he grins at the alphabet pictures on the wall. His big brother, who was jealous of the room at first, loves to hop from one colorful balloon to the next. It's not easy designing a room for someone you haven't met, but we seem to have gotten it right.
Sources
Crib bedding set – Pottery Barn Kids
Wall Canopy – Ikea Mysig, purchased on eBay
Dot Accent Pillow – Skip Hop, purchased from Amazon Warehouse Deals
Hot Air Balloon Model – Amazon Warehouse Deals
Balloon Area Rug – Momeni Kids, purchased from Kohls.com
Curtains – handmade, inspired by Ikea Vitaminer Vimpel panels (no longer available)
Switch Plate – Vintage IRMI, purchased on eBay
Accent Lamp – Vintage IRMI, purchased from Goodwill
Framed Animal Collection – DIY project, inspired by this on Pinterest
Framed Circus Posters – Images found online, frames from Hobby Lobby
Plush Giraffe – Melissa & Doug, available at Amazon.com
Alphabet Prints – Scanned images from Whitman Tell-a-Tale Circus Alphabet book
Diaper Pail – Ubi in ivory
DISCLOSURE: This website is monetized with affiliate links. I earn a small percentage of the sales price when visitors make purchases through affiliate links. Thank you for your support!
Share this post