Being an architectural designer by trade, my baby's nursery was one of the most important (and fun) projects that I undertook during my pregnancy. The overall theme came to me fairly easily. I wanted a gender-neutral scheme that would be classic, timeless and fun. I have always been fascinated by Beatrix Potter's delicate watercolor illustrations. Her soft color palettes and whimsical illustations are perfect for a child's room. The theme would also serve as a subtle tribute to my baby's heritage–my husband immigrated from England, having lived not far from Beatrix Potter's beloved Lake District in the north.
The Design Process
As with most of my creative projects, the idea evolved dramatically over time. I really wanted the nature aspect of Potter's illustrations to be the main focus, so much so that I considered painting trees on all of the walls. Deciding that such an undertaking would be far too much work in my pregnant state, I set out to find tree wallpaper.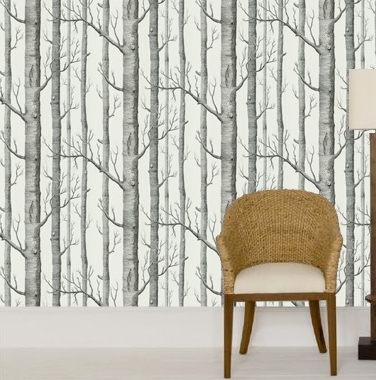 I determined that designer tree wallpaper was well outside my price range, and it was more contemporary than I wanted anyway. I was looking for a softer color scheme and did not want the wallpaper to overpower the already small room. I decided to look into other wallpaper ideas, including toiles and stripes. I particularly liked a toile print called "Day at the Farm" in a light sage green, but eventually decided that the print would conflict with the Beatrix Potter illustations I hoped to feature in the room.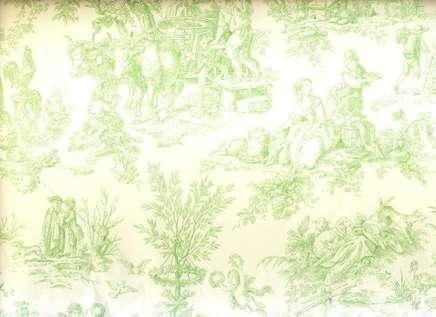 I concluded that stripes were the way to go.
On one of my many "idea trips" to Lowes, I found an excellent book called "Great Kids Rooms Collection". The cover grabbed my attention because it showed a room with broad striped wallpaper in yellow, complemented by red. I had always loved the red accents in Potter's illustrations, such as Peter Rabbit's kerchief. An idea was born.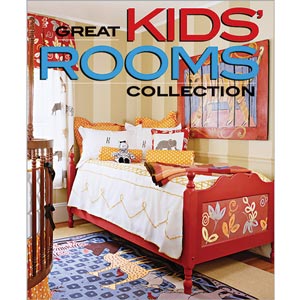 The nursery walls would be papered in antique yellow stripes. About 3/4 of the way up the wall there would be chair rail molding to accentuate the ceiling angles and add interest. The upper portion of the wall would be painted the lighter yellow hue, and above that would be pasted Beatrix Potter "Wallies" (small pictures coated on the back with wallpaper paste). The curtains would be fashioned out of red fabric to look like that kerchief.  I also decided to have the room carpeted in a soft gold looped carpet.  The hardwood floors were in disrepair and I didn't want to deal with refinishing them during my pregnancy.  The carpet would also make the room safer and cozier.
Molding would be added to the plain doors in order to give them a paneled look.
The Mural
I had hoped to include a Beatrix Potter mural in the room, but the products I found were much too expensive.  But, as I was looking for Beatrix Potter accessories on eBay one day, I came across a do-it-yourself mural kit featuring one of her illustations.  Since I love to paint, it was the perfect solution.  The kit included a large line drawing (about 3 feet wide by 4 feet high) printed on paper, and some small pieces of carbon paper.  By placing the carbon paper underneath the drawing, the lines could be traced and transferred onto the work surface.  I chose to paint my mural on a piece of plywood so that I could work easily at a table and also to allow for the mural to be moved when we sell our house someday.  I painted with acrylics, thinning them with water to achieve the same watercolor look of Potter's illustrations.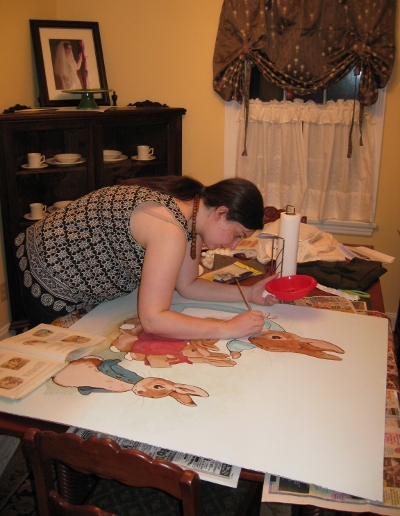 I decided to add some text from The Tale of Peter Rabbit to complete the picture.  Once finished, the mural was screwed to the wall and framed with trim.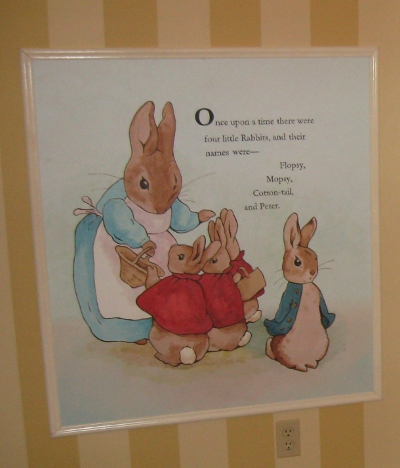 The Furniture
We started out with a single piece of furniture for the baby's room: an antique cherry dresser that we had purchased from a relative years before.  Although it is a bulky piece of furniture, the small drawers gave it a scale perfect for a child's room.  The top allowed enough space for a changing pad and various changing neccessities.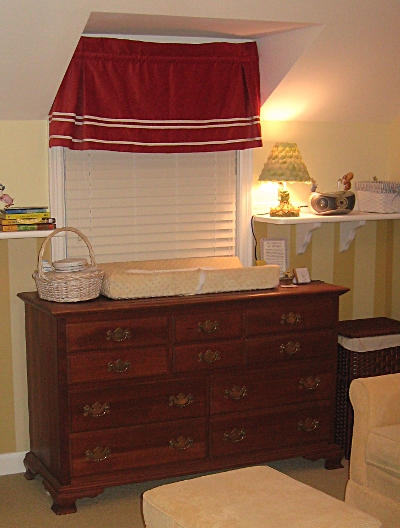 I knew I wanted a high quality sleigh crib, but had a difficult time making a final decision.  I went to a store to purchase one crib, when a completely different model caught my eye and I fell in love.  It was the "Laurie" model by Pali, and it was discontinued.  Fortunately, the store just happened to have one left in the "Cognac" color that would match our old dresser perfectly.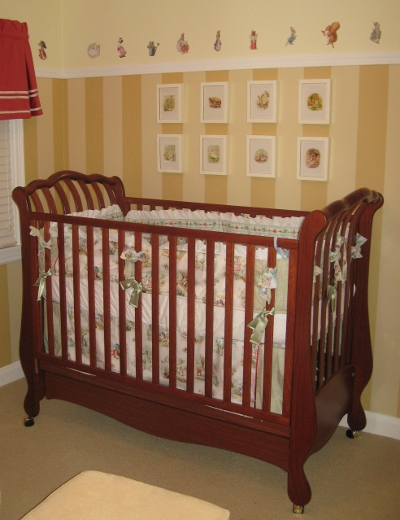 When it came to crib bedding, I was more or less out of luck.  I had missed the Beatrix Potter craze by a couple years, and there were no ready-made bedding sets that would match my theme.  I decided to purchase a plain white crib bumber and then sew a cover using wonderful Beatrix Potter fabric I had found online.  I also made a matching crib skirt.  I purchased plain sheets in colors that matched, and my best friend made a beautiful patchwork quilt that also matched wonderfully.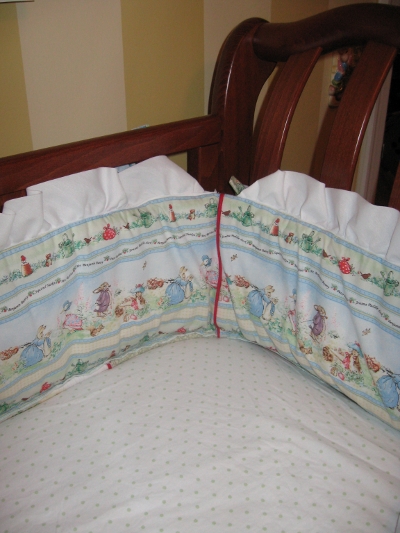 A comfortable glider was a must-have for me, but the traditional wood gliders have never been my taste.  I found a wonderful armchair style glider with a matching ottoman at the same store where I purchased the crib.  Manufactured by Best Chairs, it is extremely comfortable and sturdy.  We were able to choose from a variety of fabrics, and found a plush yellow pattern that matched well.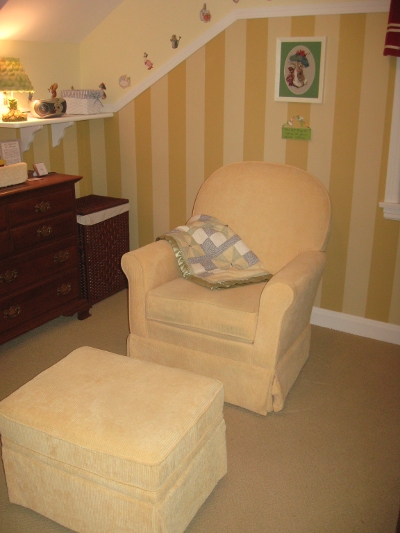 Accessories
I discovered two adorable (and highly collectible) Beatrix Potter lamps while searching on eBay, but the going price is usually $70 and up.  I searched obsessively for weeks, and finally netted the "Flopsy Bunnies" lamp for a mere $24!  The lamp shade was old, plain, and crumpled, so I purchased a new lampshade.  I customized the look with green silk rose petals purchased at a craft store, making the lampshade look as though it was made from the highly soporific lettuce that sent all those bunnies to sleep.  It is an adorable lamp, and I was so fortunate to find one that I could afford.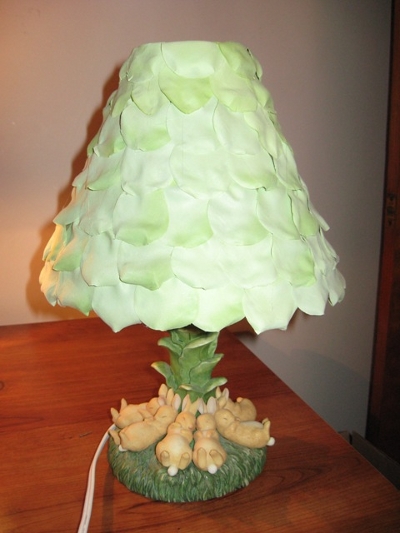 I was picking up a prescription at a drugstore just after Easter when I spotted a cute bunny arm chair on clearance.  I bought it for $20.  I then purchased some green fleece and some red yarn to fashion a tam-o-shanter like the one sported by Benjamin Bunny.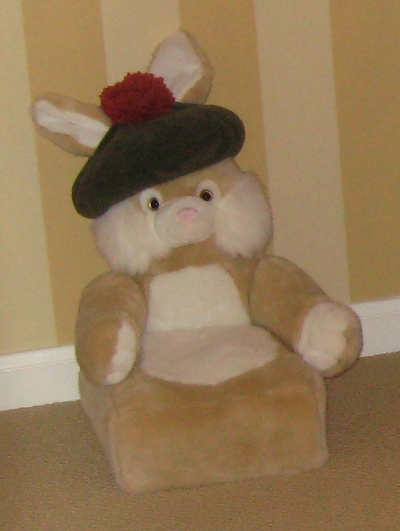 I purchased eight framed Beatrix Potter prints (actually vintage postcards) from a seller on eBay.  The frames were originally natural finish birch, but I painted them to match the trim in the room.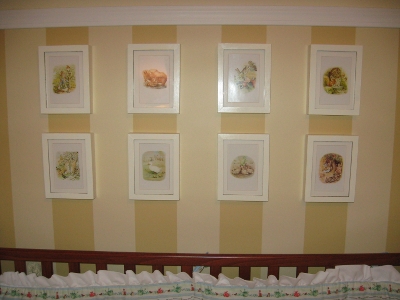 I also found a cute ceramic switch plate on eBay.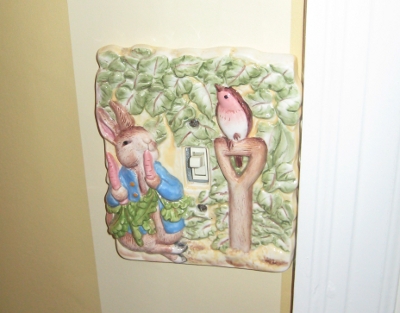 At first I was discouraged by the lack of Beatrix Potter themed nursery items in stores, but in the end I had fun searching for treasures on eBay.  I think it's nice that my son's room is made up of pieces previously selected by other mommies and enjoyed by other children.
The End Result
My baby's room is one of my favorite places in the house.  The calm yellow color scheme is relaxing and peaceful.  The room is always light, airy and cheerful, but not overstimulating.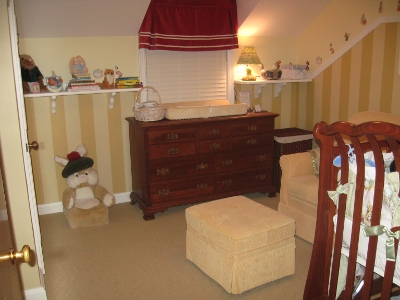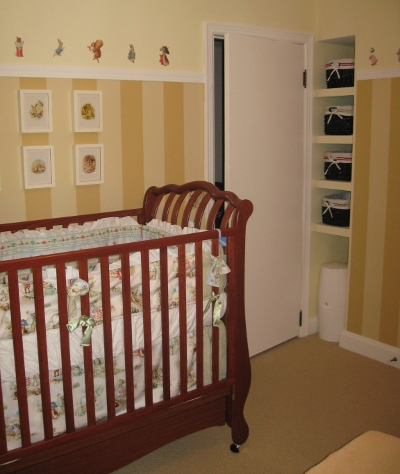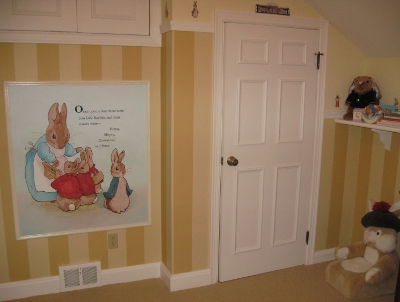 Resources
Great Kids' Rooms Collection (Better Homes & Gardens Decorating) – The cover image caught my eye, but there were so many great ideas inside the book as well!
Beatrix Potter Fabrics from Favorite Fabrics – The quality of this cotton fabric is super! It is heavier weight than most cottons, and fairly soft. I used the Border Stripe and Garden Tales Scenic for my bedding project.
Beatrix Potter Mural Kit from eBay seller wishuponamural
Glider from Best Chairs (purchased through a family-owned children's store that is no longer in business)
Wallies Beatrix Potter Character Wallies Wallpaper Cutouts – Wet and apply to the wall like wallpaper, or use for a variety of craft projects.