Getting Organized: #GetButtonedUp Challenge Week 2
| Updated:
I received a great response to last week's post about the Buttoned Up Challenge I am participating in. I really appreciate your support and the realization that many of us struggle with the same problem areas in our homes–thanks everybody! This past week has been all about the kitchen, and I was so pleased to find solutions for some of my frustrating organizational issues in there. There are many aspects of my kitchen that I can hardly stand, especially the cheap oak cabinets with sagging particle-board shelves. I can't afford to remodel my kitchen, so I thought I was stuck with the less than ideal circumstances until we eventually move into another house. The tasks this week helped me realize that there was still a little bit more I could do to make my existing kitchen work much better for me.
Day 8: Set up a donation box in the kitchen
I love being able to find items that I am clearly not using and then put them in a box or bag to donate to charity. It feels so good knowing I'm making my house just a bit emptier and that somebody else may be able to use the items I don't need anymore. After two weeks of decluttering and cleaning, my donation box is overflowing–I'm going to need a bigger one! I've found unused Christmas decor, vintage casserole dishes that are cute but not useful to me, and more. I hope having the box in the kitchen rather than the garage or basement will make it more convenient to use, and also remind me to finally take the items to the thrift shop rather than letting them linger in a dark corner somewhere.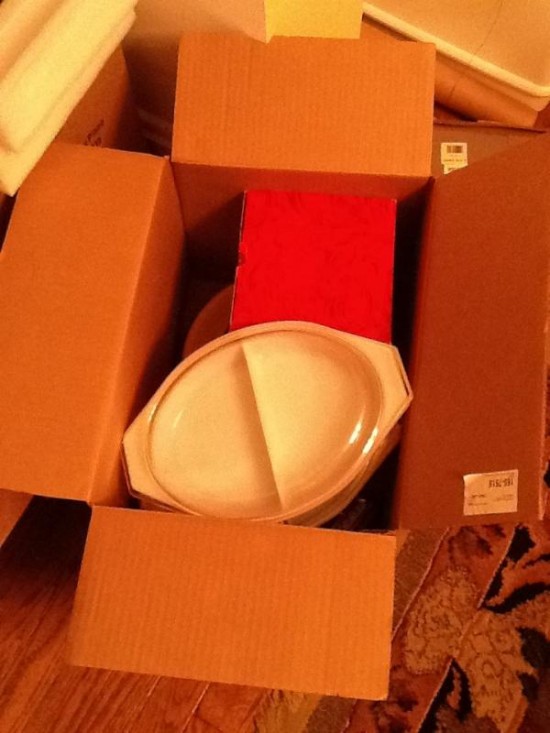 Day 9: Organize baking sheets
This was the task I was most eager to complete. My baking sheets, casserole dishes and mixing bowls were previously stacked in precarious piles in a large cabinet with a single, sagging shelf. It seemed that what I wanted to use was always at the bottom of a pile, and there was a cacophony every time I tried to remove something from the cupboard. I hated it, but I couldn't imagine a better way. Buttoned Up suggested a neat solution that I had never thought of before: using tension rods to create separators for organizing baking pans. Unfortunately  the idea couldn't work in my cheaply made cabinets, but I found some alternatives. First, a metal baking sheet organizer that I found at Lowe's for about $12, which I decided to place in a previously cluttered corner on my counter to free up space in the cabinet. It works out very well!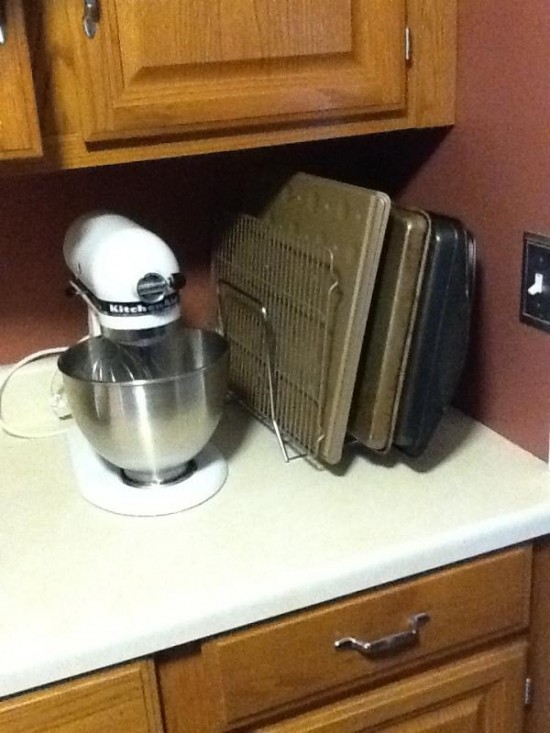 Second, I had a brainwave and realized that I could pull out the sagging shelf from my cupboard and replace it with my own shelving. I chose a 24 inch wide by 14 inch deep by 30 inch tall wire shelf that cost about $18 at Lowes. With three levels, it would allow me more surface area to neatly stack items inside the cupboard, so there would be no more teetering piles. Thankfully the shelf supports came in separate pieces, so I did not require a saw to trim down the 30 inch height and make the shelf fit within my cabinet. The shelf accommodated all of the dishes (after editing out non-essential items) and still allowed some room for the slow cooker and blender that had previously taken up precious space on the counter. I was so excited to complete this, and only wish I had thought of it sooner.
This is my cabinet before. It was bad: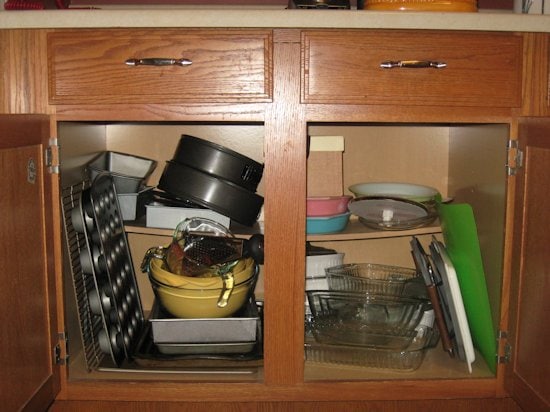 And after: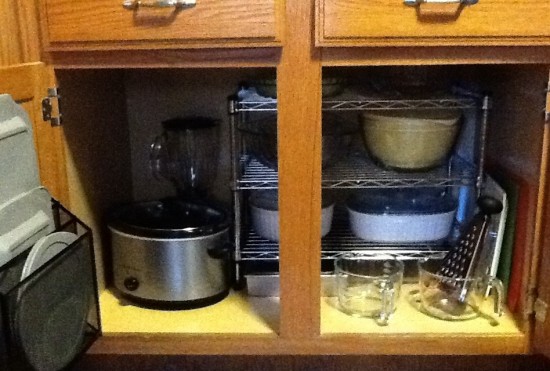 Did you notice the lid storage on the cabinet door? I bought a metal mesh magazine holder from the office section at Walmart and had my husband screw it to the door. Perfect!
Day 10: Discard unused utensils
My silverware drawer was in pretty good shape, but my three drawers that I use for cooking and baking utensils contained all manner of unused odd-and-ends. The highlights included a broken garlic press (I always smash garlic with a knife anyway), a canning kit that was used once in 2005, a turkey baster used for one sawdust-like turkey, and a cake decorating kit with missing pieces and icing bags that didn't look like I would want to use them again. I have a lot more space in the drawers now, which of course makes it easier to find the things I really need.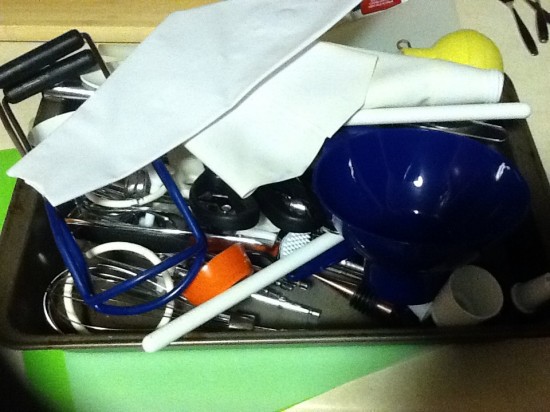 Day 11: Declutter drinking glasses
I had actually tackled this job long before I knew I would be doing this challenge, and it made a big difference. Thankfully it has been easy to keep organized. I discarded some old sippy cups that my son no longer uses, and neatened up the shelves.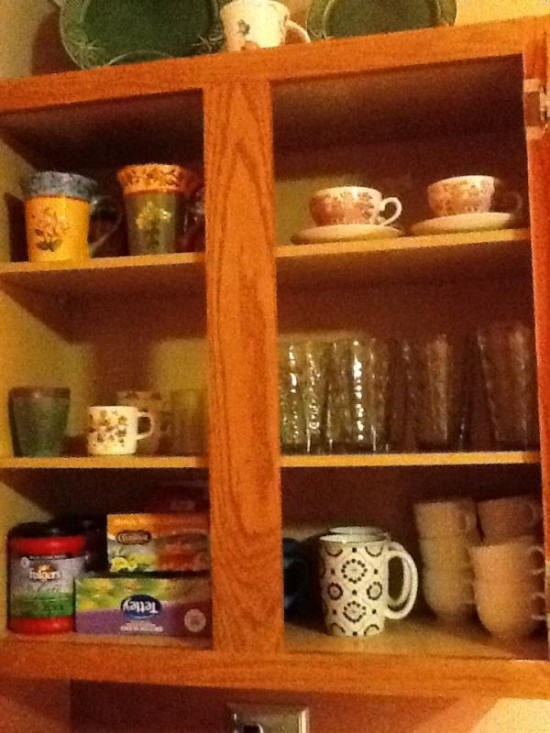 Day 12: Donate unused small appliances
I have never been a big fan of countertop appliances. For one thing, I know I have a small kitchen and the counter space is precious. I also enjoy doing a lot of cooking tasks by hand. Still, I did remember a couple items that I hadn't touched in years: a hand mixer that hadn't seen the light of day since it was replaced by a KitchenAid stand mixer courtesy of my sister in 2007, and a mini chopper that was a pain to dig out from the cupboard and then clean after the fact–chopping by hand isn't that much trouble.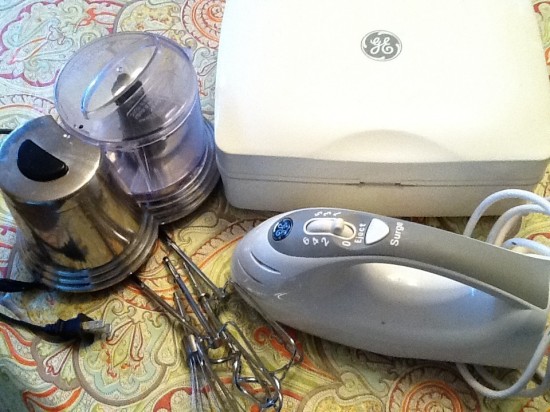 Day 13: Organize spice cabinet
It had been a while since I had given my spice cabinet a good cleaning and discarded old spices and condiments. I found stacks of recipe printouts that hadn't made it to the new shelf in the dining room. I found mostly empty and very old bottles of vinegar and Worcestershire sauce. I didn't find any ancient herbs that needed tossing, but I arranged them in a better order to make them easier to find quickly when I'm in the middle of cooking. The funniest find was a half-used bottle of brandy, which my husband had used one year when he made a traditional English Christmas cake. I'm certain he'll tease me for a while when he finds the now empty bottle among the recyclables (but I assure you the brandy went down the sink). Now what will I do with all this extra space?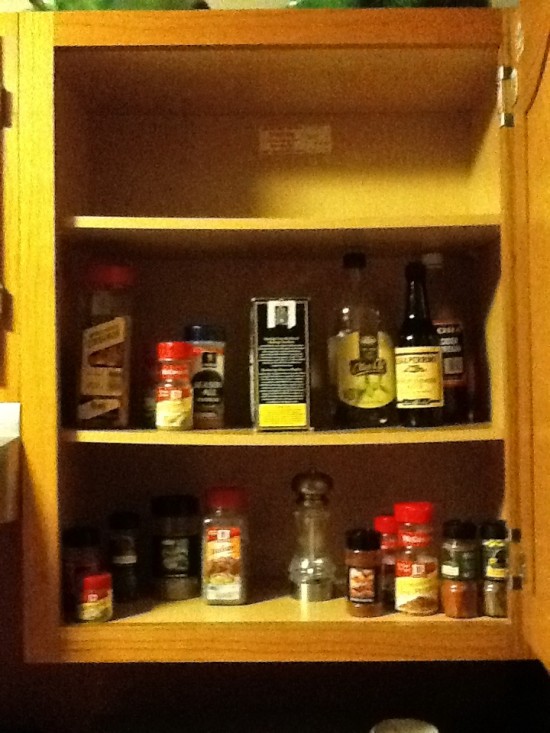 Day 14: Donate unused flower vases
Scads of flower vases left over from beautiful floral arrangements are a problem I almost wish I had! I did find a couple stragglers in the cabinet beneath the kitchen sink. I also got rid of some scented candles that I can no longer use since we have pet birds.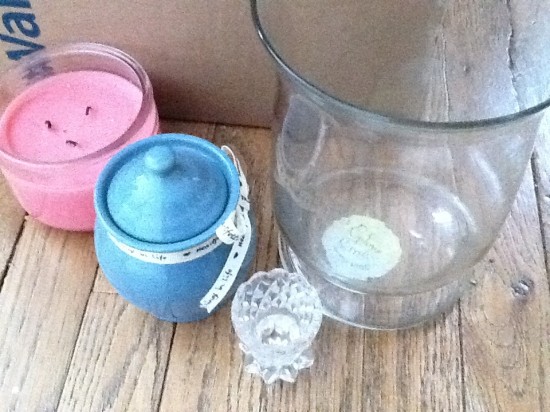 My progress in the kitchen was very satisfying. The new shelf in the cabinet is working particularly well and there are no more deafening crashes when I am just trying to cook or bake. I think in the future I will expand upon the ways I have made my less than ideal little kitchen work better for me. I'm happy to report that the work I did during week one is still doing the trick–my desk isn't perfect, but the clutter is under control, and I have been cleaning it up before it gets too out of hand. Next week the Challenge spends two more days in the kitchen and then it's upstairs to take care of my clothes. Oh dear.
If you'd like to review the whole challenge, use the links below to my other posts:
DISCLOSURE: This website is monetized with affiliate links. I earn a small percentage of the sales price when visitors make purchases through affiliate links. Thank you for your support!
Share this post