Getting Organized: #GetButtonedUp Challenge Week 1
| Updated:
I've talked before about my struggles with housekeeping, which have inspired many a New Year's resolution. My house certainly gets as messy as ever, but my past organizational efforts have proven fruitful–when I do clean, it goes much more quickly and easily because I have places for things to go and I don't have an awful lot that doesn't really belong anywhere. This year I want to improve on what I have already accomplished by implementing even more great organizational solutions and, more importantly, getting in the habit of using them.
I was excited when I learned about an organizing challenge created by the wonderful ladies at Buttoned Up. They put together a calendar for January 2012 that assigns a specific task for each day. Participants committed to the challenge by opting in on the Buttoned Up Facebook page, which is where we also report on our progress daily. Most tasks require photographic evidence, which I have been posting on Twitter. There are prizes awarded weekly, but I think I speak for most participants when I say that the prizes aren't the motivating factor. Instead, it's the accountability and the camaraderie that is so helpful when working on issues that we struggle with.
Why participating in a "challenge" works for me
1. Motivation. Something about seeing these small tasks in writing laid out before me on a calendar makes them seem like something I can accomplish. At the end of October I suffered an awful arm injury that I am still recovering from. I was entirely out of commission for a few days, and it has been difficult getting back into the normal swing of things. Between my fear of the pain and mild depression due to finding myself suddenly unable to accomplish what I had been used to, nothing was getting done. These daily tasks have helped me jump back in to housework.
2. Pacing. Having a different goal for each day seemed like an overwhelming scenario at first, but I'm finding that it helps keep me on track in more ways than I expected. Rather than going out shopping for a lot of fancy organizational supplies (or, worse, giving up on my project when I can't find what I need), I am learning to make do with what I already have as much as possible. I'm saving money and also de-cluttering my house by repurposing items that might not have had a function before. I have purchased a few new organizational items since starting the challenge, but I have decided that an equal number of things I already own will do the job even if they aren't perfect. Speaking of perfect: trying to aspire to that word in all things has been debilitating for me. This challenge is helping me break away from that.
3. Accountability. Nobody is going to come knock my door down if I fail to stick with this challenge, but just knowing that there is someone, somewhere who cares that I am winning these little victories helps so much. It gives me a sense of satisfaction being able to report that I have accomplished my task for the day. Sarah from Buttoned Up has been working her tail off keeping up with participants and even checking in on us personally if she didn't see an update. I also feel more compelled to keep things tidy once I have publicly posted a photo, essentially bragging about my work.
4. Accomplishment. I've printed out the calendar and each day after I've checked in with my progress, I cross off the day with a big, black marker. I am more relaxed and happy in the evening knowing that I've done something that day to work toward my goals and make my home nicer. I may not have completed one of my epic (and rare) cleaning endeavors that I was accustomed to, but I guess it's the knowledge that even the relatively minor tasks will help me keep things tidy that helps me feel like I've tackled something much bigger.
I now have Week One under my belt, so I thought I'd recap what I have done each day so far (I apologize for the poor image quality–it's more convenient for me to take a photo with my iPad and post directly to Twitter, but with low light the images are grainy–again, letting go of perfectionism in favor of accomplishment!).
Day 1: Writing down goals
I sat down at my computer and typed out a list of things I hope to accomplish in 2012. Buttoned Up made a nice form that I could have used, but for me it was easier to do my own thing. I made a bulleted list so I could cross items off. I described in detail how I can accomplish each item, and also decided on a reward for when I accomplish each goal. Some examples: Declutter the house (then purchase a nice decor item), Develop a cleaning routine (then enjoy guilt-free "me" time in the evening), Sell some unneeded items on eBay (then use the extra money to buy something from my household needs wishlist, like a new vacuum cleaner), Pay off our car loan early (then use the equivalent of one car payment to do something fun as a family).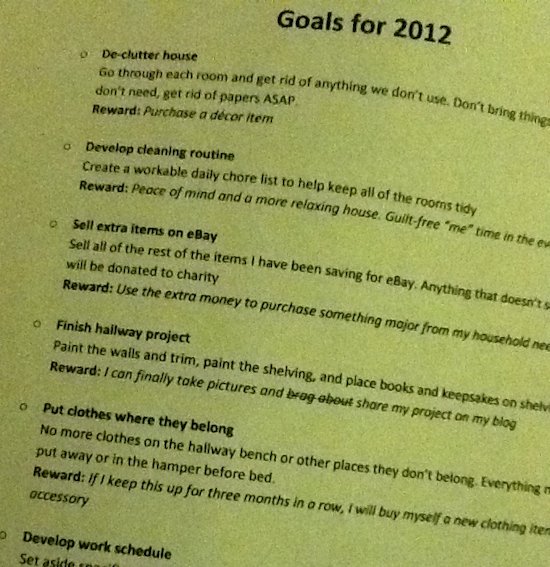 Day 2: Get rid of junk mail
This was the toughest task so far, and I know other participants felt the same. My desk has been a catch-all where papers and other miscellany are placed when I think I want to give them a closer look, but then get sidetracked. It was really atrocious: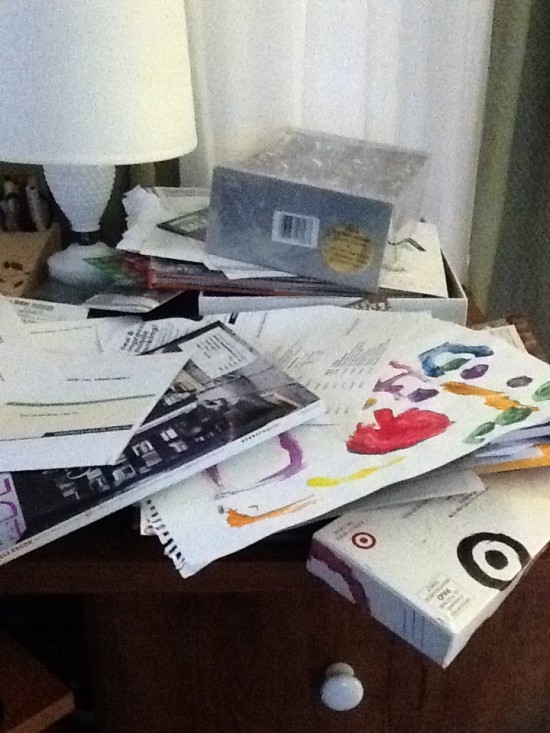 Though it wouldn't have taken long to "neaten up" my desk contents, properly sorting things and putting away took hours. I got to a plateau where I just felt like I was never going to finish. Helped along by other kindred spirits who had posted their daunting messes on Facebook, I knew I wasn't alone, and I pushed through. Fortunately I already had a filing system in place, so after some sorting, shredding and throwing away, I found that there wasn't anything left over which didn't have a home. I am determined to keep my desk looking like this: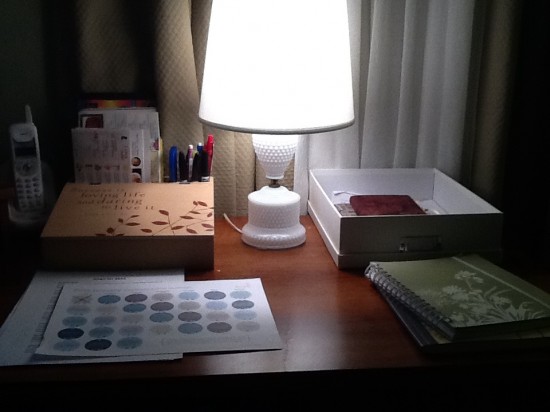 Day 3: Set up a mail and key drop station
I already had places to put my mail and keys, so this task was an easy one. Remembering to use them will be more of a challenge. A piece of my milk glass collection that sits on the end table near our door has been a convenient place for my husband and I to stash keys and wallets as soon as we come in the door. Occasionally this table ends up cluttered with mail, so we need to work on that.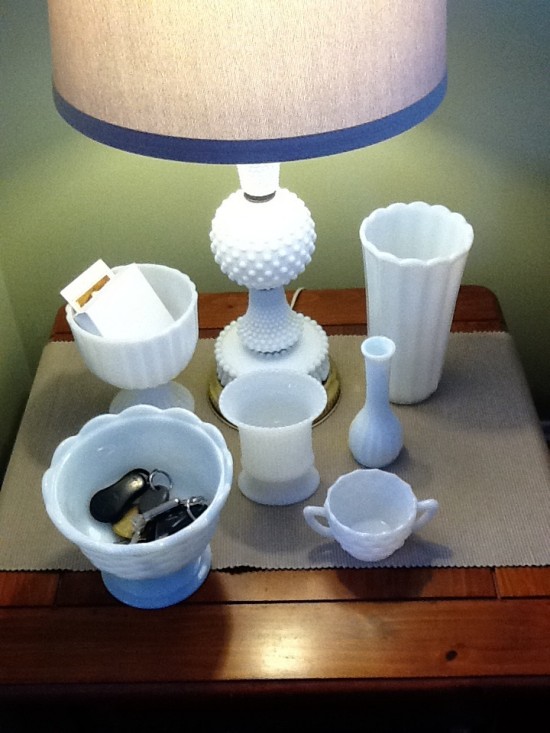 My mail drop has been more of a challenge. It fills to overflowing and I'm not good about reviewing the contents on a regular basis. I may or may not have discovered coupons that expired in March 2011 when I was emptying the box for this challenge. Since I receive and pay the vast majority of my bills electronically, I decided that a more specific mail solution wasn't required for our house, but I did place a note on my inbox reminding me to review the contents and empty it every Wednesday.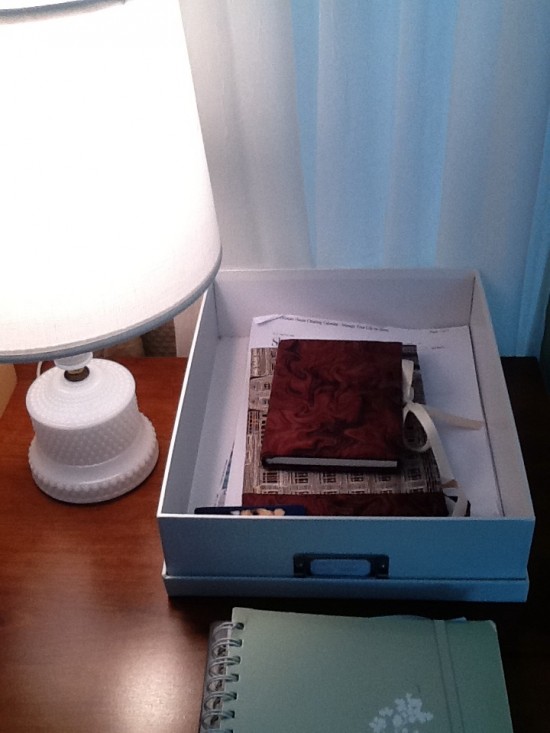 Day 4: Place a recycle bin near the mail drop
This is another item that I already had in place, but I've been terrible about emptying it. I use a bin under my desk next to the shredder. From now on I'll empty the bin on Wednesdays after I'm done looking through my mail drop.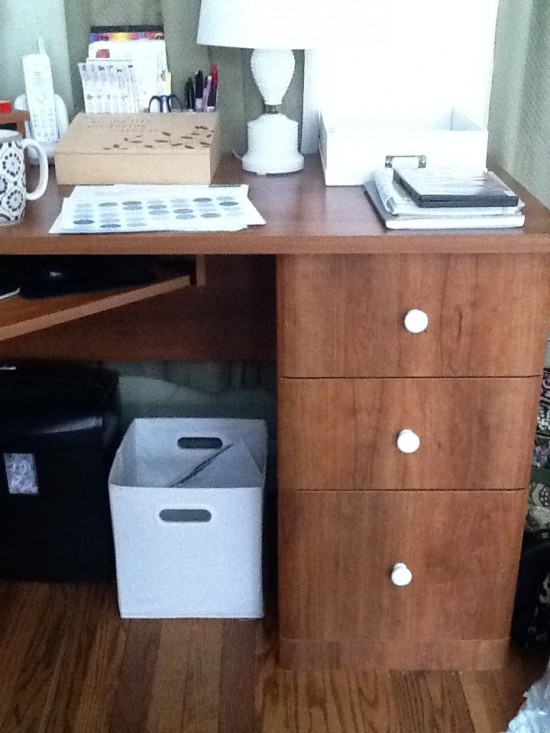 Day 5: Teach family members to use the mail and key drop
My husband is great about using the key drop. I check the mail 99% of the time, so I joked that I gave myself a stern talking to. I'm going to schedule mail sorting on my Google Calendar until it becomes a habit.
Day 6: Take down lingering Christmas ornaments and decor
Our family keeps our Christmas tree up until Epiphany, so we hadn't started to pack anything away. We spent the evening undecorating our Christmas tree, which was beginning to look like the one Charlie Brown picked out, and packed everything away in our big plastic storage bin that holds it all. I had hoped to finally splurge on the plastic ornament boxes (with round compartments for each decoration), but they were all sold out in the stores nearby. I settled on using our cardboard version which functions perfectly well, even if it's not as nice a solution. Another victory point in my battle with perfectionism!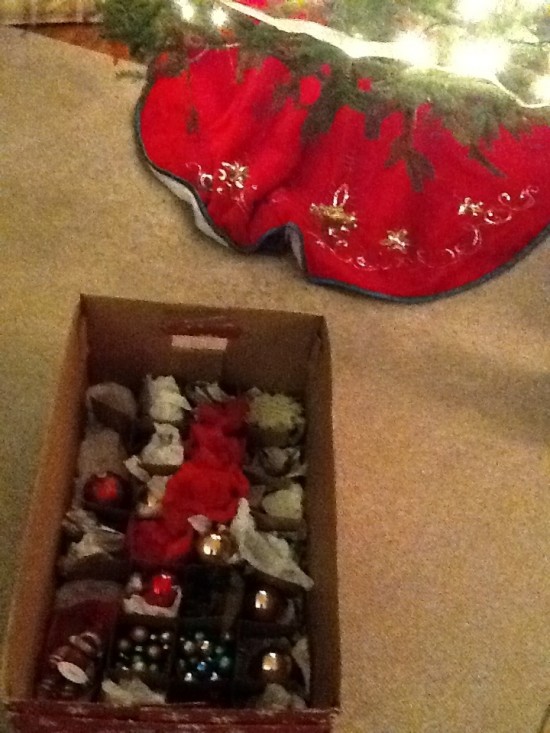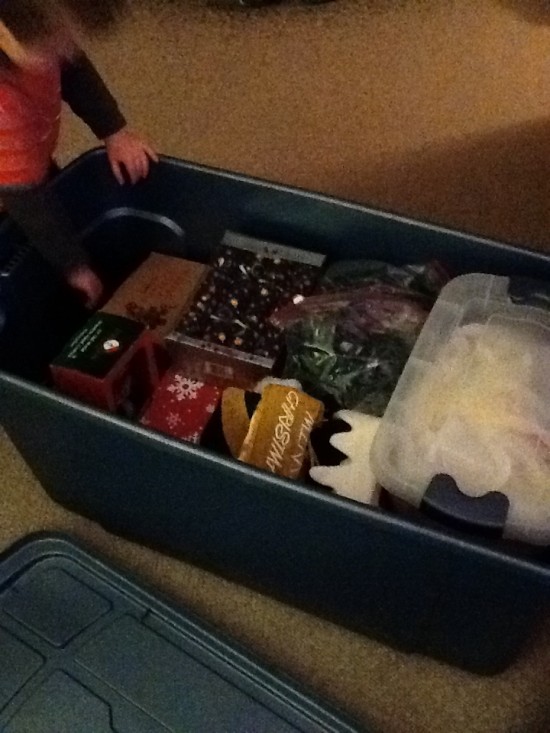 Day 7: Clear kitchen counters of paperwork
Our kitchen is nowhere near our front door, but papers have a way of migrating there. The counter is one of my worst places for clutter, with recipe print-outs, prescription notes, bags and the occasional pieces of mail that I picked up while I was also dragging groceries in the door. Last month I moved a shelf into the dining room, which is the perfect place for my recipe prints. I will also try to go paperless as much as possible by using my iPad to view online recipes in the kitchen. Other than that, I just need to exercise a bit more self-discipline and get into a clutter-clearing routine so that misplaced items don't pile up the way they have been.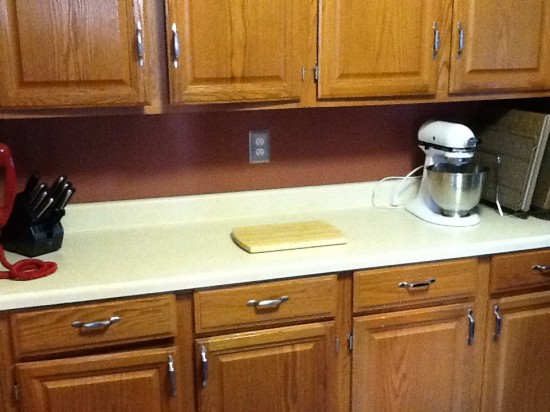 So, that's Week One! Week Two will bring some changes that I am even more excited to share with you (I took advantage of the weekend and skipped ahead a bit).
If you'd like to review the whole challenge, use the links below to my other posts:
DISCLOSURE: This website is monetized with affiliate links. I earn a small percentage of the sales price when visitors make purchases through affiliate links. Thank you for your support!
Share this post