A look back at our wedding
| Updated:
It's hard to believe that it's been seven years since I married my best friend! I have previously shared the funny story of how we met in person for the first time, and now I would like to take the opportunity to share some of the details from our perfect day seven years ago.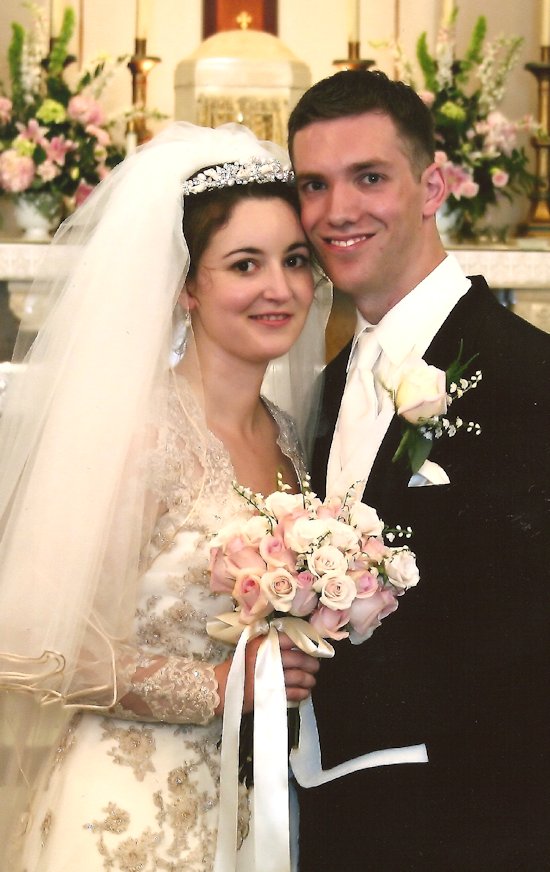 Although my husband and I did enjoy a few years of "the good life" while we were both working and childless, we actually started our marriage with very little. We were engaged in September 2003, and in the time leading up to our wedding we needed to obtain a K-1 "Fiance Visa" for my husband–an expensive and stressful endeavor. Following college I was in something of a mess with credit card debt, and I didn't want to bring any consumer debt into my marriage. Once I had started working at my first post-college job in March 2004, I set about paying off more than $3,000 of credit card debt by the time I was married in July 2005. I was also paying for a $6,300 used car in its entirety within that year. My future husband, working a very modest temporary job in England, was paying for our rings and the honeymoon. It would be several months before he was eligible to work in the United States. I bought my own dress, accessories, wedding favors, flowers, etc. My dad wanted to pay for the reception. He lost his job a month before my wedding, but he still managed to follow through, which meant a lot to me.
Needless to say, our wedding was a rather frugal affair by some standards, but it was everything we dreamed of and more. We splurged on some items that were important to us, but saved in other areas by keeping the guest list small and doing a lot of the work ourselves. We entered our marriage without any debt except for our student loans.
To begin the preparations, I made our wedding invitations from gold cardstock, scrapbooking paper in a mint green pattern, and printed the text parts on my printer (sorry I don't have better pictures).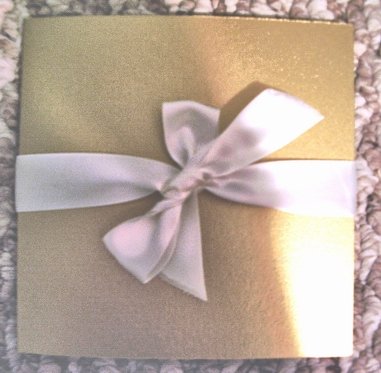 For wedding favors I chose some beautiful porcelain boxes from Victorian Trading Company. At the time they were only around $9.00 for a set of twelve. The price has since increased, but they are still a good bargain at $12.95 for the set. The porcelain flowers looked gorgeous in real life, and they fit perfectly with the English garden theme I was going for (image borrowed from the Victorian Trading Company website).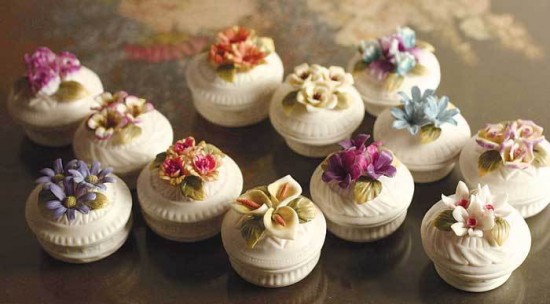 I selected my wedding dress while I was in college, and well before I was actually engaged. Feeling particularly smitten one evening, I surfed onto the David's Bridal website and found a dress in a collection by Oleg Cassini that I thought was perfection. I printed out the picture and taped it on the inside of my closet door.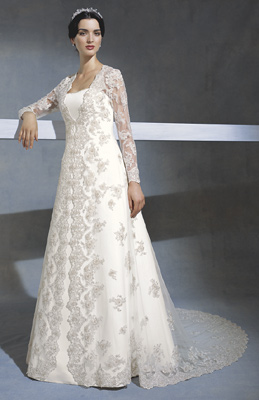 When I finally had a legitimate reason to do some dress shopping, my mom and I visited our local David's Bridal to look at their selection and see if there were any inexpensive dresses that I liked. I looked at a few different ideas, but they had "my" dress on a mannequin, and once I tried it on I knew that nothing else was going to do. The gown was a plain, ivory satin a-line, with champagne beads adorning the thin straps and neck. The beautiful lace jacket had a chapel length train and was embroidered in silver and champagne.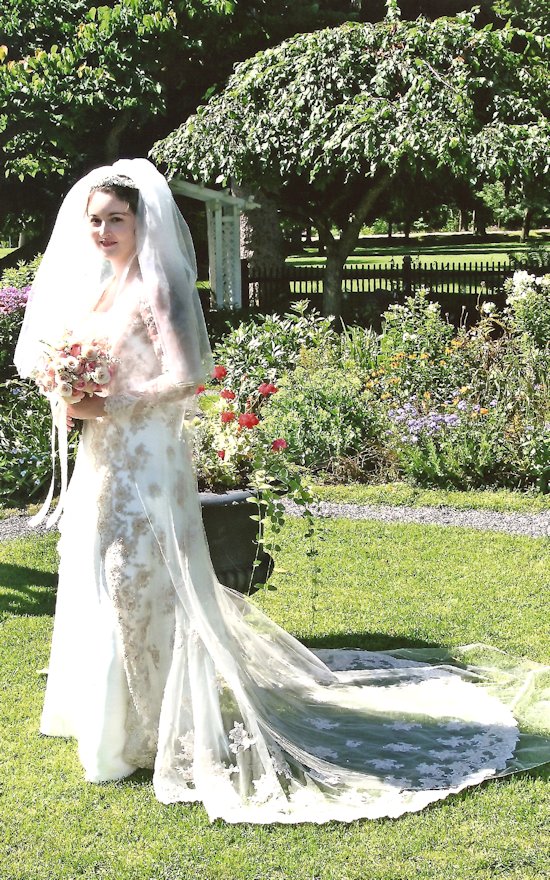 David's Bridal does tend to get a bad rap among brides-to-be, and certainly being a large chain, experiences can vary wildly. I had a good experience at the store I dealt with, and I liked that the sizing was accurate enough that the dresses could be worn off-the-rack. The dress was expensive, but I saved money by not having alterations. The gown was my biggest splurge, but I don't regret it a bit–it was exquisite, I felt like a princess, and I think the timeless style and the craftsmanship make it heirloom quality, should I ever end up with a little girl.
My bouquet was inspired by a picture I found in a Martha Stewart book. It was packed with pink and cream roses, and sprigs of lily of the valley, my favorite flowers. Since lily of the valley is not in season in July, I saved money by using silk flowers. My husband surprised me by ordering a replica of my wedding bouquet for our first wedding anniversary. I thought it was so romantic of him!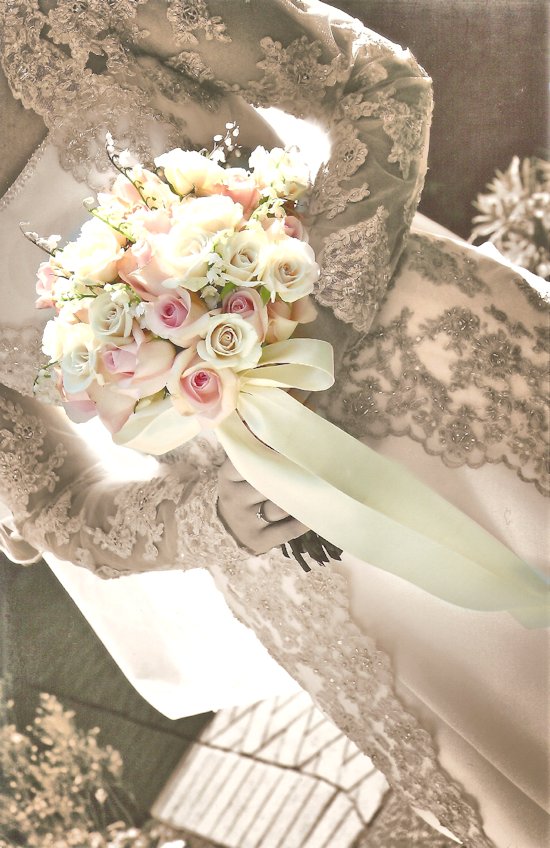 My bridesmaids wore simple Jim Hjelm dresses in "Rosewater" taffeta. I had my mom sew lace jackets that would tie in with my wedding gown. The men all wore tuxedos from Tuxedo Junction with mint green accessories (my husband wore cream). We did run into a minor glitch with the tuxedos. When the men arrived for their fitting, there was not a tuxedo in the store for my little brother, who had been so excited about wearing his first tuxedo. The sales associate basically told me "too bad, so sad." I was livid. I saw a business card on the counter, and I called the corporate office. The woman I spoke to, in Buffalo, was extremely kind, understanding, and helpful–she had a tuxedo sent overnight for my brother. I never saw the sales associate working in that store again.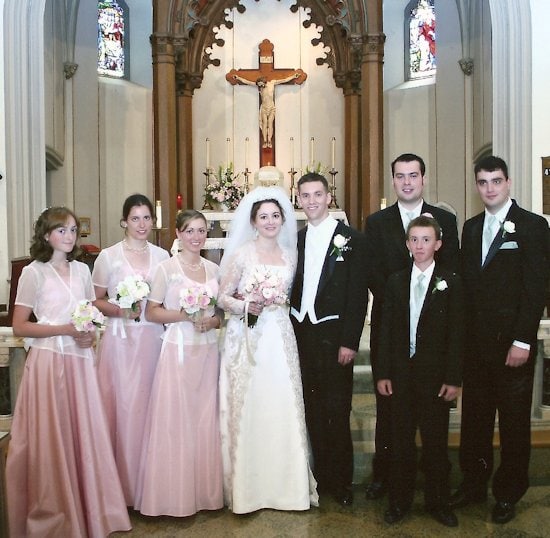 Our wedding reception was held at the quaint and charming Brae Loch Inn in Cazenovia, NY. Neither I nor my husband is directly Scottish, but it definitely gave the British vibe I was hoping for. The Brae Loch has wonderful food, and they did a fantastic job setting up the wedding with minimal direction. Everyone loved it!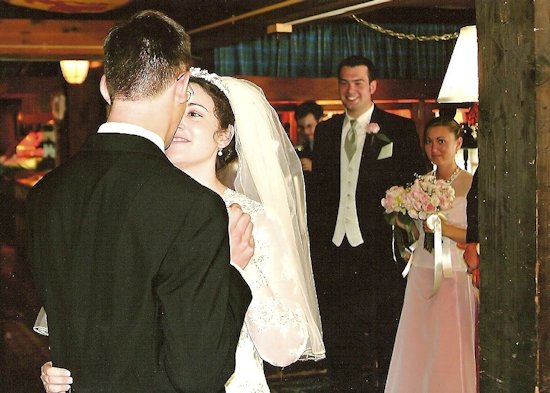 Our cake was lemon flavored with raspberry filling and buttercream icing in a design similar to our wedding invitations. I made our cake topper myself–bride and groom doves in a nest with rose-covered vines in the shape of a heart. I told my florist that I would love some roses to decorate the cake, but due to the distance between the church and the reception venue, and their busy schedule that day, they weren't sure if they would have the time. I was delighted to find that they did indeed put flowers on the cake for me, and added some rose petals on the table. I had a very small budget for flowers, but they went above and beyond to make the most of it. Somehow my husband completely missed having a slice of this fabulous cake!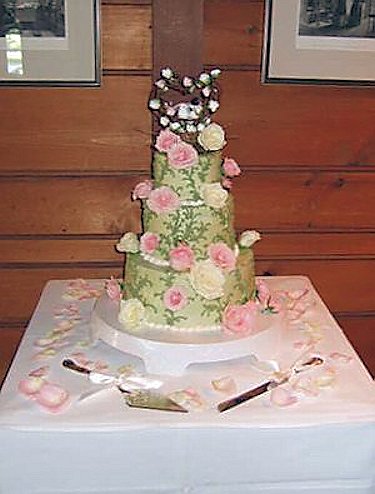 Due to restrictions that came with my husband's immigration visa, we were not allowed to travel outside the country once he entered. We couldn't even go on a cruise if there was a chance we would need to stop on foreign soil–my husband could be refused re-entry to the United States. So, we had to think of honeymoon destinations within the United States. We had so many different ideas, but in the end we chose California, where neither of us had ever been. We spent a glorious week exploring the coast in the Monterey area in a tiny rental car and spending the night at charming bed and breakfasts, every one of which had a canopy bed (my requirement). I had envisioned frolicking in the ocean waves in sunshine and warmth, not realizing that in that part of California, July is more like fall. There was a lot of mist, and it was rather cold. But we still really enjoyed the beautiful scenery. Oh, how I wish we could go back!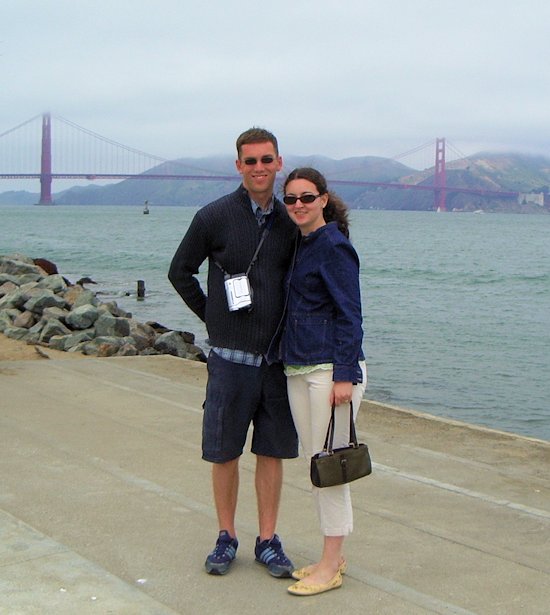 Our wedding day was the perfect celebration. It felt like an absolute triumph after the things we had tackled together–we had spent years in a long-distance relationship, we had successfully completed the immigration process, and we had simultaneously planned and paid for our dream wedding. We were blessed to have friends and relatives travel from England just to celebrate with us, and we were joined by all the American friends and family who have supported us through the years as well. We couldn't have had a better start, and I am excited to see where the next several years lead.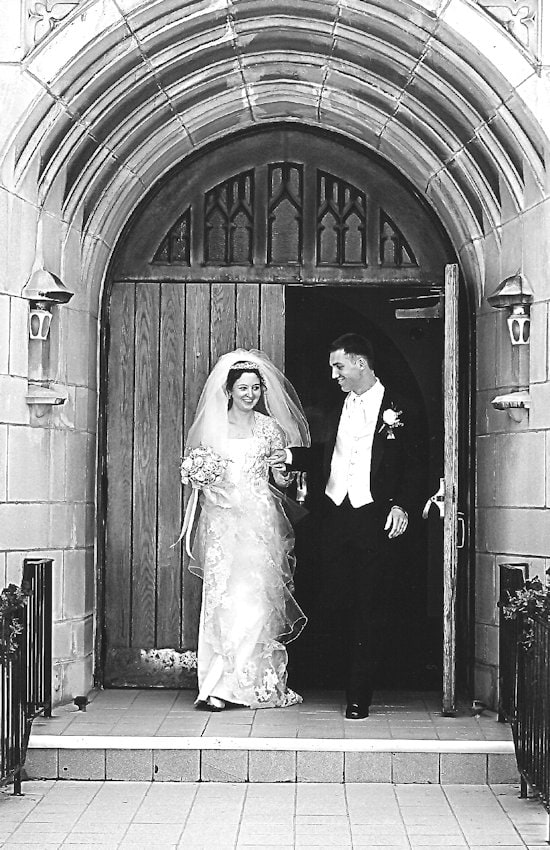 DISCLOSURE: This website is monetized with affiliate links. I earn a small percentage of the sales price when visitors make purchases through affiliate links. Thank you for your support!
Share this post