How I met my English husband in Walmart
| Updated:
In honor of Valentine's Day, I wanted to share the amusing story of how my husband and I first met:
My husband and I met online.  To this day I am a bit hesitant to admit that, because I feel like there's a stigma attached.  A disproportionate number of the wonderful couples I know in real life met the same way, however, so I should really get over it.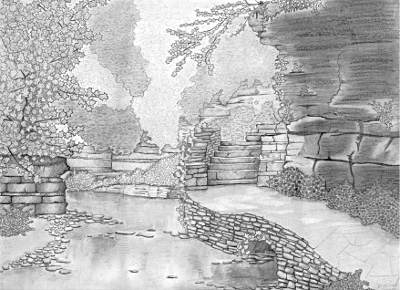 Toward the end of my senior year of high school I created my first website, which was intended to showcase my art portfolio.  That summer I was wasting time on the internet when I found a website belonging to one of my husband's friends in England.  The first picture that I ever saw of my husband was modified by his friend to make him look like Spock from Star Trek.  It wasn't love at first sight, to say the least.  My husband also lived in England and had a website where he uploaded his poetry and a few pictures of his scouting adventures.  Back then guestbooks were de rigeur, and I signed his as I did at most of the websites I visited.

My husband had no internet access that summer, but saw my little note when he started college in October 1999.  He soon visited my website, where the first photo of me that he saw was modified to make me look like the Mona Lisa.  He sent me an email, which turned into a regular correspondence, helped along greatly by my infatuation with Douglas Adams books, Britcoms, and virtually all things English.  It wasn't long before we were exchanging snail mail letters and phone calls.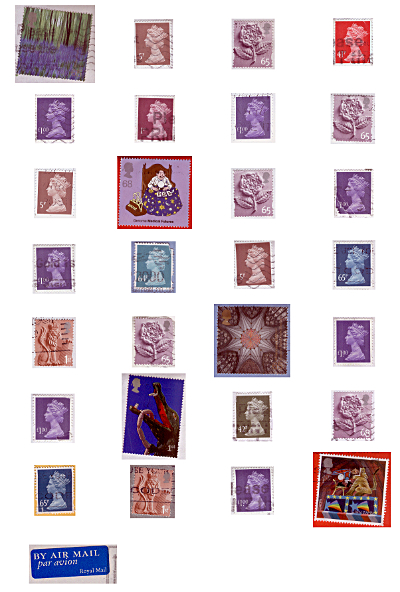 After almost two years we knew that we needed to meet in person to determine what our next step would be.  He arranged to come visit me and my family in America, after touring the East Coast himself.  My parents were well aware of the situation, and had even talked to my husband on the phone when he'd call the house.  We were all excited to have him visit.
The plan was that he would take a bus from New York City to the big city nearest where I lived.  I would meet him there, and then drive him back to my family's house.  It's hard to believe now, but it never crossed my mind that my parents might have a problem with me driving solo to pick up a guy who I had never met in person.  They didn't let on that they were worried, but instead teased me relentlessly, telling me that he would end up being a fat, bald 30-something, or wouldn't show up at all.
The big day arrived and my mom was scurrying around the house cleaning.  The meeting would occur at 6:30 that evening, having been confirmed during a breathlessly excited phone call the night before.  Although I was confident my husband would recognize me instantly from the numerous photos we had exchanged, my dad was insisting that I make a big cardboard sign.  I wanted nothing to do with such dorkiness, but I thought there was a way I could help my husband recognize me, just in case.  I always signed my letters with a little drawing of a rose, and it occurred to me that I could paint that same image on a t-shirt.  I set off to buy a shirt, some fabric paints, a new denim skirt, and some makeup.  I wanted to look ravishing.
I returned home and set to work.  Mom was vacuuming and the phone kept ringing.  She popped her head in to see what I was doing.  When I explained (thinking I had a genius plan), I was a little perturbed at her negative reaction; she thought there was no way the paint would dry in time, even though it was hours before I was supposed to set out.  I soldiered on, finished the shirt, and laid it flat to dry in my room.  The phone rang again, and Mom popped her head back in.  My dad needed me to run an errand for him.  We needed a desk lamp for the new computer desk downstairs, and apparently Walmart had some on sale; in particular they were the brass banker's lamps with the green glass shade.  I was eager for something to occupy my time, as I was getting impatient and jittery, so I set off in my car right away.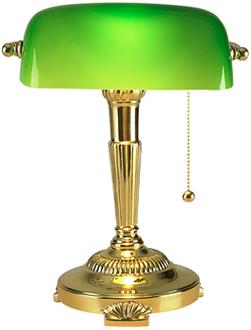 I arrived at Walmart and was briefly sidetracked by a bracelet display before I headed to the lighting aisle.  Annoyingly, there was a group of people gathered at the end of the aisle having a discussion, so I darted down a different aisle, intending to loop around at the other end.  A guy who appeared about my age looked at me pointedly, smiled and said "Hi!".  I thought he looked very familiar, but believed he was someone from my hometown whose name I couldn't remember.  Not wanting to be impolite, I said "Hi" back, and continued on.  The guy stepped in front of me, blocking my way and smiling.  "OK, he definitely knows me", I thought, "and he's teasing me".  I smiled and stepped around him, still intent on my goal of finding the lamp that Dad wanted.  "Jenny!" he said, with the northern English accent I knew from the phone.
I was shocked.  Just about all I could manage to say was "Oh my gosh!" over and over again.  Everything suddenly clicked and I realized that my whole trip to Walmart had been a conspiracy, along with the phone ringing and Mom trying to undermine the progress on my special shirt.  There were no green-shaded lamps on sale at all.  We hugged and then walked, hands clasped, out of the store, having bought nothing.  I crashed into him a few times, as I wasn't accustomed to walking hand-in-hand with anyone.  I saw my dad transferring my husband's suitcase from his car into my own.
It was the best surprise I had ever received, and a wise one.  Naturally Dad wanted to check out this guy before I did, but my husband was also able to see the real me.  I hadn't had a chance to cake on makeup, do anything special with my hair or switch into cuter clothes.  He saw what I looked like on any regular day, and he loved me just as I was.  For my part, I was more than pleasantly surprised.  I had always thought my husband's pictures were attractive, but he was gorgeous in real life!  I couldn't believe this guy had come all this way to see me!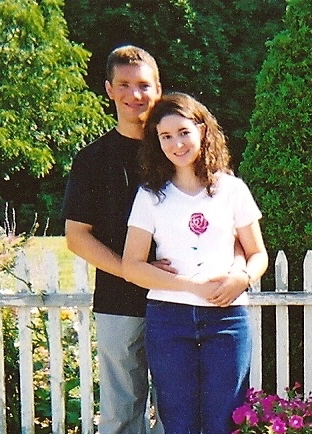 We drove home to find my youngest brother waiting with a welcome sign and Mom waiting with the camera.  Everyone had been in on the secret and I had no clue!  Our first visit together was nothing short of magical, and it laid the framework for a relationship that would remain strong despite the thousands of miles between us.  Almost four years later we were married, and almost five years after that we are still going strong.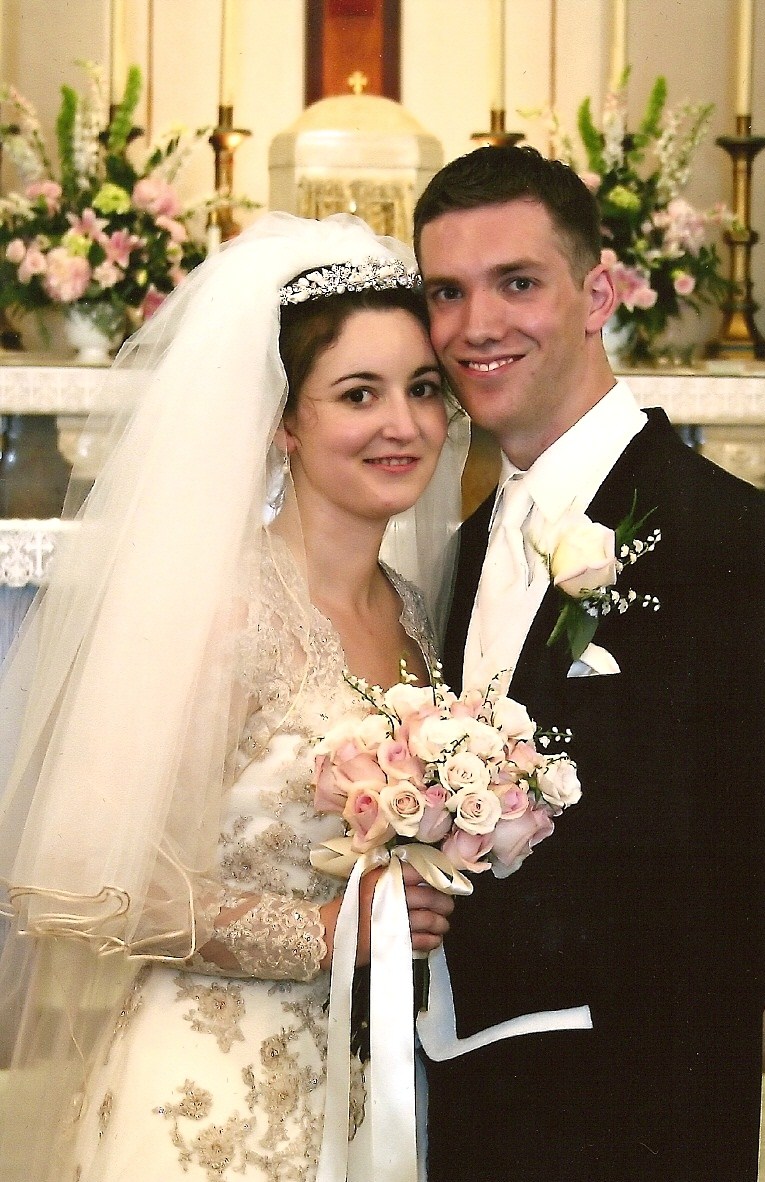 Love you, hubby!  Happy Valentine's Day!
DISCLOSURE: This website is monetized with affiliate links. I earn a small percentage of the sales price when visitors make purchases through affiliate links. Thank you for your support!
Share this post