A dinosaur birthday party
| Updated:
I recently read (and very much enjoyed) Sir Arthur Conan Doyle's The Lost World, so I was delighted when Mr. Boy requested a dinosaur birthday party for his third birthday. He's like a pint-sized paleontologist, using proper terminology like "plates" and "crests" to describe the features of his favorite beasts, which he has picked up from his favorite show, Dinosaur Train, and the many books he devours.
As usual I had a lot of fun looking for just the right parts and pieces to assemble a magical dinosaur party space for him to wake up to on the big day…and, as usual, I didn't spend a lot.
Though I had a late night cleaning, decorating and baking, seeing the surprise and wonderment on Mr. Boy's face when he saw how our dining room had transformed made it all worth it!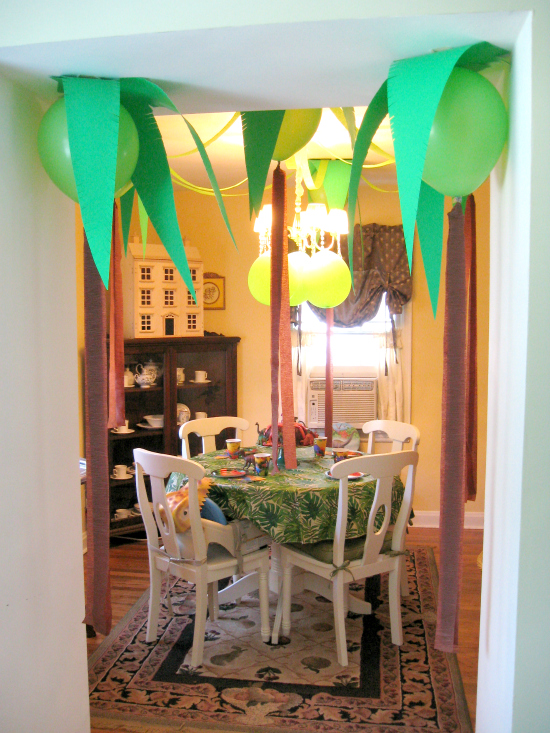 Balloon Palm Tree Decorations
I fashioned palm trees from green balloons, green poster board and brown streamers. Two adorned the entryway, and four surrounded our round table. I used green streamers to connect the "trees" in the dining room and create a canopy effect. Unfortunately my photography skills aren't up to par with my decorating skills and don't do the overall experience justice. It was a really fun space to be in.
I cut the poster board (purchased at a dollar store) into long triangular shapes. Depending on width, you can get between 3 to 5 sections from one sheet. I then used scissors to snip short slits along the edges to make the triangles look more like palm fronds.
I overlapped the ends of each section and fastened together with masking tape. I then taped a green balloon to the underside, allowing the "branches" to droop down. The trees were taped to the ceiling with masking tape and brown streamers were fastened to the bottom of the balloon to create a trunk. If the branches are too droopy, you can use more tape to fasten them to the ceiling.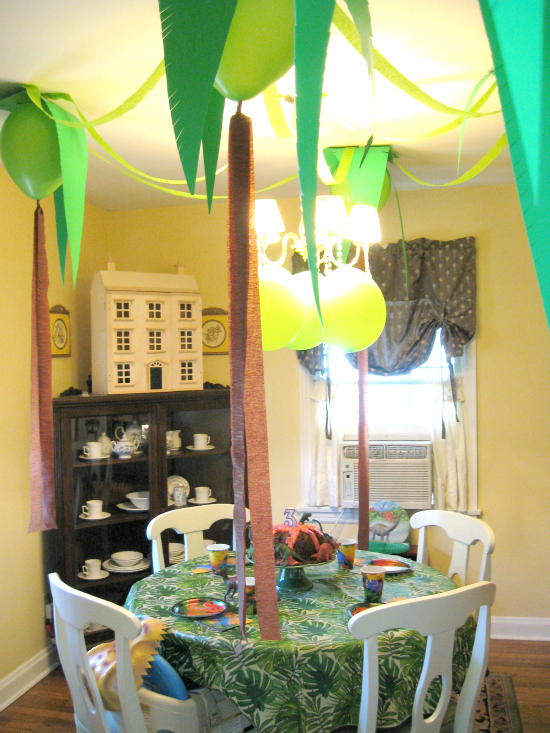 Dinosaur Party Decorations
Tiki-themed decorations are very popular at any party store in the summer, and many of the items are perfect for a dinosaur jungle theme. I found a palm covered vinyl tablecloth that added just the right touch.
I also picked up some dinosaur-themed cups, napkins and paper plates. I purposely keep birthday parties very small (at least for now) so I can afford to splurge a little bit on decor and gifts.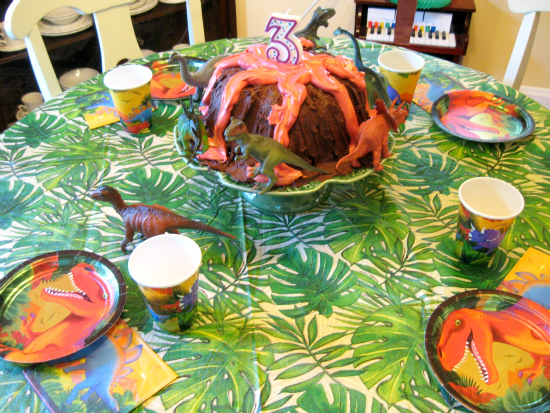 Dinosaur Volcano Birthday Cake
The cake was a little bit of a cop-out, but Mr. Boy loved it nonetheless. He initially wanted a tyrannosaurus rex cake. Then, he wanted a stegosaurus cake. Though I did find some cute ideas for making a stegosaurus cake, I wanted something that would look more realistic to go with the rest of the decorations, and I decided on a volcano cake adorned with toy dinosaurs that Mr. Boy could play with after the fact.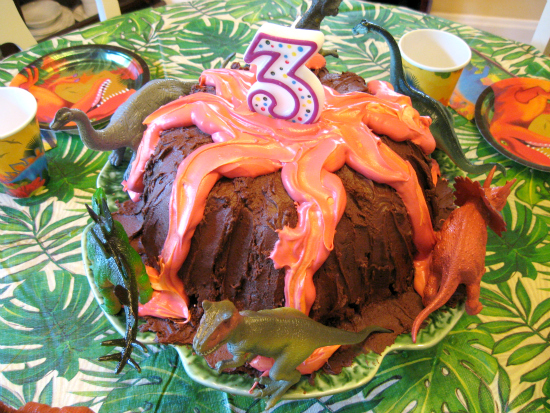 Though a bundt pan would have been the perfect mold, I didn't want to spend money on one. Instead, I found a glass oven-safe bowl for $5 that had a good shape to it. I used two boxes of cake mix, baked at 325 rather than the usual 350, and checked it every 10 minutes after 45 minutes had passed. I have no idea how long I ultimately had to bake it for, but it was a while.
Once I had removed it from the bowl and it had completely cooled, I carved angular pieces from the sides with a serrated knife to give it a rough rock look. I used my fudge frosting recipe, then dyed a can of vanilla frosting red and orange to create the flowing lava. I purchased seven different dinosaurs from a dollar store and placed them around the cake.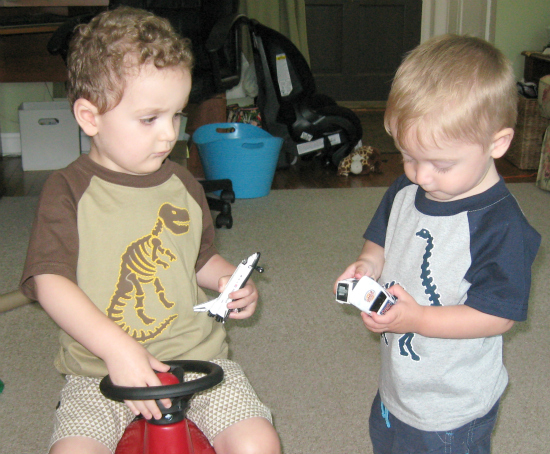 I found cute dinosaur t-shirts for both my son and my little nephew at Walmart for less than $4.00 each. My son also had a foam t-rex hat that I found at a dollar store a while ago.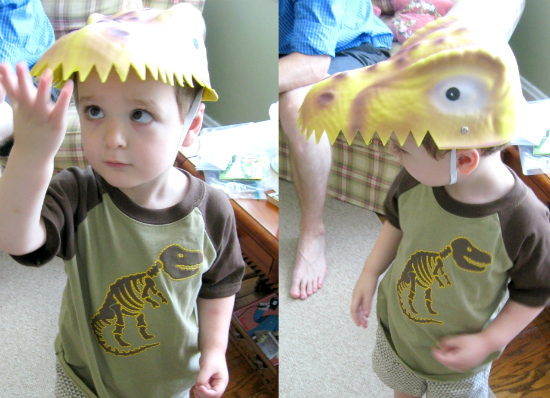 I just love it when I have a vision in mind and it all comes together! Though I can't bear to have time go by any more quickly than it already is, I do have to admit that I'm already brainstorming the next birthday party. I wonder what Mr. Boy will be interested in by this time next year?
DISCLOSURE: This website is monetized with affiliate links. I earn a small percentage of the sales price when visitors make purchases through affiliate links. Thank you for your support!
Share this post