Dark Chocolate Dump Cake with Fudge Frosting
| Updated:
I never knew my great grandma Meyers, who died shortly before I was born. But to this day my mom loves to share her memories of visiting the farm and the wonderful food (enough to feed an army) that my great grandmother would cook.  Mom would make great grandma's rich chocolate cake recipe for every family birthday, and although I have learned plenty of other cake recipes since, this one is my favorite.
Homemade cakes can be somewhat difficult to master, but not this one! The ingredients are simple, and it's virtually impossible to mess up. I believe the rather unflattering name "Dump Cake" came about due to the fact that you literally dump everything into the bowl, mix it up, then dump it into the pan and bake it. No separating wet and dry ingredients, no electric mixers, and no greasing and flouring the pan needed! The frosting recipe is equally simple. I have been wanting to share this recipe, and since I was enlisted to bake a cake for my Dad's birthday this weekend, I had the perfect opportunity to finally capture a photo of the finished product.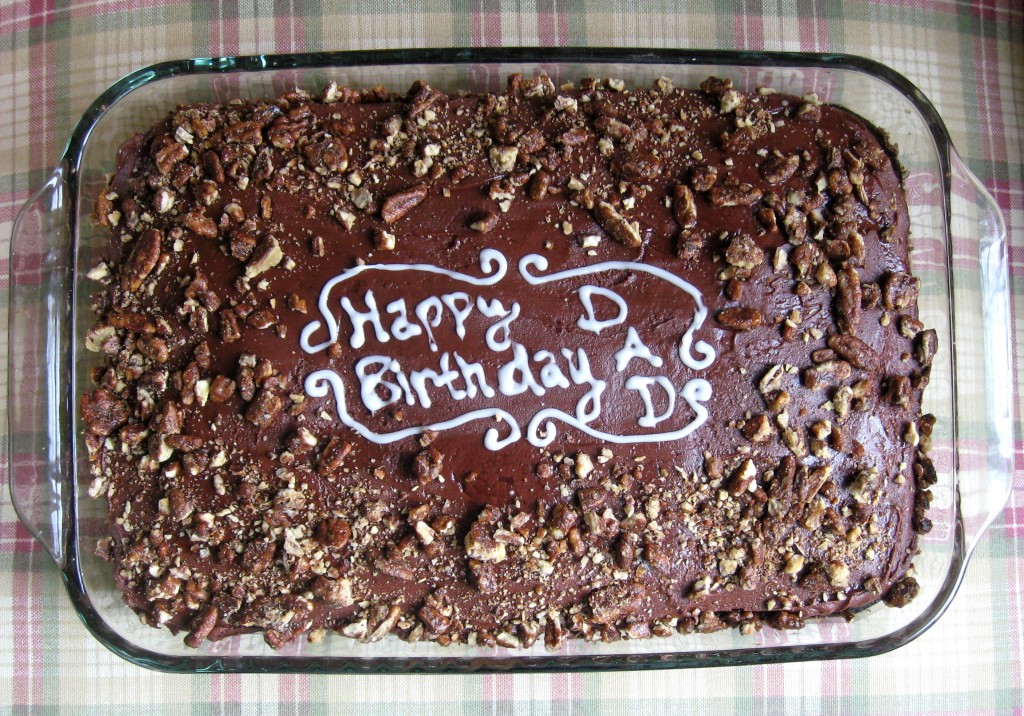 Dark Chocolate Dump Cake
Ingredients:
– 2 cups White Sugar
– 1 cup Cocoa
– 1 teaspoon Baking Powder
– 1/2 cup Cooking Oil
– 1 teaspoon Vanilla Extract
– 2 Eggs
– 1 teaspoon Salt
– 2 cups Flour
– 2 teaspoons Baking Soda
– 2 cups Boiling Water
Preheat oven to 350.  Dump all ingredients except baking soda and boiling water in a large mixing bowl. In a separate bowl, dissolve the baking soda in the boiling water (be careful, as it will bubble up). Add to the mixing bowl with other ingredients and mix together until thoroughly combined and no large lumps remain. Pour the batter into an ungreased 9×13 baking pan. Bake at 350 for 30 minutes. (Note: the toothpick test will not work for this very moist cake, but it should spring back when pressed).
Fudge Frosting
– 1 pound Powdered Sugar
– 1/2 cup Cocoa
– 1/3 cup Boiling Water
– 1/3 cup Softened Butter
– 1 tsp Vanilla
Mix all dry ingredients together in a large bowl. Add butter, then water and vanilla. Stir until smooth. Will melt and settle over a warm cake, or can be spread onto a cooled cake.
If you choose you can decorate further with chopped walnuts, sprinkles or colored icing. This time I used glazed pecans because they taste like the English toffee my dad loves. Enjoy!
DISCLOSURE: This website is monetized with affiliate links. I earn a small percentage of the sales price when visitors make purchases through affiliate links. Thank you for your support!
Share this post