Construction Birthday Party Theme
| Updated:
Road construction. Most adults associate those words with frustration and travel delays. For little kids like my son, though, seeing the big construction vehicles and workers outfitted in neon makes any road trip more exciting! A construction birthday party was the perfect way to celebrate my son turning four.
My son has been interested in "workers" for the past year, and proudly declared that he is going to be a road worker when he grows up. Whenever we visited our local Tractor Supply store for dog food, he would lead me by the hand to the men's clothing department so we could see if they had his size in the neon green work attire yet. He always held out hope, but alas.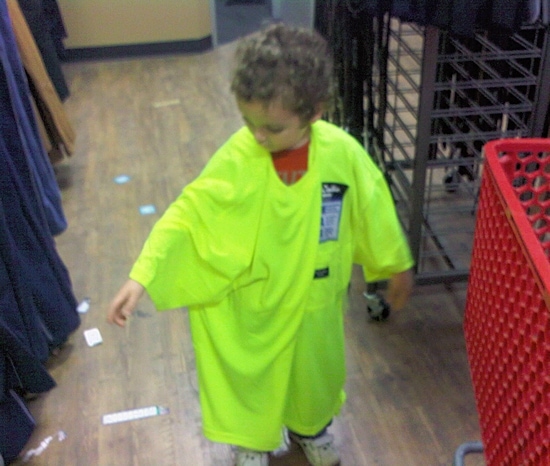 Carrying on my tradition of giving my son a birthday party themed around his favorite interest, I set about planning a construction birthday party for him. I snuck into his bedroom the night before and left a construction worker costume from Melissa and Doug for him to find when he woke up. He was thrilled and wanted to try it on right away. He also informed my husband and me that his voice had changed and his feet had "growed".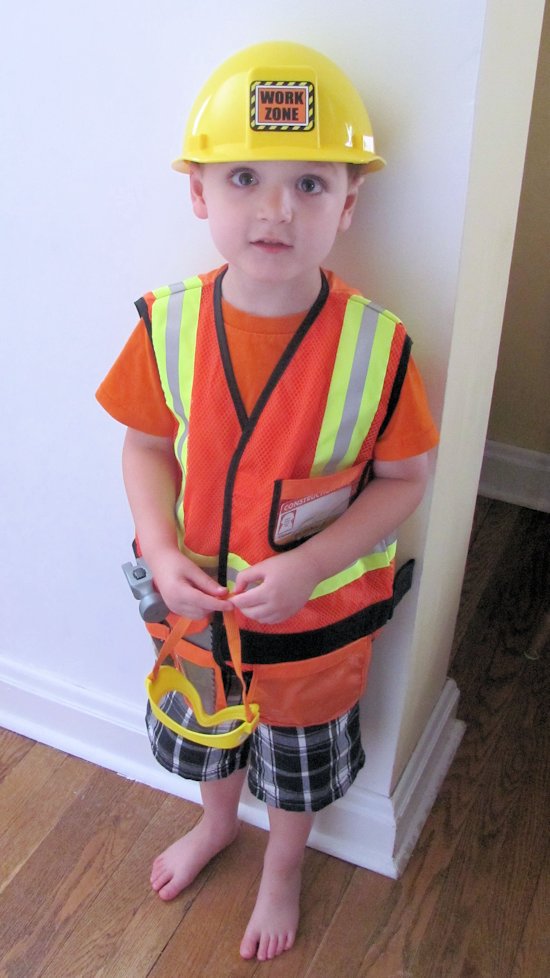 Construction Birthday Party Decorations
To save money, I kept the decorations simple. There are plenty of construction birthday party supplies for purchase if you want to pay a premium, but lower priced plain items served their purpose perfectly well. I did splurge on a few theme-specific items from party stores, like construction signs (but if your printer has ink, you can certainly print them yourself) and caution tape.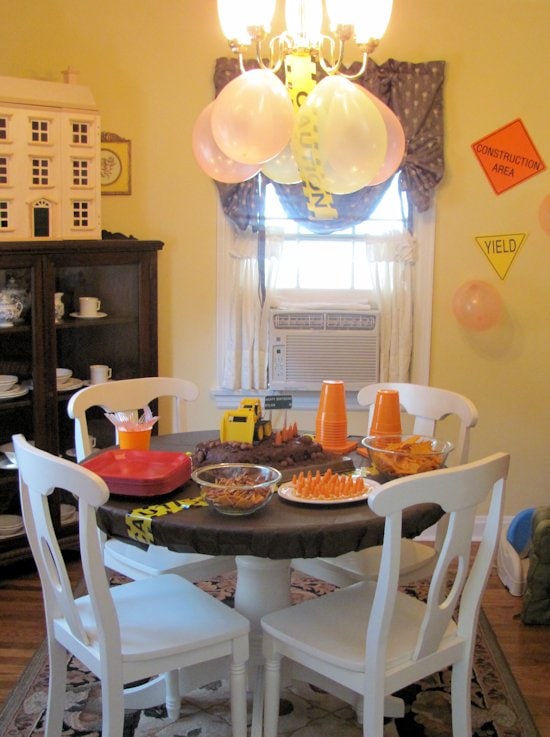 A plain brown table cloth set the stage for the construction cake and snacks. I stacked orange cups and napkins to look like traffic cones. Red dinner plates and yellow desert plates recalled the shapes and colors of traffic signs without being too literal.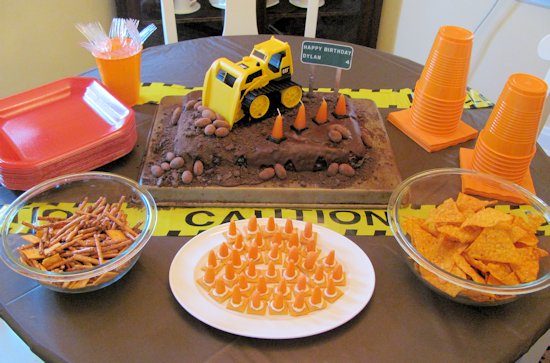 I had thought about doing a "big" birthday party for the first time for my son and invite all the little kids he knows, but in the end I decided to keep it small again this year — we wanted one last birthday party in our little house before we move. For the few kid guests we had, I set up a kid's table decorated with favor bags and hard hats that I found at a party supply store.
I personalized the construction hats by drawing first initials on them with permanent marker, and I just happened to find construction vehicle favor bags at Dollar Tree. I also picked up some vehicle-themed coloring books and boxes of crayons there. I added in a Matchbox construction vehicle and a stick of rock candy for each kid.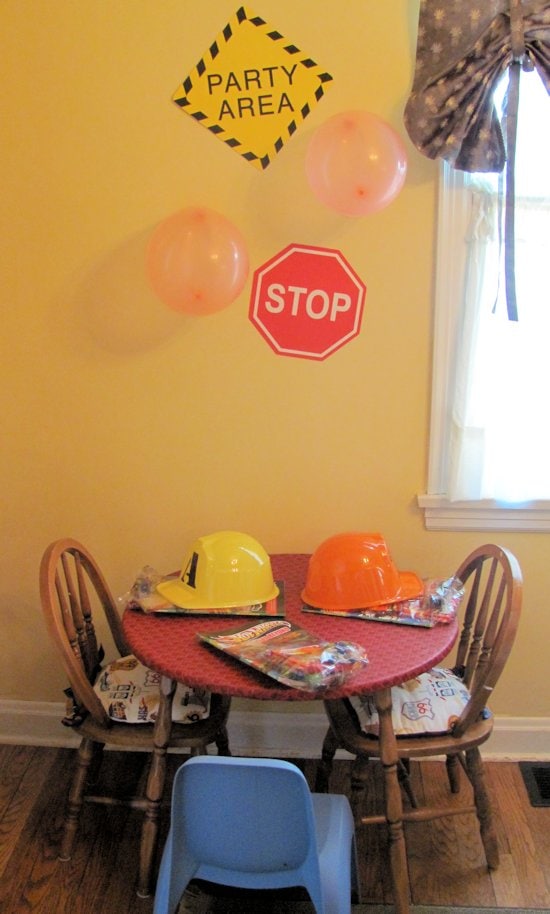 I set out a play rug with various construction vehicles we already owned to keep the little cousins occupied as they waited for the Construction Birthday Party festivities to begin.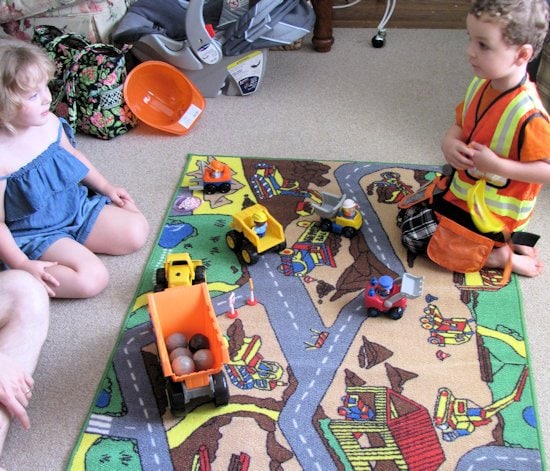 Construction Party Snacks
I made edible traffic cones from baby carrots (I actually spent the time using a peeler to taper the ends a bit more), whipped cream cheese and cheese crackers. They were a big hit with the party-goers.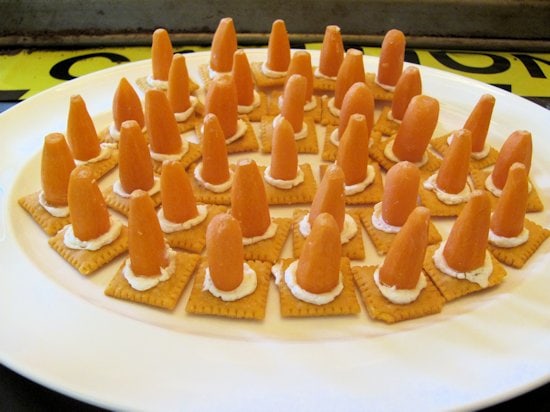 My son is like me and could eat pizza every day of the week without growing tired of it, so it was no surprise that it was his request for birthday dinner. My husband helped me make several homemade pizzas for our guests, which saved a lot of money. We stuck to the construction birthday party theme with sign shapes made from orange and yellow peppers and pepperoni, and black olive "tires".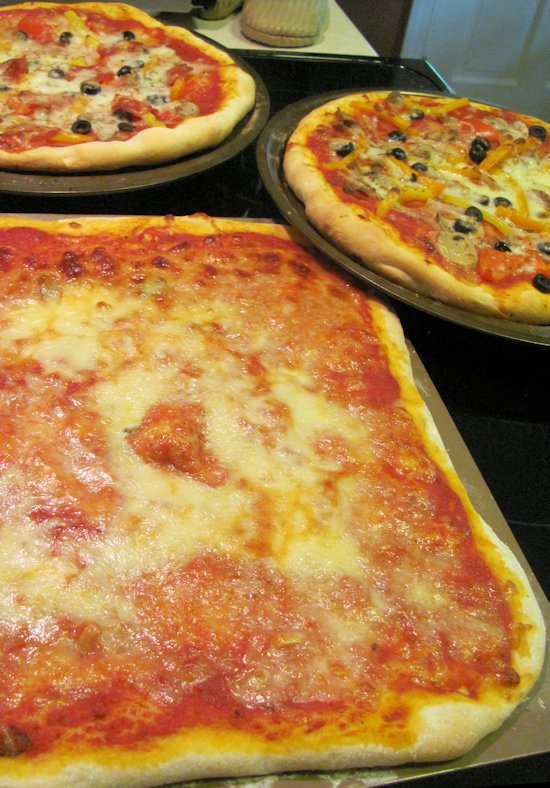 Easy Construction Cake
I was so happy with how my Construction Cake turned out. I had rather ambitious cake recipes in mind, but in the end I decided to keep it simple. I made my family's chocolate cake and frosting recipe, then decorated with a toy bulldozer I found for $3.50 at Dollar General.
I used crushed chocolate graham crackers that looked just like dirt, and at a local Amish store I found some cocoa-dusted chocolate covered almonds that resembled rocks. I used photo-editing software to make a road sign, which I printed on card stock and affixed to aluminum foil posts.
I found some great traffic cone birthday candles at a party supply store that were the perfect finishing touch on our construction cake.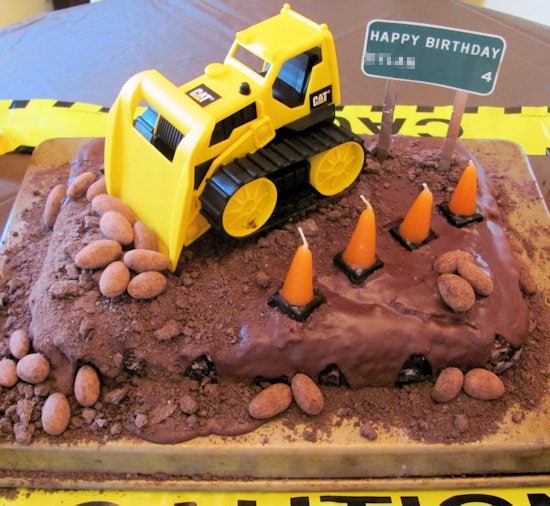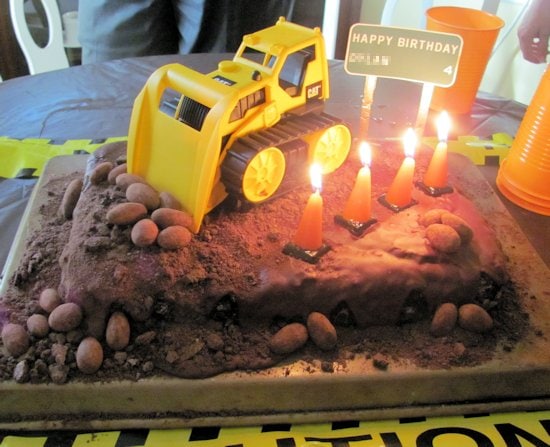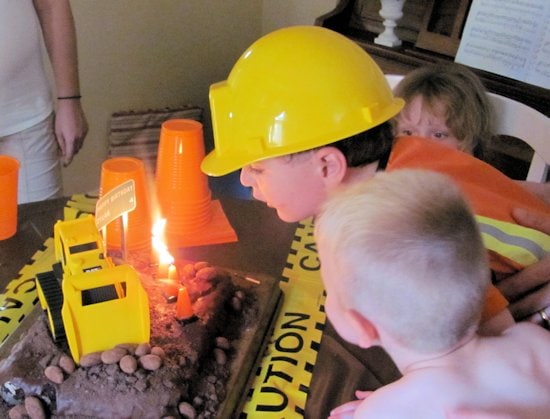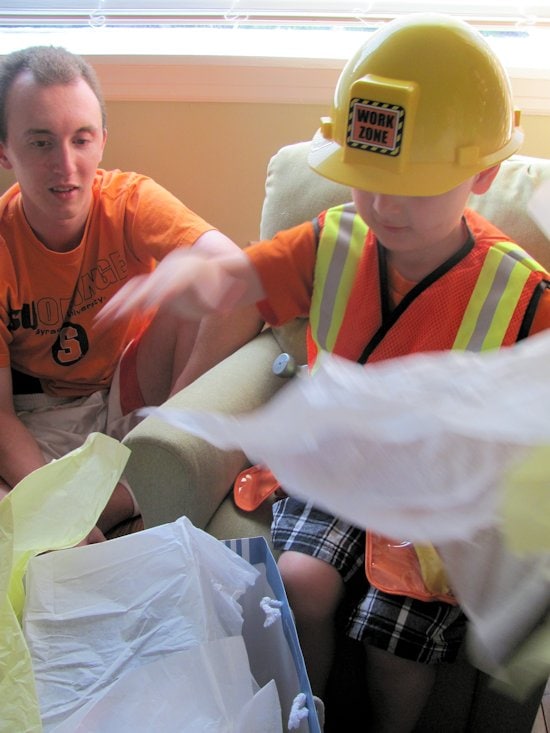 Buy Construction Birthday Party Supplies
Melissa and Doug Construction Worker Costume
Construction Signs
Caution Tape
Traffic Cone Birthday Candles
Kid's Hard Hats
Once all of the guests had left, I asked my son how he liked his Construction Birthday Party. "It was perfect!" he said.
DISCLOSURE: This website is monetized with affiliate links. I earn a small percentage of the sales price when visitors make purchases through affiliate links. Thank you for your support!
Share this post