Two Fat Ladies Welsh Rarebit Souffle Recipe
| Updated:
I have been an avid watcher of cooking shows since I was very young, and Two Fat Ladies is my favorite cooking show, ever.  Although Britain has never really been known for its cuisine, Jennifer Paterson and Clarissa Dickson Wright made every bit of it look delicious.  They traveled the country in their vintage motorcycle and sidecar, cooking for a colorful array of organizations, utilizing charming old kitchens and equipment.  It was magical.
One of the recipes that made an immediate and lasting impression on me was their Welsh Rarebit Souffle that they cooked up for a pony club in The Cotswolds.  I must not have been paying close attention at the time, however, because I thought for certain that the recipe involved rabbit.  It wasn't until my future husband described Welsh Rarebit in one of his many e-mails from England that I remembered the recipe and decided to try it.
Traditional Welsh Rarebit is typically a sauce made from cheese and strong beer that is ladled onto bread and broiled.  I like the Two Fat Ladies' Welsh Rarebit adaptation, using egg whites, even better.  This is a tasty, inexpensive and easy dish that will work for any meal!
Tonight for dinner I made the Two Fat Ladies Welsh Rarebit Souffles served on whole-grain English muffins with steamed broccoli on the side.  I like to add ham to my rarebits, and have made a couple of minor changes to their original recipe.  Without further ado, here is the recipe as I have adapted it.  Enjoy!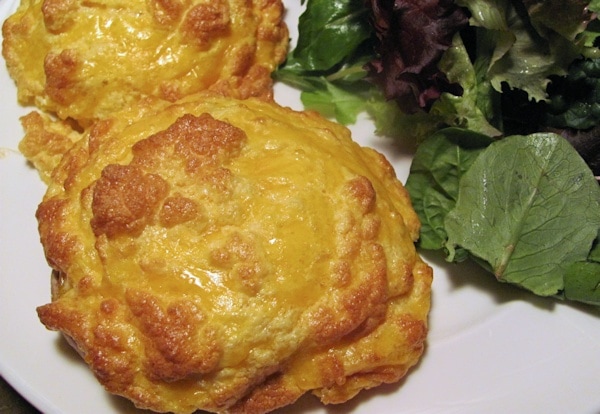 Two Fat Ladies Welsh Rarebit Souffles
A delightful take on the traditional Welsh Rarebit, inspired by the Two Fat Ladies.
Author:
Jennifer Roberts, adapted from Two Fat Ladies
Ingredients
3 Whole-grain English Muffins, divided and toasted
8 oz. Cheddar cheese, shredded
4 Eggs
1 tsp Brown mustard
1 tsp Worcestershire sauce
1 tsp Hot sauce
½ cup Diced cooked ham (optional)
Freshly Ground Black Pepper to taste
Instructions
Preheat oven to 450 degrees.
Divide egg whites from yolks into separate bowls, discarding one egg yolk.
In a large bowl, mix 3 egg yolks, cheese, mustard, Worcestershire sauce, hot sauce, black pepper and ham (if used) until combined.
Whip four egg whites until stiff peaks form.
Add a large spoonful of the whipped egg whites into the cheese mixture and stir to combine.
Gently fold the remaining egg whites into the cheese mixture until combined; try to keep the mixture as fluffy as possible.
Place English muffins onto a baking tray. Divide the topping evenly between the six English muffin halves, spreading gently to cover.
Bake at 450 degrees for 10-15 minutes, until lightly browned and risen.
Notes
Serve with salad, or a green vegetable. If you're feeling particularly extravagant, try adding bacon instead of ham!
DISCLOSURE: This website is monetized with affiliate links. I earn a small percentage of the sales price when visitors make purchases through affiliate links. Thank you for your support!
Share this post