Using a credit card to manage bills
| Updated:
Credit cards generally get a bad rap from money experts, and it certainly isn't undeserved. I know from experience that credit card debt can be a very bad thing. In the future I will talk in-depth about how I got myself into, and back out of, trouble with credit cards. But first I want to share how you can use a credit card to your advantage.
There was a wonderful time when my husband and I were both working and childless when we were able to save up large amounts of money and pay for everything (from cars, to furniture, to construction projects) by writing a check. We didn't need credit at all. That changed when I left my job and our family income dropped by more than 50 percent. We have been using a credit card to help manage our finances for about three years now, but I'm happy to say that in the over six years that my husband and I have been married, we have carried zero credit card debt. As long as you have the self-discipline to use a card wisely, there are several valid reasons for using one, and it can even pay.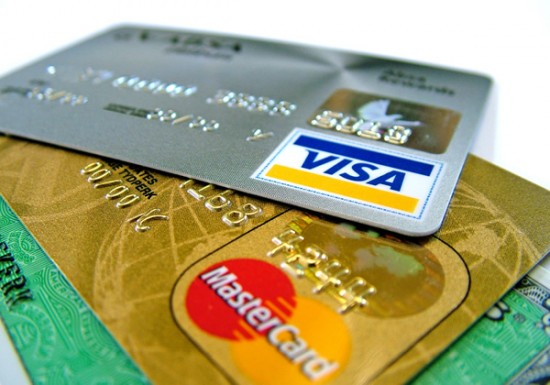 Why use a credit card?
When we had two good income streams, there was always enough money to cover any bills that came in, and then some. Once we were down to one income stream, it was more difficult to ensure that enough money was in the right place at the right time to pay bills as they came in. I prefer to keep money in savings rather than checking to benefit from interest, but forgetting to transfer money over one too many times resulted in overdraft fees that seemed a lot more significant when living on a shoestring. What can I say, I'm not always the most organized person. I decided to switch to a credit card rather than a debit card for expenses such as groceries, gas and clothing that weren't automatically deducted from my account each month. At the end of the month I make one payment for all of those expenses, and it's much easier to keep track of what I'm spending. I no longer worry about overdrawing my checking account. Some other credit card perks might include:
– Protection if a purchase turns sour
– Responsible use builds your credit rating, which is crucial if you need to finance a home or car purchase
– Convenient and safe to use for online shopping or travel abroad
– Money doesn't come straight out of your bank account if your card is stolen
– Back-up funds in case of an emergency
– Free rental car insurance
Use with care
Credit card debt is a bad, bad thing, and late payments can quickly torpedo a credit score. Don't get into the habit of using a credit card unless you have the self-discipline to keep the monthly balance within your means. Pay the entire balance in full each month, and you will never pay a cent in interest. If an emergency means you need to charge more than you can pay in a month, find the extra funds as soon as possible to pay off the remaining balance.
Choose a rewards card
There are literally thousands of credit cards to choose from, and it can be tough deciding which one is right for you. When my husband and I purchased a washer and dryer from Sears, we signed up for a store credit card to take advantage of a big promotional discount. Later the card changed to a standard credit card that also offered an optional reward points program free of charge. I signed on to the rewards program to earn points on the purchases I needed to make anyway. Other rewards cards offer cash back or frequent flyer miles. Rewards cards typically offer higher interest rates than standard credit cards, but you will never pay interest if you pay your balance in full each month–the rewards are completely free! With so many different no-fee card options available, there is really no reason to choose a card that has an annual fee attached. Choose a card that pays you to use it, find an interest rate that is manageable just in case an emergency means you can't pay right away, and never pay annual fees. Bankrate.com is a great resource for researching and comparing credit cards.
The perks
In general, points programs give you more value than cash back programs. Special agreements with other companies mean that the credit card company can offer high value gift cards, coupons and merchandise at less cost to them. They might also offer extra points-per-dollar on certain purchases, like gasoline or groceries. Since my husband and I are already saving for retirement, I decided to take the gift card route. I love to eat out, but had to give that up when I decided to be a stay-at-home mom. Every couple of months, though, we earn enough points for a $50 gift card to use at a favorite restaurant. It's a nice treat! In addition to reward points, I occasionally receive high value coupons, discounts to shop at certain stores, or statement credits like $10 deducted from my balance if I spend a certain amount on groceries. All of the rewards are perks that I get for spending money I would need to spend anyway. If you have trouble finding extra money to put away in savings, or just want the extra flexibility of cash, a cashback program may be a better choice. If you travel a lot, frequent flyer miles may be more rewarding. Choose the reward program that best suits your lifestyle.
Potential pitfalls
Credit card companies don't earn money from the people who pay off their balance every month, so they will try to snag you with extra services that you don't need. I've been offered identity theft protection, credit monitoring services, credit card insurance and more. Sometimes I get offers in the mail and sometimes they call. Either way, the pitches can be sneaky. Don't sign up for extra services unless you're certain they're free and always will be.
My credit card provider chopped my credit limit once it became clear that I was collecting rewards and there was nothing in it for them. Fortunately the new limit accommodated my budget just fine, and they eventually increased it again to what it had been before.
Tracking spending
My credit card isn't a blank check to use as I wish every month, and my personal limit is a lot lower than my actual credit limit. I determined a budget for all of the expenses I charge to my credit card, and I check the balance regularly to make sure I'm on track and to look for mistakes. I like to use Mint.com to break my spending down into categories and set budgets for each one. I don't take advantage of special coupons or deals that my credit card company sends me unless they help further my budget goals.
Paying it off
Once my husband's two paychecks have been deposited, all bills are paid and purchases made for the entire month, I head to my credit card website and pay the entire balance in full. I haven't paid a cent of credit card interest or fees since before I was married and we have stellar credit scores.
Not everyone needs or wants a credit card, but mine has given me more flexibility, peace of mind and occasional rewards without costing me anything.
DISCLOSURE: This website is monetized with affiliate links. I earn a small percentage of the sales price when visitors make purchases through affiliate links. Thank you for your support!
Share this post