Strawberry fields
| Updated:
Central New Yorkers have to put up with cold temperatures and lots of snow for much of the year, but when the warmer weather does finally arrive, we are fortunate to have an abundance of fresh local produce to choose from. Picking your own is not only a great way to stock up for cheap, it's also a wonderful summer activity for stir-crazy little ones.
Mr. Boy is going through a farm phase–he points out every barn and farm field that we pass by in the car, so I knew he would love strawberry picking. This morning we hopped in the car and headed to the same farm my mom took me to when I was little (I hadn't been there since). It was a beautiful, sunny day and there were quite a few cars parked by the field even on a Monday morning. I opened my door and the sweet smell of strawberries wafted in on the breeze.
I am a complete produce snob – I will only eat fruits or veggies that are as near perfect as I can find because I am rather easily grossed out. Just one of my many quirks I guess. Strawberries are one of the things that just don't seem to translate well to supermarket produce sections. I can never seem to find a container in which most of the berries aren't either bruised and squishy or growing fuzz. So, picking my own is ideal. Mr. Boy was surprisingly adept at picking out nice berries with little guidance once we established that they needed to be dark red, not green. We weren't in the field a few seconds before he was proudly showing off his first find (and a perfect specimen) to some ladies nearby (I hadn't even noticed that he added anything to his bucket). Every once in a while we had to toss some of his picks aside "for the birdies to eat", but overall the toddler berry-picking experience wasn't as crazy as I had imagined.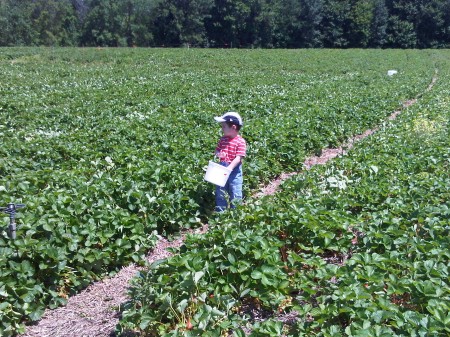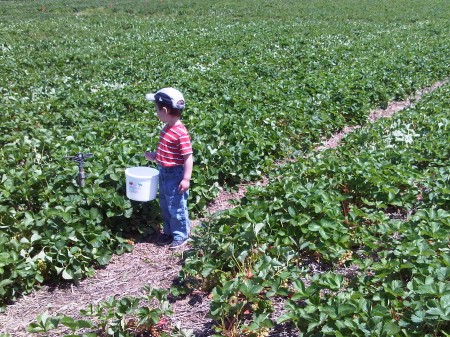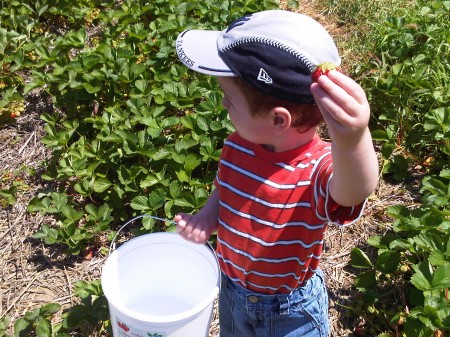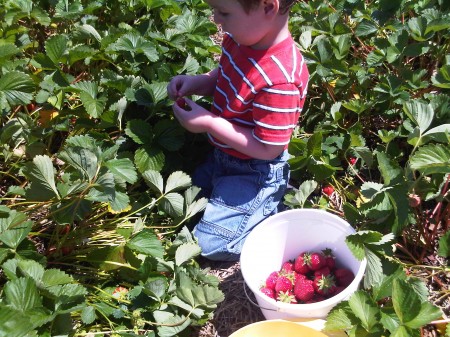 It was a glorious way to spend an hour or so. Mr. Boy and I had fun seeing who could find the biggest "monster" berry. I spent about $11.00 for all of the berries we picked (including the cost of an extra bucket to carry them in). I left a bowl of strawberries in my mom's fridge, then headed home to wash and prepare my share. I have some macerating in the fridge right now for strawberry shortcake tonight, but there were quite a few left!
After rinsing the remaining berries and removing the caps, I sliced them up, sprinkled with sugar, then divided them into three freezer bags to use later.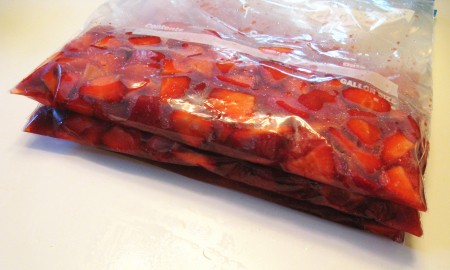 Strawberry season is relatively brief, so I'm glad to have some extras for later this summer. We enjoyed ourselves so much, we may go back and pick even more!
Where we went: Swistak Farm
What to bring: sunscreen, old clothes, your own containers (they will weigh them before you fill) or you can buy containers there , bottled water if you plan to stay a while
DISCLOSURE: This website is monetized with affiliate links. I earn a small percentage of the sales price when visitors make purchases through affiliate links. Thank you for your support!
Share this post