Raspberry Lemon Clafoutis
| Updated:
Raspberries were on sale this week and I was in the mood for a sweet baked treat, so I added some to my grocery cart along with a fresh lemon. Bearing in mind a recipe for clafoutis that I had recently read, I knew I could make something scrumptious.
My husband describes clafoutis as a sweet version of his beloved yorkshire pudding, a fact that would surely elicit a "sacrebleu" from the French who created the dessert. The comparison isn't that far off, though I found clafoutis to be considerably easier to make.
Though it is typically served warm, I thought it was equally delightful for breakfast after a night in the fridge. I enjoyed it with a generous dollop of whipped cream. You can sub in just about any fruit–the original recipe I referred to used blueberries, and I can't wait to try that version later this summer.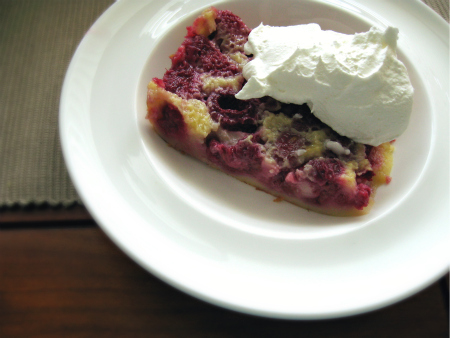 The following recipe is adapted from the wonderful blog Poor Girl Eats Well.
Raspberry Lemon Clafoutis
12 oz. Raspberries, washed and drained
4 Eggs
1 cup Sugar
1 cup Milk
1 Tablespoon freshly squeezed Lemon Juice
1 Tablespoon Lemon Zest
3/4 cup All-Purpose Flour
Pinch of salt
Powdered Sugar
Preheat overn to 350 and place the raspberries in the bottom of an 8″x10″ rectangular or 9″ round glass pan.
In a medium bowl, add the eggs and lightly whisk. Add the sugar to the eggs and whisk until the mixture is a pale yellow. Whisk in the milk, followed by the lemon juice and the lemon zest. Gradually add the flour and pinch of salt, whisking until completely combined.
Pour the mixture over the berries. Bake for approximately 45 minutes (the center should have risen and will spring back when pressed lightly). Cool for about 10 minutes, then dust with powdered sugar.
DISCLOSURE: This website is monetized with affiliate links. I earn a small percentage of the sales price when visitors make purchases through affiliate links. Thank you for your support!
Share this post