Quick Tip: How to Freeze Rotisserie Chicken
| Updated:
Can rotisserie chicken be frozen? Yes!
I posted on my Facebook page recently about a great deal I snagged on rotisserie chickens when I was out grocery shopping–the manager announced they were selling for just $2.99 (regular price $6.99)! Mr. Boy and I hurried over to get two. They had restocked by the time we passed through again, so I grabbed a third.
Rotisserie chicken is my favorite convenience food. It's relatively inexpensive and much healthier than other grab-and-go options. One whole chicken provides at least two meals for our family of three. I definitely had to take advantage of the low price, but what would I do with three whole chickens? Freeze them!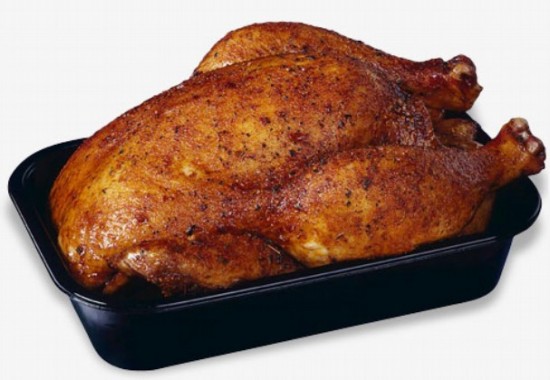 How to Freeze Rotisserie Chicken
Rotisserie chicken will freeze well once carved from the bone. I remove the skin, then cut the meat into small pieces, or shred it. Once all of the chicken is prepared, I divide it into meal-size portions and pack into small resealable plastic bags.
I place all of the bagged chicken into one larger resealable freezer bag. If you're the sort of person who loses track of the contents of your freezer, it's a good idea to write the date on your bag. The chicken is best used within four months.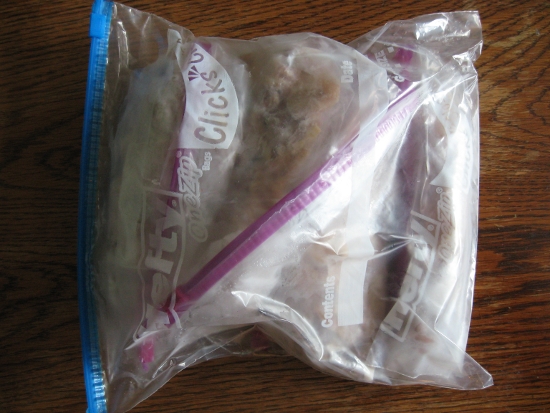 To reheat, I usually place the chicken in a skillet with a small amount of liquid (water or chicken stock), spices and sometimes vegetables depending on what I plan to make.
Ways to Use Rotisserie Chicken
Here are just a few ideas for using rotisserie chicken:
Tex-mex (tacos, enchiladas, quesadillas, etc.)
Pizza
Chicken Caesar Wraps (serve with lettuce, cucumber, tomato, feta cheese and caesar dressing in a pita or wrap)
Stir Fry
Soup
Most stores offer a variety of chicken "flavors", like Lemon Pepper or Italian. I find that it's only the skin that tastes that way–the meat will work well with whatever type of dish you choose.
My husband likes to take things a step further and use the remaining chicken bones to make stock. He places them in water and boils until reduced to a flavorful broth. We freeze that to use in other recipes or to cook rice.
Grabbing meat when it's on sale and making the most of your freezer will help you stretch your grocery budget. With rotisserie chicken there's a great convenience bonus, too!
DISCLOSURE: This website is monetized with affiliate links. I earn a small percentage of the sales price when visitors make purchases through affiliate links. Thank you for your support!
Share this post