Orange Cranberry Irish Soda Bread Recipe
| Updated:
Happy St. Patrick's Day!  I don't have a lick of Irish in me as far as I know, but I have always loved celebrating this holiday.  My husband's grandfather who he never knew (he died at age 27, leaving behind a wife and four children) was actually from Ireland, so celebrating this day is a nice tribute to his heritage.
Every year since we were married, I have made a special dinner for St. Patrick's Day.  It has always been the traditional Corned Beef and Cabbage, but this year I felt like a slight change.  Instead of the corned beef, I served up Apple Maple flavored Chicken Sausage with Champ (creamy mashed potatoes mixed with scallions) and Savoy Cabbage (which I find sweeter and much more palatable than the traditional alternative).  Although not really intended as a dessert, I serve Soda Bread for "afters" (as my husband says).
Now, I have to be honest: the first time I tried Soda Bread I was thoroughly unimpressed.  I'm just not a fan of dry, bland baked goods with excessive raisins.  But for some reason I was determined to make Soda Bread work for me, and I eventually improvised a recipe that I daresay I like.
Instead of raisins I like to use cranberries, but in the past I have also used dried cherries and apricots.  And, while I'm sure it's a sacrilege, I like to top it all off with orange-flavored glaze to sweeten things up a bit.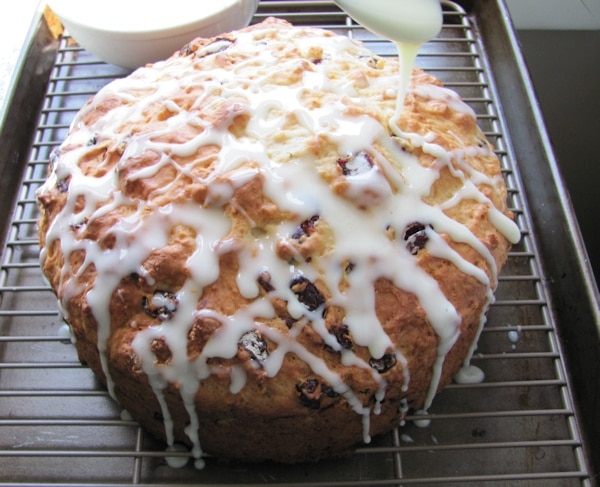 Without further ado, here is the very easy recipe: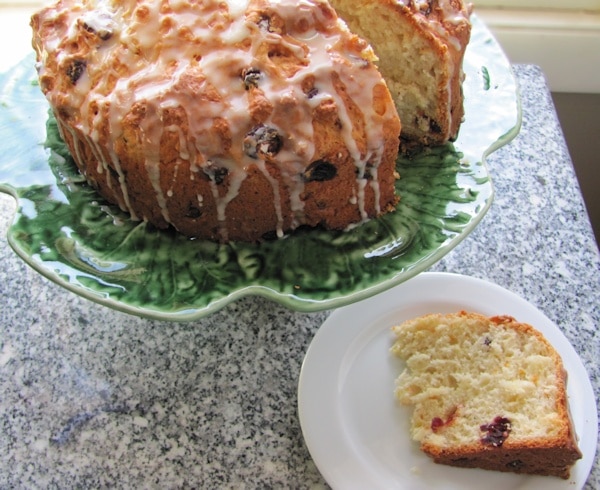 Orange Cranberry Soda Bread
Ingredients:
1/2 cup white sugar
4 cups all-purpose flour
2 teaspoons baking powder
1 teaspoon baking soda
3/4 teaspoon salt
1 1/3 cup dried cranberries
2 eggs
1 1/2 cups buttermilk
1 cup sour cream (I use light)
Zest of 1 orange
1 Tablespoon freshly squeezed orange juice

Preheat the oven to 350 degrees.  Grease a 9-inch round cake pan (I use a spring-form pan and grease well with butter).
In a large bowl, combine all dry ingredients, including cranberries and orange zest.
In a smaller bowl, combine all wet ingredients until smooth.
Pour the liquid mixture into the dry mixture and combine until moistened (dough will be very sticky).
Place the dough in the pan and spread.  Cut two slits in the shape of an "X" through the top of the dough.
Bake at 350 degrees for 75 minutes.  You may need to cover the bread with foil near the end of baking to prevent from burning.
Remove bread from pan and allow to cool.
Orange Glaze
Ingredients:
1 cup confectioner's sugar
1 Tablespoon freshly squeezed orange juice
2 Tablespoons water
Mix all ingredients to form a smooth, thick, but pourable consistency.  If too thick, add more water.  If too liquid, add more sugar.  Drizzle across top of cooled soda bread.
Enjoy!
DISCLOSURE: This website is monetized with affiliate links. I earn a small percentage of the sales price when visitors make purchases through affiliate links. Thank you for your support!
Share this post