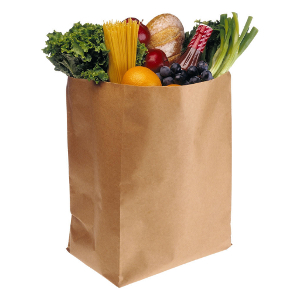 I'm still getting the hang of this full-time mommy stuff, and running a household. The weekly grocery shopping trip has been particularly tough to master. Growing up as the oldest of five kids, I only had experience buying and cooking for LOTS of people, not just two. I had no idea what a reasonable budget for two people was. Paired with the fact that my husband and I are both "foodies" to a certain extent, we were accustomed to spending a rather significant amount on whatever ingredients tickled our fancy.
Now I'm finally settling into a grocery shopping groove that works for our family and budget, and it feels great! Although I've been combining sales and coupons for months now, finally sitting down to do some menu planning made everything click. Ever since, we've been consistently spending between $65 and $70 for a week's worth of groceries, and that usually includes one or two sale items that I stock up on (it doesn't include baby formula and diapers, though).
Although I love to cook, I found out that flying by the seat of my pants in the kitchen is not an approach that works for me. I used to stock up on the ingredients that I knew we used frequently, and that could be put together to form some kind of meal…but I would get so overwhelmed standing in the kitchen at 5:00 trying to figure out what to concoct for dinner! It also seemed as though I was perpetually stocking up on something that was on sale, stretching our budget to the max. There never seemed to be a week when my previous stock-ups allowed me to get by with only a few purchases.
It can be difficult thinking about what we want to eat for a whole week, but having a plan in place makes a world of difference. It's so much easier at the end of the day knowing what's on the dinner agenda, and how long it will take to prepare. I use a magnetic shopping list to write down the week's menu, and then I stick it to the fridge. Either my husband or I will make the night's meal, depending on who feels like it or whose specialty it is. I do most of the cooking these days, but it's nice knowing that he can just check the menu and put together the meal if I'm not available. My next goal is to fill a three-ring binder with my family's favorite recipes, so each week I can flip through and pick some meals rather than brainstorming every Monday. I asked my husband to write a list of his favorite meals, and I'm going to do the same. Once we have our list, I'm going to type up the recipes and ingredient lists and place them in the binder.
We could probably squeeze even more out of our grocery budget by planning meals with leftovers that can be used for another night, and creating our menu based on specific sale items, but for now I'm happy with our budget and the variety of food we are able to eat each week. My shopping trips are so much quicker and easier now that I have a plan in place and specific ingredients on my list. If you're having trouble paring down your grocery budget and haven't yet tried menu planning, I would highly recommend it! Trust me, it's a lot easier than it sounds. It's a great way to involve the whole family and make them excited about meal time as well.
Here's our menu for this week:
Monday – Pierogies with sausage
Tuesday – Chicken Enchiladas
Wednesday – Manicotti
Thursday – Burgers and Pasta Salad
Friday – Homemade Pizza
We don't usually plan the weekends, because we're out and about and often get invited to my parents' for meals. If we are home, weekends are when we use up leftovers, or concoct dishes from whatever staples we have in the freezer or pantry. All of the dishes on the menu are quick and easy, and many share common ingredients (sometimes with meals from the week before). I'll continue to share my grocery and menu strategies as they develop!
DISCLOSURE: This website is monetized with affiliate links. I earn a small percentage of the sales price when visitors make purchases through affiliate links. Thank you for your support!
Share this post