Meet Ringo our rescue pup
| Updated:
UPDATE: Since writing this, we have discovered that Ringo is a Schnoodle, not a Yorkiepoo like we originally thought! That's okay — we still love him just as much.
My family and close friends know how much I have always loved animals. I was determined to be a veterinarian up until architecture captured my interest in middle school. As far as domesticated animals go, I am most definitely a "dog person". I have been campaigning for a puppy for years! My husband had preferred to wait until we had a larger house, but recently he had a surprise change of heart and said we could adopt a puppy because he knew it would make me happy.
I used to ogle the cute purebred puppies at pet stores, and I just knew that someday I would spend the money to get a purebred puppy of my dreams. Somewhere along the way, though, I learned about the horror of puppy mills and the problems associated with casual breeders. Puppy mills are essentially dog-producing factories where animals are kept in filthy cages and bred repeatedly until their useful life is over, at which point they are usually euthanized. Puppies produced in these facilities may have serious health problems and lack developmentally due to an absence of socialization. While there are some excellent smaller-scale breeders out there who genuinely care about their animals, others are in it just for the money and the pets they sell may not be healthy or well-adjusted. A good breeder who truly cares about the welfare of their dogs does not sell puppies to pet stores to be stored in a cage until they are purchased.
I never really considered adopting a dog from a shelter. Sadly, I had the impression that they were all wretched looking stray adults, oftentimes pit bulls, rottweilers or other big breeds with a troubled past.  The more I researched, though, the more I discovered how wrong I was! I learned that in addition to city-run animal shelters, there are thousands of non-profits across the country dedicated to rescuing dogs of all types. Dogs aren't always turned over to rescues because they're a nuisance, either–in this economy some families simply can't afford their pets and beautiful purebreds are being turned over to rescues.
It wasn't long before I decided that adopting a dog from a shelter or rescue was the only way I wanted to acquire my pet.
Adopting Ringo
Once my husband gave me the green light, I scoured Petfinder.com (a website that lists adoptable pets from around the country) for dogs that interested me. Because I take dog ownership very seriously and planned to keep my dog for his entire life, I wanted to ensure that the dog would be a good match for our family as far as possible. I knew I wanted a dog that does not shed, he had to be on the smaller side due to our small house, and he needed to be suitable for a family with young kids. I researched various breeds so I knew what to search for, but I kept an open mind as far as possible. My dream dog was a "Yorkiepoo", a Yorkshire Terrier and Poodle mix.
Petfinder can be a bit frustrating. It is the responsibility of rescue groups to keep their list of available dogs updated, and sometimes they forget or don't get around to it. I fell in love with a few cute pups who turned out to be already adopted. But finally, a fresh listing for a 4-month-old Yorkiepoo appeared!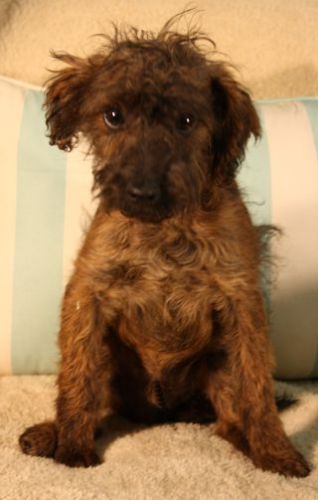 I have to admit that it wasn't love at first sight, from the photo anyway. He was a homely little creature with scraggly fur. He didn't look like any fluffy Yorkiepoo that I had ever seen, and I wondered about his health. My husband, though, thought he was cute and just "pouting" in the photo. I agreed that we could at least meet him to get a better look and learn what his personality was like, then decide from there whether to move forward with an adoption. I knew that he was exactly the type of dog I wanted, and maybe with proper care and a loving family, he would develop into a handsome, healthy pet. I called the rescue to arrange a meeting and agree to the adoption terms, then spent the next few days in a simultaneous state of excitement and dread that I would perhaps want to turn the adoption down after getting both my own and the rescue's hopes up.
We drove out to Helping Hounds in Dewitt in a snowstorm to meet this pup. It took me two seconds flat to know that we were not leaving him there. This precious, loving puppy crept toward us and immediately cuddled up against me. Though he was still somewhat of a sight to behold and very smelly, it just felt like he was meant to be a part of our family all along.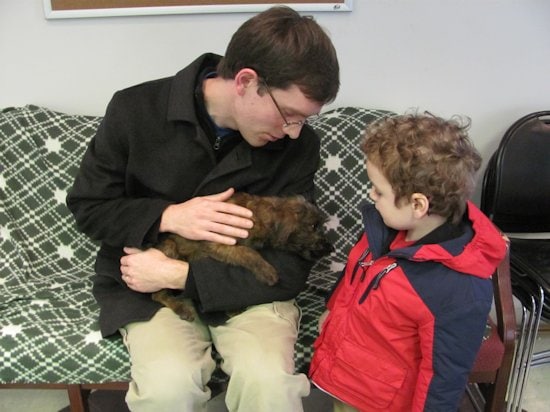 I had previously filled out the rescue's adoption application "just in case", and they had checked with my reference to ensure we were a suitable family. I finished signing the contract, made a donation, and the puppy was ours to take home right then and there! We headed to the nearest pet store to load up on everything we would need before heading back home in the snowstorm. We had a dog!
Later that day I decided that Ringo was a name that suited our new puppy well. My husband and I both like The Beatles, and I have a soft spot for drummer Ringo Starr and his goofy song "Octopus' Garden". I was reminded of a quote I had seen recently from the movie (500) Days of Summer, which sums it up perfectly:
Tom: Nobody loves Ringo Starr. 
Summer: That's what I love about him.
Ringo's Background
Although we adopted Ringo from a local rescue group, he actually had a long journey to reach us, originally coming all the way from Indiana! He traveled in on a Friday night and we adopted him at noon on Saturday. Ringo was rescued as a "leftover" from a breeding operation by AdoptALab.org as part of their special Operation Little Dog program. They have successfully shut down dozens of breeding programs and rescued countless puppies. I was told that had Ringo not been rescued he likely would have been taken in by another puppy mill, destined for an awful life in a cage. It's hard to fathom!
Before arriving at Helping Hounds in New York to be adopted out, AdoptALab took care of all of his medical needs. He received all of his age-appropriate shots, flea preventative, and he was neutered. I was also provided with antibiotics to cure his kennel cough and prevent pneumonia from developing (rescue puppies often have delicate immune systems). When I took Ringo for his first vet checkup after adoption, his new doctor was very impressed by the quality of care he had received! I think both AdoptALab and Helping Hounds are well-organized operations, and I'm happy I was able to get my puppy through them.
Ringo at Home
When I decided to adopt a dog, I was open-minded about the age. In order to avoid expensive medical bills in the near future or the loss of a pet when my son was at a tender age, I did rule out senior dogs and concentrated on young adults or puppies. Depending on the dog's background, an adult can work out quite well if you would like to give a dog a nice home but don't have the time for training or the patience for puppy antics. A puppy is much more work, of course, but you have the advantage of being able to train the dog as you wish when it is still at an impressionable age. Finding an adoptable puppy was my best-case scenario–I wanted to enjoy the entire dog experience! Puppies are usually adopted incredibly quickly with multiple applications for each pup, but we were lucky to get Ringo because we acted quickly.
We set his bed in the kitchen and he immediately settled in for a lot of rest. The first two days he was very docile!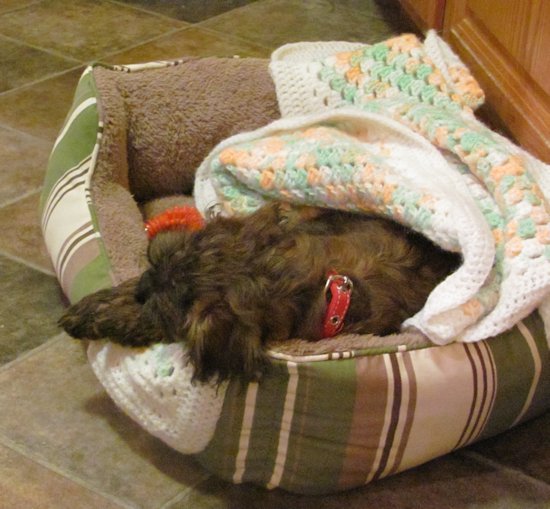 Once he started eating properly and felt comfortable with his new family, we started to see his true personality. We have enjoyed watching him pounce on his toys and seeing him figure out how to make certain ones squeak. The first week was truly like having a new baby in the house. We had to work him through separation anxiety at night as he became attached to us, and watch him like a hawk as we worked on housebreaking. Ringo has had a tough time with teething, so we've had to be vigilant about making sure he only chews his toys and not people or their belongings.
It's been exhausting, and a little bit overwhelming being a "parent" to a puppy! A dog's instincts and needs are very different to a human baby's. My family owned a beagle when I was growing up, but Ringo is the first dog I have been entirely responsible for. I have been poring over Cesar Millan's website, books and YouTube videos learning how to be a "pack leader" and raise the perfect pet. Fortunately Ringo is a very quick study, courtesy of the two intelligent breeds that make up his genetics. As we near the end of week two with Ringo he is almost completely house trained and walks very well on a leash. He can be a troublemaker (we had to install an extra tall baby gate because he started leaping over the old one), but we love our dog and I'm determined to teach him to be an enjoyable part of our family even on his naughtiest days when he tests my patience to the max!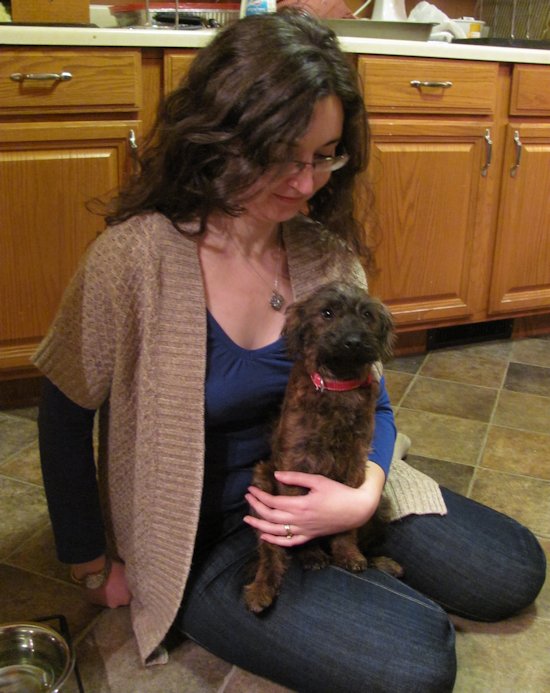 After two weeks of good food, nice baths and plenty of TLC, Ringo is growing rapidly, and that scraggly fur is starting to blossom into the luxurious curly coat I would expect a Yorkshire Terrier/Poodle mix to have.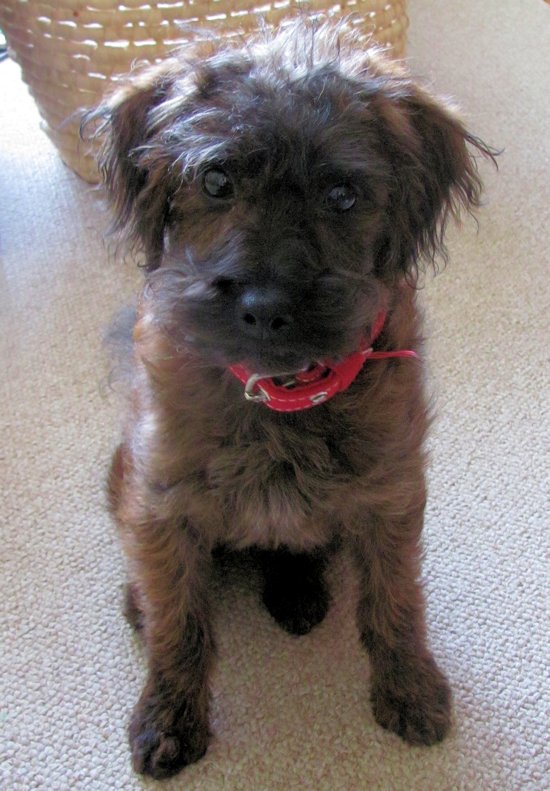 Ringo became part of the family immediately. My son was so excited and said "I love you" to our puppy like he was a person. Having a young child is beneficial to Ringo because it helps with his socialization, and it is beneficial to my son because he is learning about patience, leadership, responsibility and even sharing. I'm happy to have another companion during the day, and looking forward to lots of nice long walks together. I think Ringo is going to help us as much as we're helping him!
Why adopt?
– By refusing to use your money to patronize puppy mills and other reckless, abusive breeders, you will help make dog breeding less lucrative for the people who do it for the wrong reasons
– Animal shelters and rescue groups are made up of dedicated volunteers who are motivated by a love for animals, not profit. They spend time caring for and nurturing dogs to prepare them for adoption
– It can be a frugal way to obtain a nice pet! Adoption fees are a few hundred dollars, max. The dog will likely have all appropriate shots and preventative medications. Most rescues will spay or neuter pets prior to adoption, and many also include micro-chipping to help locate the pet if he gets lost. Of course you must be sure you can afford to feed and care for your dog for its entire lifespan before you make the decision to adopt, but isn't it wonderful that you can lower your initial "start up" costs and help an animal in need?
– They're not all mutts. Dogs are surrendered for a variety of reasons, and you will find many beautiful purebreds in shelters. There are even rescue groups that are dedicated to rescuing and re-homing specific breeds. But who says being a mutt is a bad thing? Did you know that mixed breed dogs are often much healthier than purebreds because they are less likely to inherit breed-specific health problems? Give mutts a chance!
I am so grateful to all of the volunteers at both AdoptALab and Helping Hounds for their hard work in rescuing animals in need and preparing them to enjoy a happy life in a forever home! Ringo is a sweet, affectionate puppy, and I know it's because he was rescued before bad people could hurt him further and he was shown compassion instead. I hope that if you ever want to bring a dog into your home you will check out a local rescue or shelter first.
DISCLOSURE: This website is monetized with affiliate links. I earn a small percentage of the sales price when visitors make purchases through affiliate links. Thank you for your support!
Share this post