Sausage and Potatoes Stephen
| Updated:
Update 2/2/2016: My family never really had a name for this dish, but I have decided to dub it Sausage and Potatoes Stephen in honor of my poor brother. He recently had run-in with a knife and a sweet potato whilst attempting this recipe, from which his finger didn't emerge entirely unscathed. Be careful chopping those sweet potatoes–they're stubborn buggers!
Cooler fall weather makes me want to bake things. This hearty recipe is fabulous for cold days, and I love that the colors of the ingredients remind me of autumn.
My mom developed this recipe after having something similar in a local Italian restaurant. I'm sure there is a more proper name for this dish, but I don't know what it is. All I know is that it really hit the spot for dinner tonight! It uses only a few ingredients, is super quick to prepare and bakes in about an hour. Enjoy!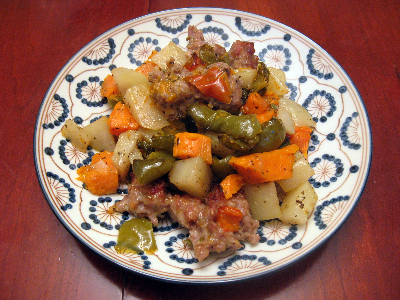 Sausage and Potatoes Stephen
A wonderfully comforting dish of roasted sweet potatoes and white potatoes topped with peppers and onions and Italian sausage.
Ingredients
1 large sweet potato
2 medium white potatoes
1 pound sweet Italian sausage (ground, or removed from casings)
1 12 oz. jar fried sweet peppers (*see NOTES for substitutions)
2 tsp Italian seasoning
½ tsp salt
Ground black pepper to taste
3 Tbsp olive oil
Instructions
Preheat oven to 375 F.
Peel and cube potatoes (approx. 1-inch cubes).
Drizzle 1 tablespoon olive oil over bottom of 9x13 baking pan. Add the potatoes to the pan, then drizzle the remaining olive oil over the potatoes. Sprinkle with Italian seasoning, salt and pepper.
Toss the potatoes until evenly coated with olive oil and seasonings.
Spread peppers and onions over the potatoes.
Break the uncooked sausage into pieces to cover the potatoes, peppers and onions.
Bake, uncovered, for approximately 1 hour or until the potatoes are tender and the sausage is cooked. Serve warm.
Notes
I didn't realize when I originally posted this recipe that fried sweet peppers in a jar are a regional product. Even here we can't always find them. If you have trouble locating the fried peppers, you may substitute fresh peppers and onions (1 green bell pepper, 1 red bell pepper, 1 small onion chopped), or use roasted red peppers from a jar. The taste won't be quite the same, but it's still very good.
DISCLOSURE: This website is monetized with affiliate links. I earn a small percentage of the sales price when visitors make purchases through affiliate links. Thank you for your support!
Share this post