Homemade pizza even I can make
| Updated:
I have loved cooking since I was very young and enjoy tackling complicated recipes from time to time. But for some reason homemade pizza has always eluded me. If I made dough from scratch, it would turn out tough and cracker-like. Store-bought dough was hit or miss. I've ended up in tears (and throwing spatulas) after delectible looking pizzas became one with the pan, and couldn't be chiseled free. I would often resort to the stuff that comes in a can and only needs to be rolled out, but it's greasy and tastes nothing like the real thing.
My family has a favorite local pizza place that we absolutely love, but eating out gets pricey after a while. I was debating with myself whether we could really afford to go out for pizza tonight, when my friend Amy from Frugal Mama mentioned her favorite homemade pizza recipe again. I had been meaning to try it, and this evening I felt in the mood for culinary adventure. Besides, Amy promised that it's easy.
And it was.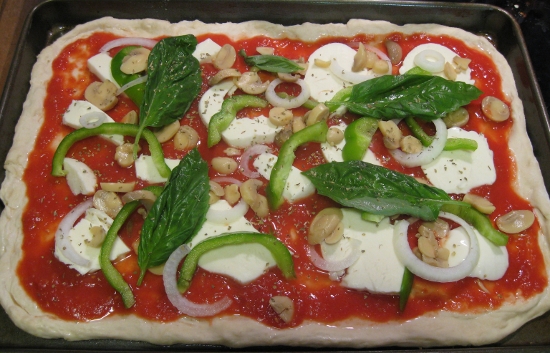 I mixed the dough in my stand mixer, then let it rise during the afternoon. It was very easy to work with. In addition to the super-easy no cook sauce, I topped it with fresh mozzarella, fresh basil, green pepper, onions and mushrooms (I prefer canned mushrooms on my pizza, though I'm sure fresh are healthier). I was a bit apprehensive about putting it in the oven, since so many of my pizzas have gone terribly wrong, but it wasn't long before my house was smelling like a pizzeria, and this was ready to come out: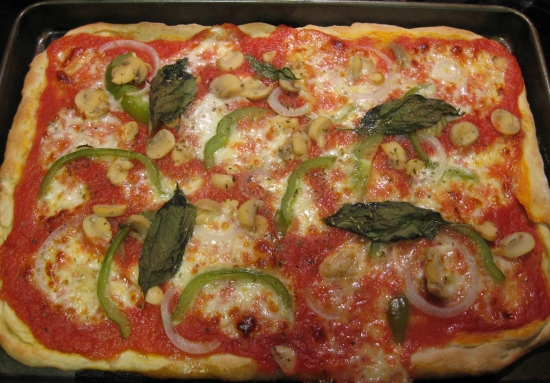 The cheese was bubbled and browned, just how I like it. The peppers and onions were perfectly tender, and the crust was crisp. Best of all, it didn't stick to the pan!
I think part of my problem all along has been the oven temperature–I have usually baked pizzas at 425 or 450. The toppings never cooked enough, while the crust melded to the pan. I have to admit to thinking "Are you nuts?" when I saw that this recipe calls for a 500 degree oven, but it was just what the pizza needed. The toppings and crust both cooked perfectly.
This recipe was truly easy to do, and now I can say that I can make pizza at home. Best of all, it cost about half the price of the medium pizza we get at our favorite pizza place, even with the premium ingredients I used. This is definitely a great money-saver!
DISCLOSURE: This website is monetized with affiliate links. I earn a small percentage of the sales price when visitors make purchases through affiliate links. Thank you for your support!
Share this post