Good Buys: Gifts for the homebrewer, plus homebrew themed birthday treats
| Updated:
With Valentine's Day fast approaching, I thought I'd share some of the gifts I've given my husband over the past year. Like many men, he's been bitten by the homebrew bug. I don't like beer at all (his hard cider on the other hand…), but it's been fun watching him undertake this hobby with passion and precision. His homebrew hobby has also made it easier for me on the gift front; I've found several great homebrew related gift ideas that he uses and appreciates.
The best part about this list? Every item is inexpensive (under $40) and made in the USA!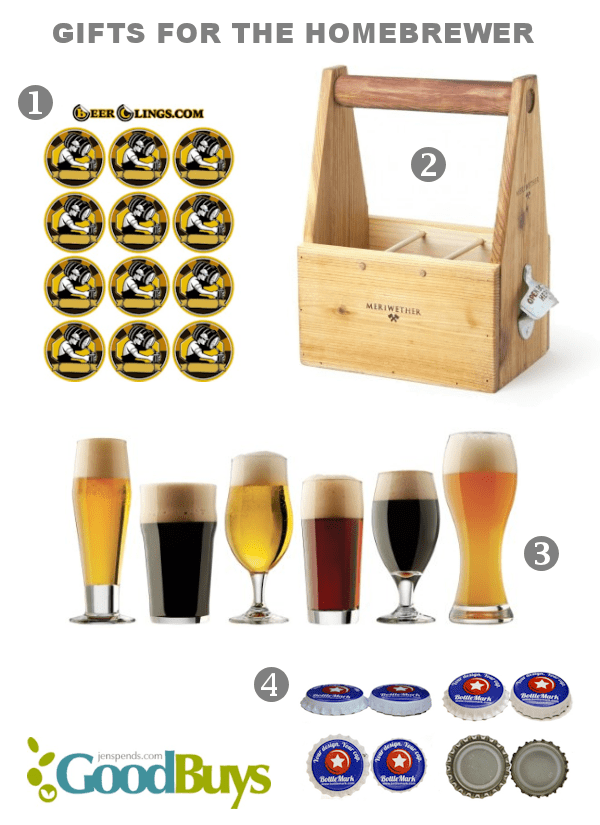 1. Beer Clings re-usable beer labels 2. Wood 6-pack beer caddy 3. Craft beer glass set 4. Custom bottle caps
1. Beer Clings Re-Usable Beer Labels
It can be difficult keeping track of which beer is which when they're not labeled. My husband re-uses his bottles, so adhesive labels that use glue aren't so practical. Beer Clings are like heavy-duty vinyl window clings that adhere to the bottles with moisture instead of glue. They really do stay put, and look very attractive. You can either design your own labels, or choose from their variety of ready-made designs. Use a grease pencil to write in the beer name, then wipe off when you're done.
2. Meriwether Wooden 6-Pack Caddy
My husband likes to share his brews with friends and family who act as his taste-testers, and while he was happy using recycled cardboard totes, I thought something more personal and heavy-duty would be great. I found this wooden beer caddy on RedEnvelope.com and thought it was the perfect gift idea. It's handcrafted in Montana from Western Red Cedar and includes a great vintage-style bottle opener attached to the side. At the time I purchased, RedEnvelope offered personalization, which was a nice added touch, but they no longer have that option (boo!). It's still a great gift idea, though–my husband has loved it, and it's been very useful for transporting his bottles to family gatherings.
3. Libbey Craft Brew Beer Glasses Set
I've learned that, like with wine and other alcoholic drinks, different types of beers have different types of glasses that help enhance the drinking experience. The particular shape helps keep the beer at the ideal temperature, among other things. I was excited to find this inexpensive, but quality, set of glasses so my husband could properly enjoy his different varieties of craft brews.
4. BottleMark Custom Bottle Caps
My husband bought a bunch of plain metal caps when he decided to launch his hobby, but I thought it would be fun to give him something a little bit more personal to make his brews stand out. BottleMark is one company that will print your custom image on bottle caps. Our schnoodle dog Ringo is the official mascot for my husband's kitchen brewery, so I created a fun custom cap design featuring his mug. If you're not computer graphics-savvy, they offer some fun pre-made designs to choose from, or just upload a digital photo.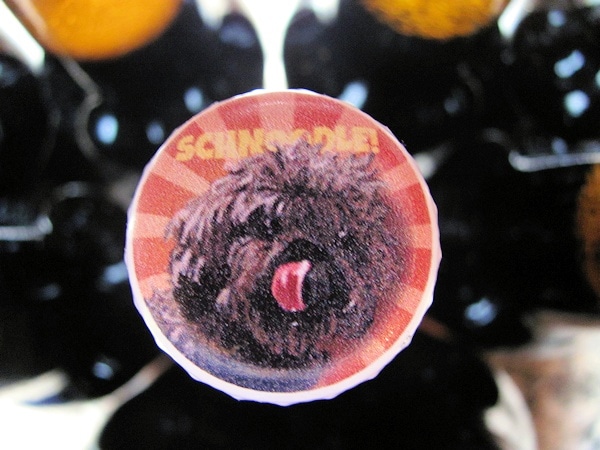 Easy homebrew beer themed mini cupcakes
My husband's parents were visiting us when he had his birthday this past summer, and my mother-in-law brought over a great Union Jack cupcake stand. I definitely wanted to use that stand, and I thought it would be fun to tie the cupcakes in with the theme of my husband's gifts.
Check out these cute mini cupcakes that look just like mini glasses of beer!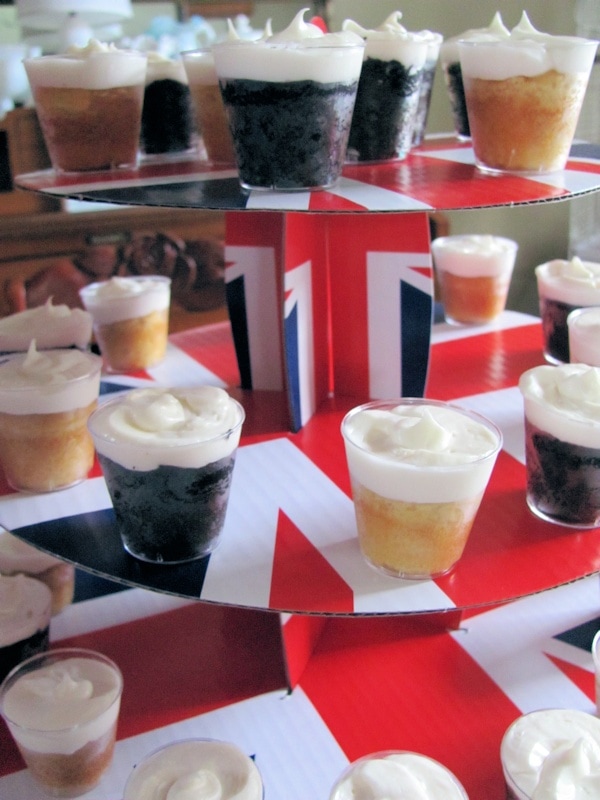 To make both "lager" and "stout" versions, I bought a devil's food cake mix and a yellow cake mix. I baked batches of mini cupcakes in a greased mini cupcake tin without liners. Once the cupcakes had cooled, I stuffed each one in a plastic shot glass (I found these at a dollar store). The cupcakes were just the right size to fill the cups, with a little space left at the top.
Finally, to create the look of a foam head, I piped some vanilla frosting on top using a Ziploc bag with the corner snipped off. I stuck birthday candles in a few of them. Cocktail forks are just the right size for eating the cupcakes.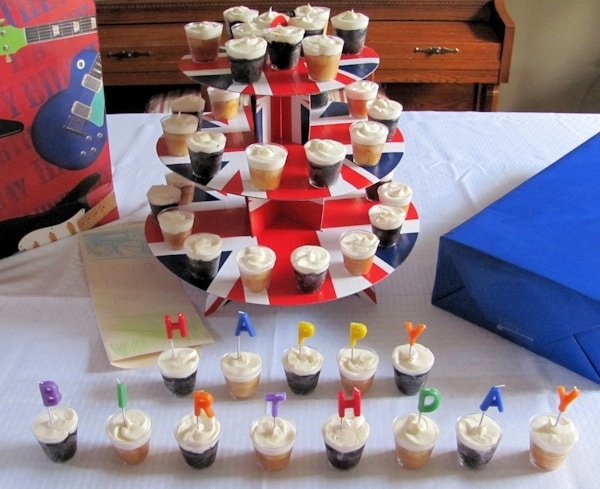 If you want to get extra creative, I found quite a few cake recipes online that use actual beer. I decided against it because I was short on time, and kids would be eating these, but it would have been a lot of fun to try.
Okay, so "cute" isn't usually what guys have in mind when it comes to party food, but I didn't have any complaints! Gift-giving and party-throwing is so much fun when you can cater to a person's unique interests.
DISCLOSURE: This website is monetized with affiliate links. I earn a small percentage of the sales price when visitors make purchases through affiliate links. Thank you for your support!
Share this post