Cutting out cable
| Updated:
Looking over my finances and paying some bills yesterday afternoon prompted me to finally take action on the cable TV expense that has been causing me angst ever since I left my job. Over the past five years our bill has gradually crept up from about $97 per month to more than $122 per month for high speed internet access with digital cable. We gave up traveling and eating out long ago, and it was the only luxury we still enjoyed. But $122 per month was a ridiculous amount to pay for something we barely used. So, yesterday I called up our provider and ditched our service.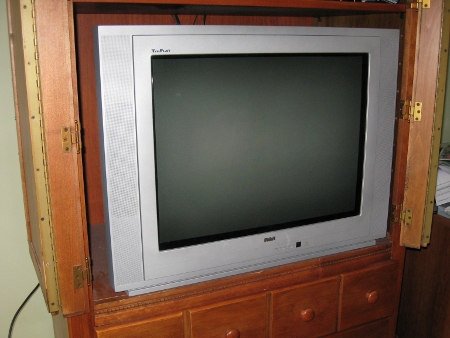 Most of my friends have had luck getting their bill lowered by calling the company annually and threatening to cancel. First, I asked the rep to quote me a price for standard cable, but I was told that the price would remain the same even though I wouldn't have as many channels. Next, I asked her to quote a price for basic cable and internet access, which turned out to be $60 per month, or less than half what I was paying. The rep offered to drop my bill for my current service down to $93, but that was still a hefty price tag and I knew it wouldn't last. So, I opted for basic cable at a small extra cost on top of the internet service we already have.
I felt a little bit crazy and impulsive after hanging up the phone–although I grew up without cable TV, I've always had it as an adult. I also felt a little bit sad because it was a formal acknowledgment that times are tough. But after a little while I felt more liberated than sad. The extra $60 per month I'm saving can pay for a week of groceries. I will no longer flip through hundreds of channels when I'm bored. Mr. Boy watches a couple of shows on PBS in the morning, and that's it, so he won't miss it. Hubby enjoys watching survival shows (personally I won't miss the bug-eating) and sports, but hopefully the internet will make up some of the difference. As for me, I will miss HGTV and The Food Network, which I liked to have on in the background while I was working. I also enjoyed watching old movies when I had a chance. I'm going to make up for my loss by signing up with Netflix.
Overall, I don't think we are going to miss cable TV. I certainly won't miss the monthly bill! It would be nice if the much talked about a la carte service became a reality so we could pay for only the channels we use, but until then I am happy to do without!
DISCLOSURE: This website is monetized with affiliate links. I earn a small percentage of the sales price when visitors make purchases through affiliate links. Thank you for your support!
Share this post