Budget chandelier makeover
| Updated:
Last week I spruced up some ugly recessed lighting fixtures, and today I finally tackled my bland dining room chandelier.
The dining room light was one of the many things I hoped to replace soon after we moved into the house, but it just didn't happen and at this point buying a new chandelier is out of the question. The existing fixture really isn't horrible, but I felt that the glass shades made it look chintzy. I was going for a more classic look in a room filled with elegant antiques.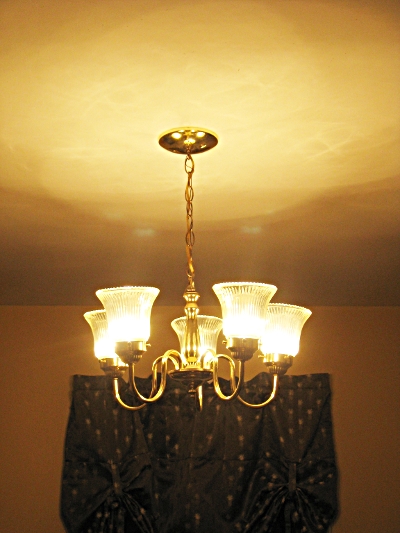 I thought about simply replacing the glass shades with new glass shades of a different finish, perhaps frosted. That alone can really breathe new life into a tacky old fixture. Something about the overall shape and style of the light fixture just didn't fit with my decor, though, and I wanted something different. I have always loved chandeliers with tiny lampshades clipped onto the bulbs. I was thrilled to discover that I could buy candle style chandelier light bulbs with a standard size base, so I could use clip-on chandelier shades with my light fixture!
Lampshades in general can be expensive, and chandelier shades are no exception despite their diminutive size. As I often do, I turned to eBay and was very fortunate to win some beautiful ivory clip-on shades; the lot of 8 shades cost me only $9.49 shipped.
I headed to Hobby Lobby to see if I could find strings of glass beads or anything else that would look like chandelier prisms without the cost. I was about to give up on that idea when I ventured into the wedding department (all items were 50% off) and found some "hanging gems"at $9.99 for a set of six. I have no idea what the intended purpose is, but each was a string of crystal-like pieces held together with metal rings. Perfect! I bought two sets for a total of $9.99 and hung two from each light, using the screws intended to hold the glass shades in place.
I also love the look of fabric chandelier chain covers, so I whipped up one of those with a faux silk remnant that I had on hand. I held it in place with some pins, and it is fully removable in case it gets dusty and needs washing.
Here is the end result: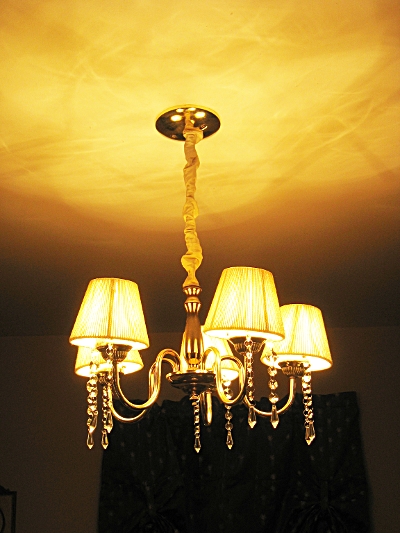 This changes the entire character of the room, and I couldn't be happier! For about $25 (including the shades, new light bulbs and "hanging gems"), I took my old chandelier from tacky to classy. The light is so much softer and I have a beautiful new focal point in the room. Mission accomplished!
DISCLOSURE: This website is monetized with affiliate links. I earn a small percentage of the sales price when visitors make purchases through affiliate links. Thank you for your support!
Share this post