Beat the Rush: Give the gift of design
| Updated:
If you're new here, welcome to Jen Spends! It's time to wrap up our Beat the Rush Gift Guide, and boy do I have an unusual idea in store!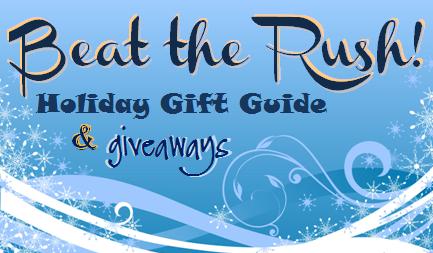 I love watching those home makeover shows where the owners are shipped off for a few days while a room or their entire home is redesigned. I always thought it would be fun to be able to surprise someone with a beautiful new room. A few years ago, I had my chance! My mom was trying to think of a special gift idea for my youngest brother's sixteenth birthday. She had a limited budget and was struggling to come up with an idea that she felt was suitable for this important occasion. Knowing that my brother desperately wanted to remodel his bedroom, I suggested that we tackle the project ourselves as a surprise birthday gift to him. My poor brother had been stuck with a Winnie-the-Pooh nursery theme that the previous owners of my parents home had done for their baby. My sister and I hadn't minded it, but when my brother took over our room he couldn't wait for a change!
(Excuse the lousy "before" pictures–I didn't think to take photographs until we had already removed wallpaper border and made the room a mess.)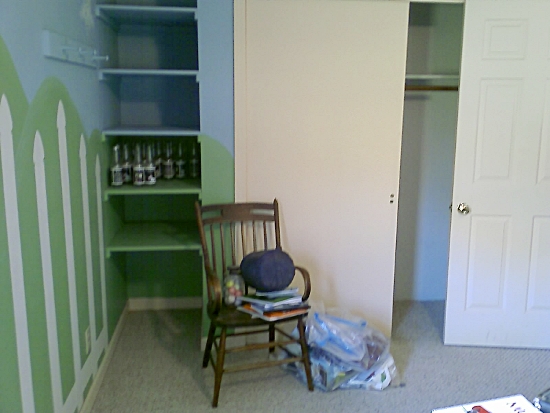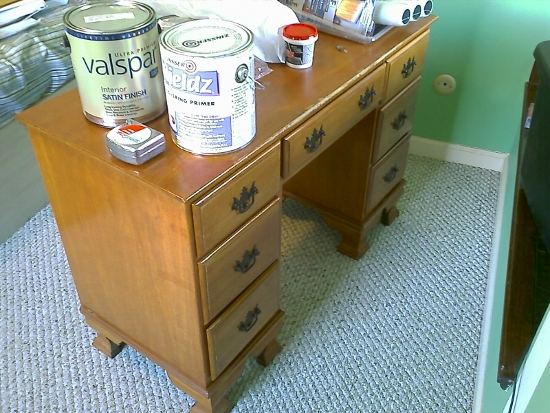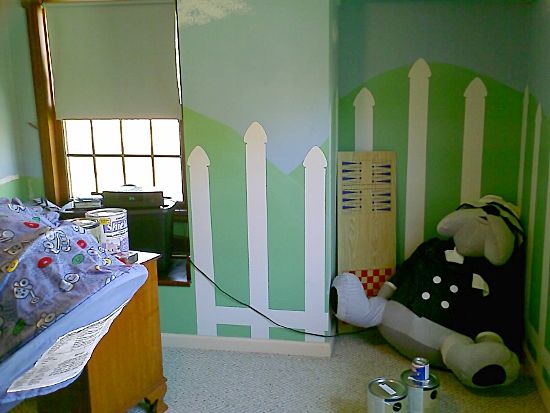 Mom and I set to work choosing a paint color, sourcing decor items and doing the work while he was in school. It was a challenge keeping my nosey brother out of the room. We didn't manage a complete surprise (he guessed that we were redoing his bedroom), but he didn't see the end result until his birthday. He was thrilled!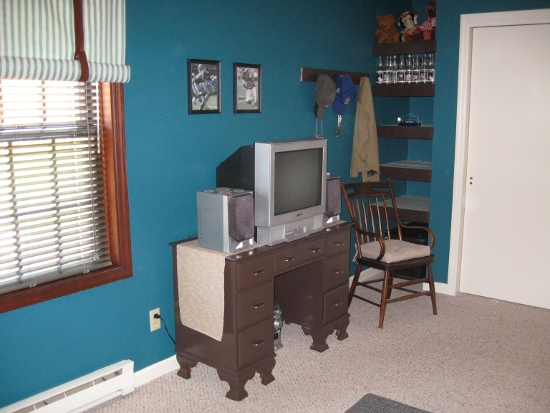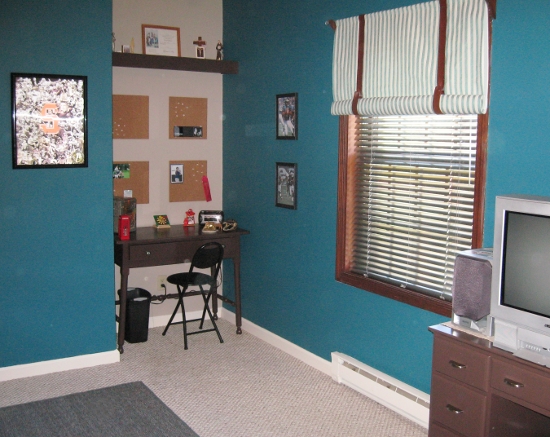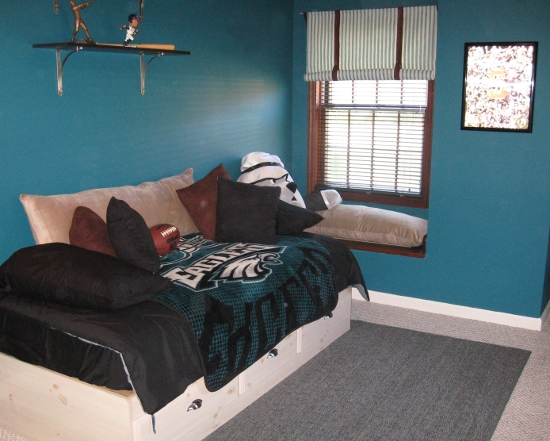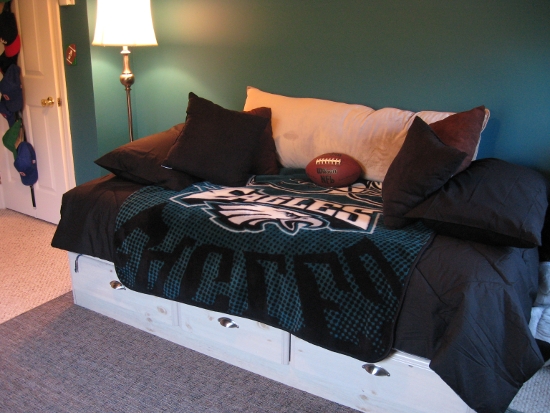 Total project cost: around $300. How did we do this on a dime? We used many of my frugal decorating tips, and:
– Made a big design impact with inexpensive paint in a bold color
– Scoped out clearance shelves for deals, including aluminum window blinds for $7 per window
– Spruced up existing furniture with paint and/or new hardware
– Made our own simple window treatments with $1 per yard fabric
– Created wall art by cutting out images from an old calendar featuring my brother's favorite sports team
It may not be a typical gift idea, but a room remodel is a perfect solution for that person who "has everything", or anyone who just needs a change of scenery. A new room can change a person's whole perspective, and it's a gift that lasts for years. If you don't have the time to fit in the job during the hectic holiday season, wrap up a few decor items, cans of paint, or a collage of idea images, along with a note or homemade coupon promising the recipient that you will help with all the work.
Win!
I am going to get one of you started with your own great room remodel with the following prize pack: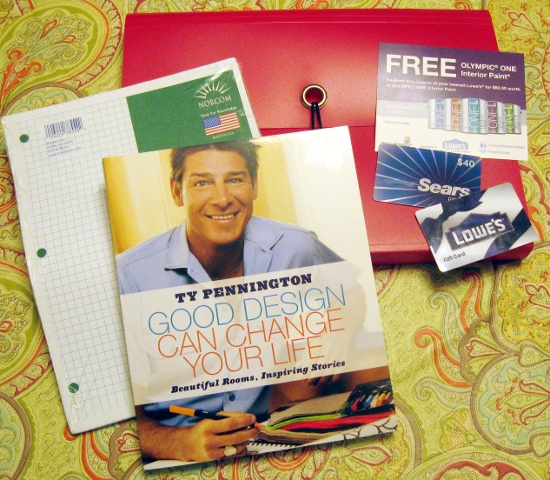 – A coupon for $60 worth of Olympic ONE paint (Note: redeemable at Lowe's, expires 12/31/11) This paint is low-VOC, great for the winter months when it's trickier to ventilate
– A $20 Lowe's gift card to help you buy paint brushes and rollers, or whatever else you may need
– A $40 Sears gift card for some home decor items perhaps?
– A copy of Good Design Can Change Your Life by Ty Pennington. Full of great decorating ideas and heart-warming stories about lives transformed by design.
Use the Rafflecopter form below to enter (this may take a little extra time to appear. If you are viewing this in email or an RSS reader, click to my site to enter).
Good luck, and thank you for taking part in our Beat the Rush event! You can see the complete list of giveaways (many still in progress) here.
DISCLOSURE: This website is monetized with affiliate links. I earn a small percentage of the sales price when visitors make purchases through affiliate links. Thank you for your support!
Share this post