A great drying rack for Avent and other wide bottles
| Updated: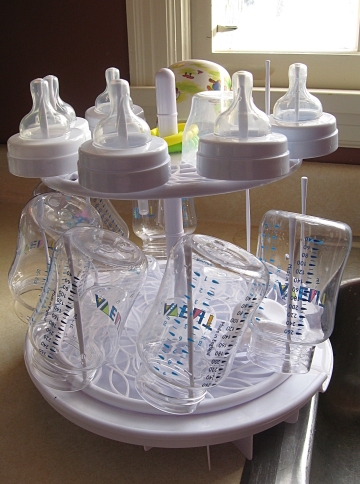 I'm really particular when it comes to cleaning my son's items, which is why I decided to hand wash his baby bottles even though I have a dishwasher. It's actually a nice way to unwind, and I get a sense of accomplishment from seeing the crystal clear bottles and nipples when I'm all finished. I guess I look for a sense of accomplishment wherever I can get it these days!
Since we use the dishwasher for just about all our other dishes in our household, I didn't already have a dish drying rack on the counter and it was difficult to find a spot to set out all the bottles and accessories to dry. I decided to buy a bottle drying rack to help keep things more organized and reduce clutter. I picked up the First Years Spin and Store Drying Rack for about $15.00.
Although there are many different pieces, the rack is easy to assemble (and disassemble for occasional cleaning). It utilizes a circular top and bottom rack, each of which can spin independently making it easy to access whatever you need. Removable spindles act as holders for bottles, nipples, and whatever other baby implements you choose to store.
Since I use Avent bottles, which are short and stocky compared to other brands, I wasn't sure whether the rack would accommodate them. I happily discovered that the rack provides the perfect amount of space to store all eight of my bottles, the nipples and rings and all the caps. The generously sized top and bottom discs have enough room left over for drying pacifiers, teething rings, baby flatware, etc. Air circulation is excellent, and the bottles and nipples will dry completely. You can drain the rack directly into your sink, or use an included drip pan and place the drying rack elsewhere in your kitchen.
Although the rack doesn't look sturdy, it hasn't failed to handle the weight of all of the items I have placed on it. Occasionally the spindles will pull out of their holes, but they are easily popped back into place. As with any drying rack, you will eventually get mold or mildew deposits on the bottom drip tray. I like to disassemble the rack periodically to wash all the pieces in hot soapy water.
The only problem I have had with this product is the bottom rack rubbing on the drip tray. It has worn a track into the drip tray, and although it still functions well, the worn area has become a magnet for mildew. Still, it's inexpensive enough that I could buy a replacement if I can no longer clean the tray to my satisfaction.
Overall I love this drying rack, and it's the only product I have found that accommodates all of my bulky Avent bottles. It takes up a small amount of counter space and keeps my baby's items clean, organized and in a central location.
DISCLOSURE: This website is monetized with affiliate links. I earn a small percentage of the sales price when visitors make purchases through affiliate links. Thank you for your support!
Share this post