Our favorite toys for 2010
| Updated:
I've been meaning to do a gift guide of sorts to share some of my ideas for young children. I realize I'm a little late in the game, but hopefully this will help you out if you're starving for ideas. This year I decided to include only items that we own and love. These are quality toys that have held up wonderfully and have been fun in different ways as Mr. Boy has grown. I generally favor classic toys that allow my son to use his imagination and/or have some educational value. The best aspect of this list is that it's completely gender neutral! Here we go…
Toys for Babies
Here are a few favorites from Mr. Boy's first year. He still plays with some of them now at age 2.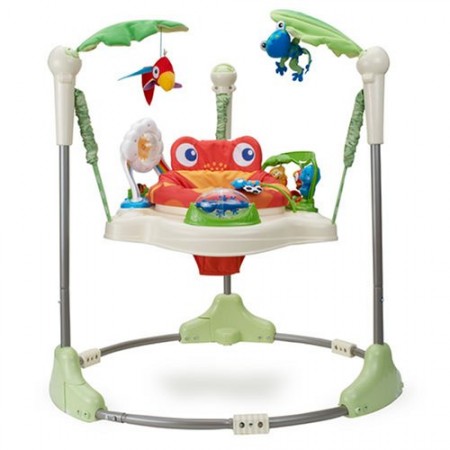 Fisher-Price Jumperoo
Price: $90-110 (varies depending on model)
Age: Non-walking baby able to hold head up unassisted (max weight 25 lbs)
I've mentioned the Jumperoo before, and in my opinion it's a must-have toy for babies! It provides fun for them, and respite for busy moms or dads who need baby to be safe while they do little tasks.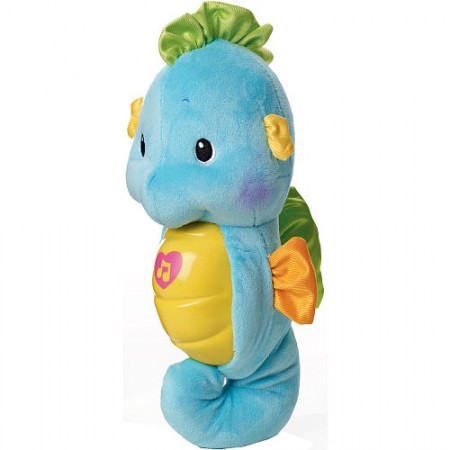 Fisher-Price Ocean Wonders Sooth & Glow Seahorse
Price: $12.00
Age: Birth and up
Plays quiet, soothing classical music and "ocean sounds" when baby presses the tummy, which glows. Available in pink or blue. The electronic mechanism can be removed for washing.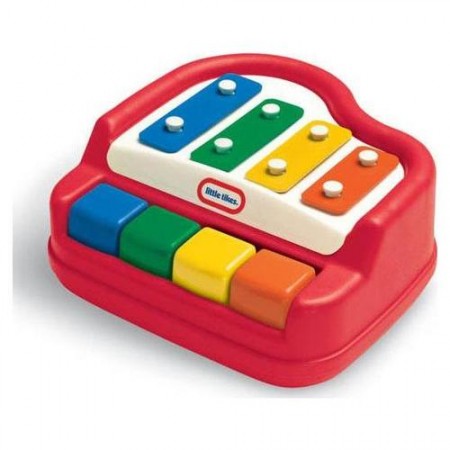 Little Tikes Tap-a-Tune Piano
Price: $14.99
Age: 6-36 months
The vibrant colors are fun for baby, and the big keys are super easy to press down, creating a soft chime-like sound. This little piano is virtually indestructible and a perfect introduction to musical instruments!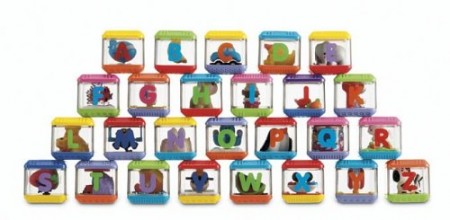 Fisher Price Peek-a-Blocks Alphabet Blocks
Price: $27.00
Age: 6 months and up
I love Peek-a-Blocks, but unfortunately Fisher-Price has phased out much of this wonderful line. I turned to eBay to find gently used Peek-a-Block toys for Mr. Boy's first Christmas. I was happy to find this alphabet set in stores, and they are still played with regularly two years later! The colors, textures and sounds will fascinate babies, while the letters and objects inside help toddlers learn. They are great for building towers, too!
Fisher-Price Peek-a-Blocks Shape Sorter
Price: $19.99
Age: 6-24 months
One of the few Peek-a-Blocks toys still available on store shelves, this shape sorter is another excellent toy that will grow with your child. Babies will love learning how to place the shaped blocks into the bucket to hear music play. Older babies can learn colors and shapes while placing the blocks through the shaped holes.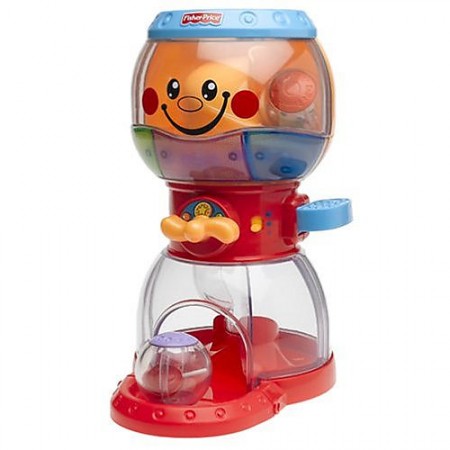 Fisher-Price Roll-a-Rounds Swirlin' Surprise Gumball Machine
Price: $24.99
Age: 6 months to 3 years
Similar to Peek-a-Blocks, Roll-a-Rounds are clear plastic balls that contain objects that spin or make noise. This gumball machine has been a favorite in our house! Baby drops the balls into the top, then presses a lever to hear fun music as the ball swirls out of the machine.
Toys for Toddlers
Mr. Boy actively plays with all of these wonderful toys, some of which he received on his second Christmas at age 1 1/2. While many of these toys are not recommended for toddlers, I believe they are safe under close supervision. Please use your judgment to determine if they are safe and appropriate for your child.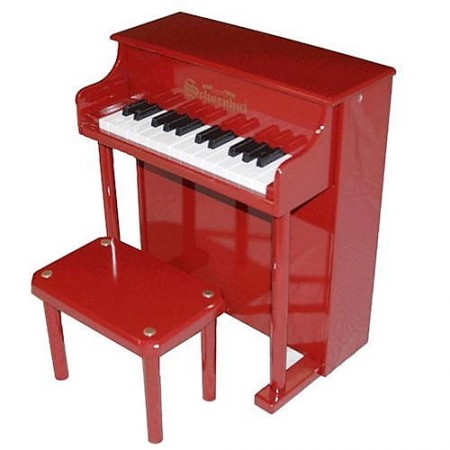 Schoenhut Toy Pianos
Price: $65 and up (varies greatly depending on model)
Age: generally 3 years and up (varies depending on model)
It became clear early on that Mr. Boy loves music, so this was a must-have in our house! His toy upright piano sits right next to the full-size version in our living room. These pianos have chimes inside that create a pleasant little "plinking" sound. Not quite a real piano, but the notes are accurate! Schoenhut quality is above and beyond other brands – I recommend paying the extra money for quality if you want something that can play actual music.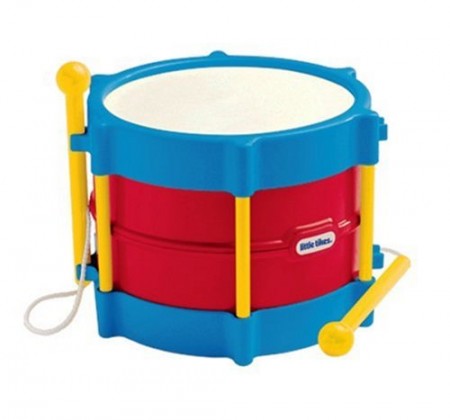 Little Tikes Tap-a-Tune Drum
Price: $12.99
Age: 1 1/2 years and up
I can't believe I'm recommending a drum, but here I am. Mr. Boy marches around with this daily, and I have to admit that it's not as annoying as it could be. The plastic construction makes for a more muffled sound than the sharp rat-a-tat you'd get from a real drum. A very sturdy toy that your toddler can't hurt!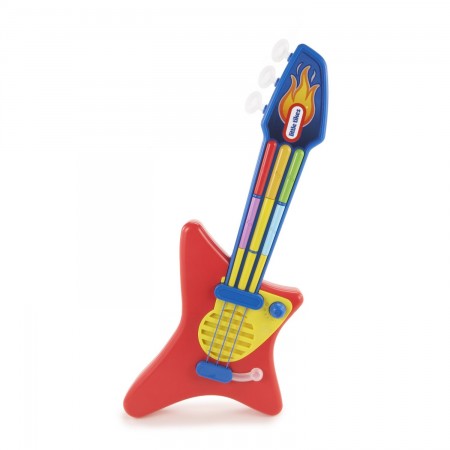 Little Tikes Pop Tunes Big Rocker Guitar
Price: $19.99
Age: 3 and up
This is a great choice for your little one who loves guitars, but isn't anywhere near ready for a real one yet. A variety of songs will play with a press of the colorful buttons, and real strings can be strummed to play "freestyle". Mr. Boy loves this!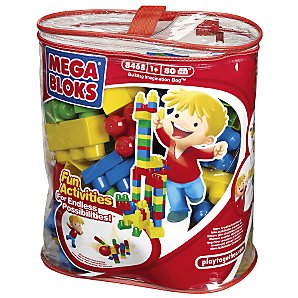 Mega Bloks
Price: $19.99 for 80-piece set
Age: 12 months and up
Much more affordable than Lego Duplo, it's easy to stock up on enough pieces to create soaring towers. These have helped Mr. Boy develop his motor skills, and even learn his colors.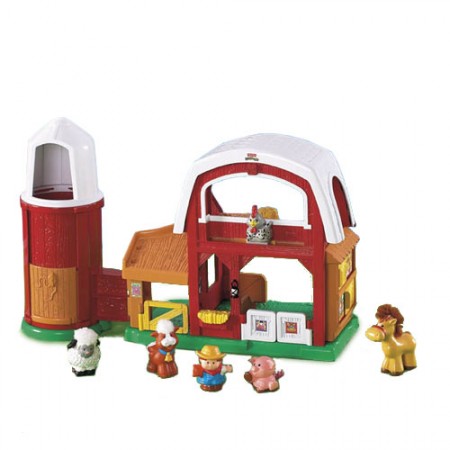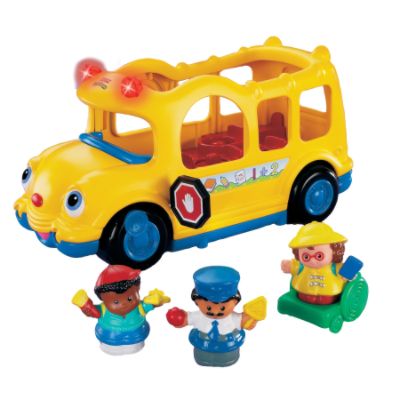 Fisher-Price Little People
Price: Varies
Age: 1 and up
These aren't the Little People that I knew and loved as a kid, but they are still wonderful toys. We have several different sets, having started our collection when Mr. Boy was 1 1/2. I love the fact that these toys help him use his imagination. Recently I have found him lining up all his people to board the schoolbus or airplane. He loves feeding his farm animals too. Start a Little People collection and you will have gift ideas for years to come!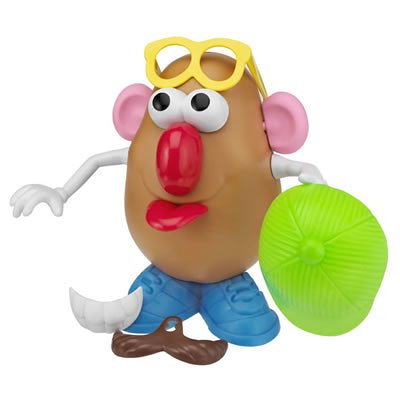 Playskool Mr. Potato Head
Price: $7.99
Age: 2-5 years
An oldie, but a goodie. This classic toy is the same as I remember, and has helped Mr. Boy learn about body parts (he's just not quite sure where they all go yet). It's funny seeing some of the creations he comes up with!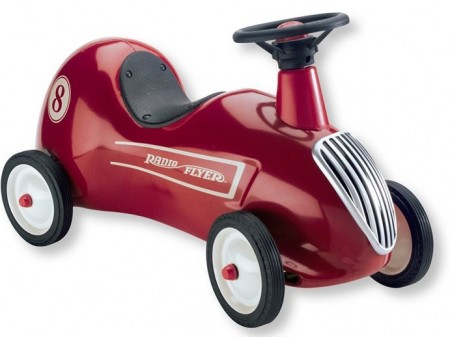 Radio Flyer Little Red Roadster
Price: $64.99
Age: 1-4 years
Mr. Boy received this as a gift from his grandma, and we love it! The retro-styled car body is made from metal. The front wheels steer, and the horn really squeaks. I love the design and quality of this cute toy.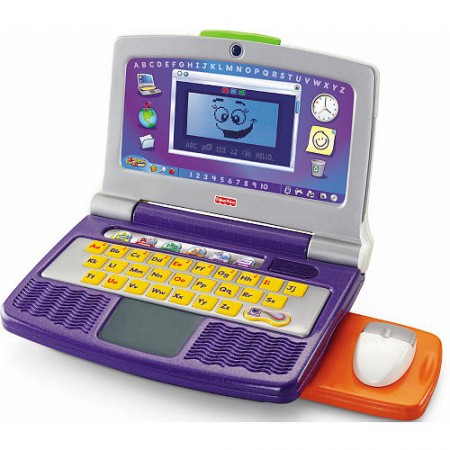 Fisher-Price Fun 2 Learn Color Flash Laptop
Price: $30.00
Age: 3-7 years
I bought this with the express purpose of keeping Mr. Boy's little fingers off of my actual laptop. I chose it over other brands because it looked the most like a real laptop. He loved it the instant he opened it! The screen changes color, which really captured his attention. While he started out simply button mashing, I was shocked to discover several weeks before his second birthday that this laptop had taught my son his letters and the sounds they make! Now at age 2, he knows both upper and lower case, and since he can now work the mouse on his own he is learning to play the counting games.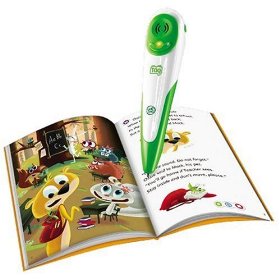 Leapfrog Tag Reading System
Price: $39.99
Age: 4-8 years
We won this in a contest, and although Mr. Boy is much too young to really utilize all of the learning features, he loves it! The technology is rather fascinating. The pen can be used to sound out letters and words, read an entire story automatically, or even play games. Mr. Boy loves exploring the illustrations to discover the sounds they make, and he enjoys playing the "I Spy" game. There is a Tag Jr. version suitable for younger tots.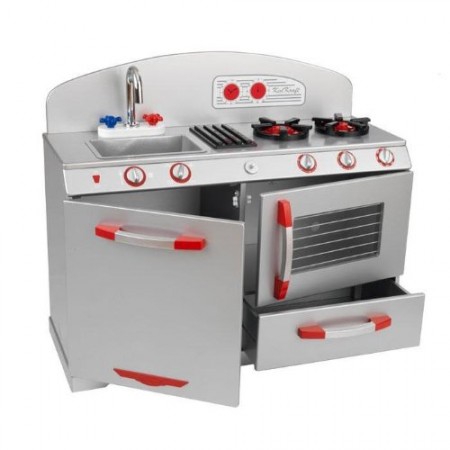 Kidkraft Toy Kitchens
Price: $100 and up (varies by model)
Age: 3 and up
My all-time favorite toy purchase! This was an investment for us, but one of the best purchases I have made. Kidkraft kitchens are constructed from painted MDF. The materials and finish withstand abuse, and I love the retro styling. Mr. Boy has played with this toy daily since he received it for Christmas at age 1 1/2. Such a classic toy, and one that helps develop the imagination and important life skills!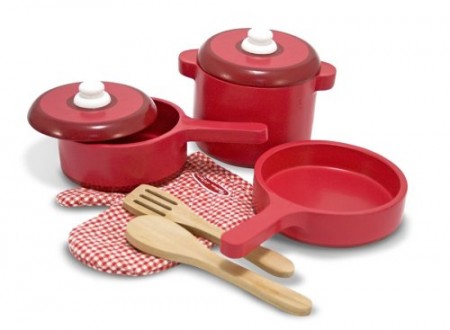 Melissa and Doug Kitchen Accessory Set
Price: $29.99
Age: 3 and up
These painted wood pots and pans are perfectly sized for our Kidkraft kitchen! I feel that the wood utensils are safer than metal for a young child. The pans are large enough to hold a variety of play food. We have a bit of chipped paint here and there, but overall they hold up wonderfully to heavy duty play.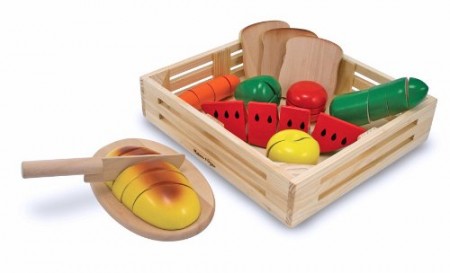 Melissa and Doug Play Food Sets
Price: Varies
Age: Varies
Melissa and Doug play food is a wonderful alternative to the plastic stuff. The Cutting Food Set, pictured above, comes with fruits, veggies and bread sliced in pieces held together with velcro. A slice with the wooden knife produces a realistic cutting sound. We also have the sandwich making set, and I am regularly asked to sample elaborate wooden sandwiches produced by Mr. Boy. The pieces we own have held up wonderfully to daily play. We like to add to our collection little by little.
Whew. That was a lot to take in! I hope you enjoyed this little tour of the various toys that are probably cluttering up my living room right now.
Do you have any favorite toys that you'd like to share? I'd love to hear about them!
DISCLOSURE (what's this?): I have included links to each product for your reference. This post does not contain any affiliate links, and I do not stand to profit from this post in any way. I am not affiliated with the brands mentioned.
DISCLOSURE: This website is monetized with affiliate links. I earn a small percentage of the sales price when visitors make purchases through affiliate links. Thank you for your support!
Share this post