I have been thoroughly enjoying the sewing machine I received for Christmas, and have undertaken a number of projects for Mr. Boy's new playroom (more on that in the future). I thought I'd share one of my sewing triumphs that I whipped together last night. I made a fitted vinyl tablecloth for our child-size table that we bought a while ago through Craigslist.
It's not that I was particularly worried about the table top getting damaged–the finish was in rather poor condition already. I just feel that wood is rather difficult to clean, especially where the varnish has worn down and the bare wood is exposed. I also wanted to bring a little bit more color into the room, since the wood and the walls are very close in color.
Last night on a trip to Walmart I found a round vinyl tablecloth on clearance for $3.00. I also bought some elastic for about $1.00. When I came home, I turned the table over and laid it on the tablecloth. I traced around the table, offsetting my outline by about 4 inches. I trimmed the tablecloth, folded the edges over about 3/4 of an inch and then pinned it down every few inches. Then, I sewed around the edge.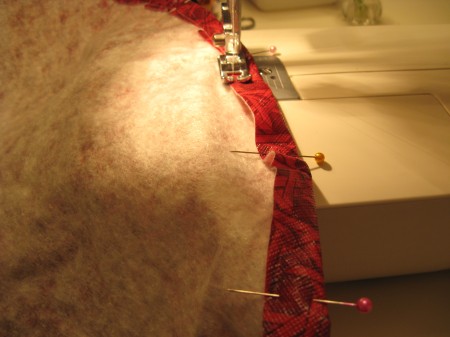 I was worried that the vinyl wouldn't agree with my sewing machine, but it went through just fine. I left a 1-inch gap so that I could insert my elastic after I had sewn around the edge. I fastened a small safety pin to the end of my elastic, and worked it through the pocket. I tested to make sure it would fit around the table, then tied the ends of the elastic together and sewed the ends in place. Table covering or giant shower cap? You decide.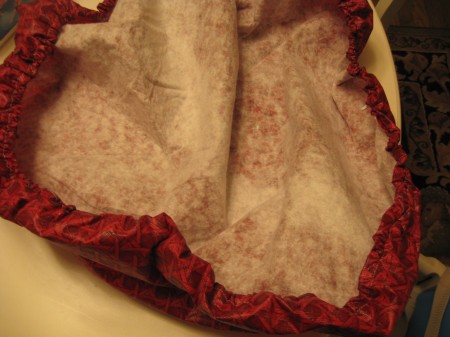 The end product fit easily and snugly over the table top. Now we can play with Play-Doh, markers, crayons and paint without worrying about the cleanup! The elastic will ensure that the tablecloth stays in place. I like it so much, I'm thinking of doing the same thing for my round dining room table.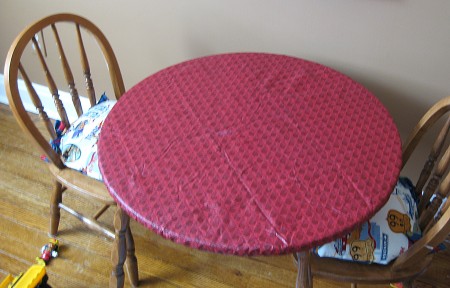 DISCLOSURE: This website is monetized with affiliate links. I earn a small percentage of the sales price when visitors make purchases through affiliate links. Thank you for your support!
Share this post