I was deeply discouraged recently when I discovered that my trusty coupon binder had been stolen. I vaguely remember trying to carry a couple bags of groceries and hold my son's hand through the parking lot instead of bringing the shopping cart out to the car. Alas, I had left my binder in the cart, and nobody turned it in to the store. I lost some high value coupons, a $10 gift card and my son's artwork that graced the cover. It was disheartening, but it also presented an opportunity to start anew and of course write about it!
There are many different ways to organize coupons. I started out with one of those little accordion files, but quickly realized what a pain in the neck it was to shuffle through the different sections every time I wanted to pull out a coupon or just see what I had. I even remember one time when a very young Mr. Boy managed to grab hold of it and toss it out of the shopping cart, distributing my coupons across the floor. I was intrigued when one of my blogging friends mentioned the coupon binder, since I had never seen or heard of one before. I soon created one for myself, and found it to be a much more convenient system.
In the approximately two years that I've been using a binder, I've learned a lot about what works and what doesn't. I invested quite a bit more money in this latest iteration, but it works better than ever. If you need to make a coupon binder, or just revamp your current one, now is a great time to do so–you can take advantage of great deals on back-to-school supplies. Here I will walk you through what I have learned over the years and how I created my brand new binder.
A quality binder
Skip right over those inexpensive plastic-covered cardboard binders and splurge on something that will hold up. My first binder was pretty to look at, but it wasn't long before the plastic started ripping at the seams and the whole thing fell apart. My second binder, from Staples, had a reinforced rubber spine, durable plastic cover, and a clear window into which I could slip a picture my son drew for me. It held up very well, but still wasn't perfect.
For my current binder I decided to use this pretty fabric-covered Mead Five Star zipper binder (purchased from Walmart). The spine is curved, so it's comfortable to carry under my arm, and the plastic won't rip apart.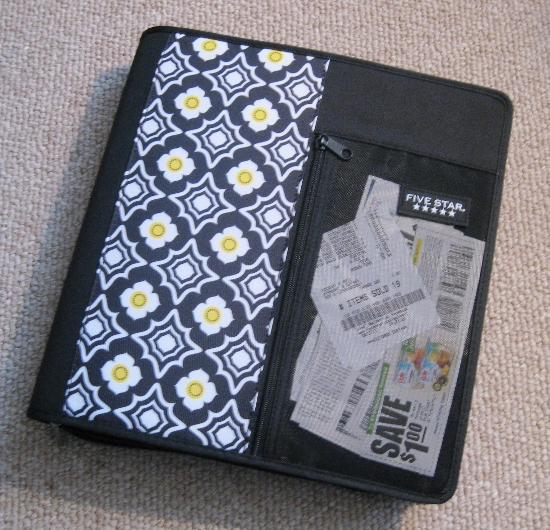 I consider myself to be a rather casual couponer, in that I don't buy stacks of newspapers and only print coupons if I'm sure I'll use them. So for me, a 1 to 1 1/2 inch binder suits my needs just fine.
Features
At first I steered away from zippered binders because they seemed too big and fussy, but now I really appreciate the zipper. It keeps my coupons and papers secure just in case I drop my binder, or pick it up the wrong way. No more chasing after flying coupons!
I really like having a zippered compartment on the front of my binder. I plan my shopping trips in advance and like to pull out the coupons I plan to use before I head to the store. The compartment on the front is a perfect spot to keep these coupons, and it's transparent so I can see what's inside. I may slip in a card with my name and phone number in hope that if I happen to lose my binder again, someone will be honest enough to contact me.
The interior contains an accordion file with three compartments where I like to store a small notebook and any large paper print-outs (like Groupons or other daily deals). There is also another zippered compartment and spots for three writing implements.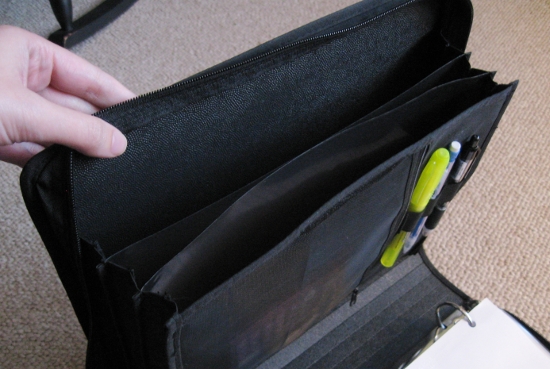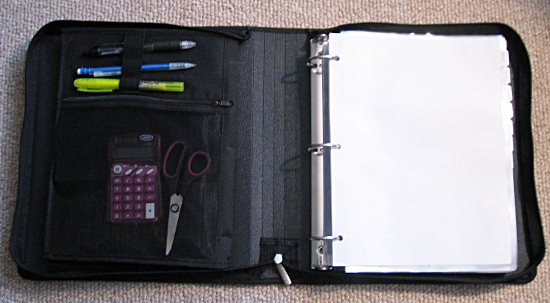 The extras
There are a few must-haves that I always carry in my binder: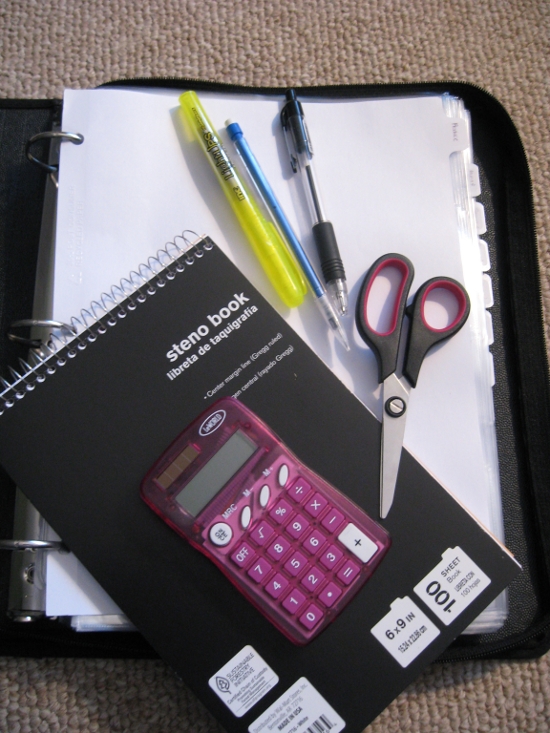 Pen, Pencil and Highlighter – I use these to write and cross off my lists, or highlight items in the store flyer
Scissors – a small pair is good to have on hand in case you need to clip something in the store. Sometimes I pick up a flyer as I walk into the store and find a coupon or two that I want to use. Other times I have newspaper inserts that I haven't had time to clip yet.
Calculator – I know, most people have fancy cellphones that do the job just fine, but I tend to forget to charge mine. I also find the calculator on my Blackberry a little inconvenient to use. You can get a basic calculator for $1.00. As an added bonus, it's a great way to keep young kids occupied–my son thinks it scans barcodes, takes pictures and makes phone calls.
Notebook – I have a stenographers notebook that I use to make grocery lists and meal plans. I like that it's divided into columns so I can have two separate lists on the same page.
If your binder doesn't have specific places for the extras, just purchase an inexpensive zip-up pocket that attaches to the rings.
Pages and dividers
Many people use baseball card pages for their coupon binders, and really they work just fine. You can find them at office supply stores or at department stores. In my local Walmart they can be found near one of the registers where trading cards are sold.
This time, though, I decided to take things a little bit further and invest in different types of pages that would streamline my filing process. I grew to hate organizing my coupons in my old binder because most of them wouldn't fit into the pockets without folding. This not only took extra time, but I couldn't see my coupons at a glance.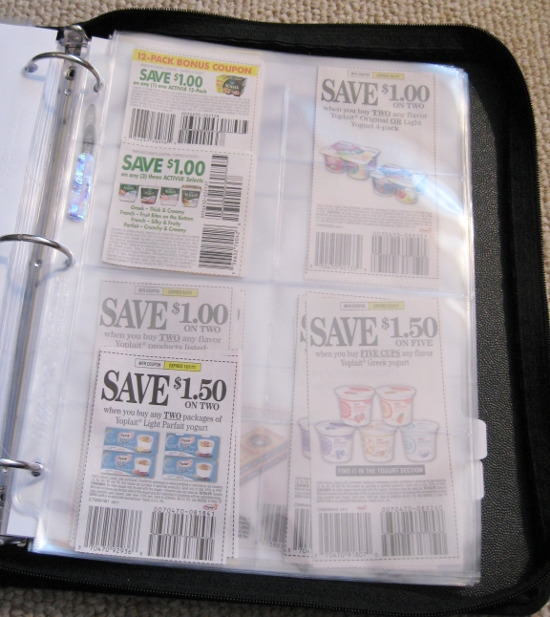 Here's what I bought this time (with links to Amazon.com, where I ordered mine):
Business card sheets – The horizontal pockets open on top and are just the right size for most coupons
3.5×5 card sheets – These are ideal for slightly larger coupons
Currency sheets – The absolute perfect solution for printable coupons and full-width insert-coupons! The horizontal pockets open at the top and your largest coupons will fit without folding
I purchased one set of each and found all of these sheets were of high quality and are very durable. I distributed the different sheet types between the various sections of my binder. This was definitely a much pricier solution than the baseball card sheets, but it is so much more convenient for me that I felt it was a good investment. Besides, the money I spent was recouped in the savings on just one shopping trip.
I also purchased a set of twelve divider tabs, which allowed me more sections and better organization than my previous binder provided. My sections roughly mirror the aisles in the grocery store I use most, as well as the order in which I tend to shop.
Don't be shy
Back when I started using a coupon binder, I didn't know anyone else who had one. I'm sure there were other people in my area who did the same thing, but I never saw them. At first I felt a little bit self-conscious, silly and dorky, but those feelings were quickly erased by numerous compliments from complete strangers who admired my organization. I soon realized that shopping and saving money had become so much easier that I didn't care what people thought, anyway. Now, no doubt thanks to Extreme Couponing, I'm seeing coupon binders all over the place.
There really isn't a one-size-fits-all solution to organization, but I hope I've given you a few ideas that will help make couponing easier for you! Next time you go shopping, make a mental note of your habits, and then decide if any tweaks to your system can streamline the process even more. If you use coupons but don't use a binder, I would highly recommend giving it a try.