Convert prepaid Debit Cards to Amazon Gift Cards to use up the balance
|
I was organizing my wallet today and realized that I had several prepaid debit cards taking up valuable space. They had been given to me as gifts on special occasions, and I knew I had long since used up the majority of the value of each of them. Still, each had a little bit of money left over. How could I use up every last penny?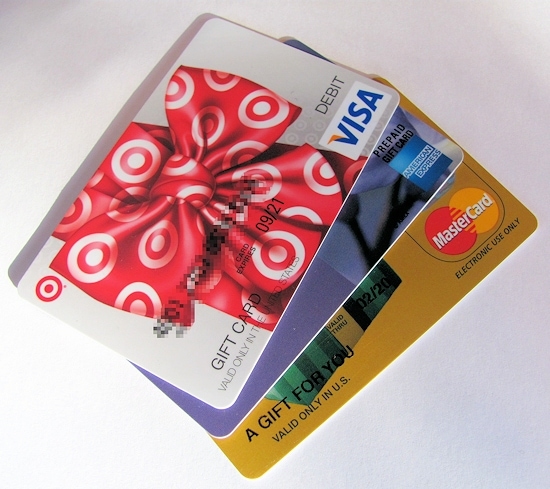 On the back of each prepaid debit card there was a website where I could check the card balance. After looking up my three prepaid debit cards, I found that I had a total of $8.45 in unused cash! Not a tremendous amount, but certainly not to be thrown away, either.
How to use small balances on prepaid debit cards
Many brick-and-mortar stores will permit "split transactions", allowing you to charge a certain amount to one card and then pay the balance with another method. If you know the exact balance on your prepaid debit card, you can certainly use it that way. Unless the prepaid gift card is associated with that particular store, however, the cashier cannot look up the balance for you — you will need to know the amount you have left. It's much harder to find websites that will allow split transactions.
Since I'm doing a lot of my shopping online these days, I decided to hunt around for websites that would allow me to purchase gift cards in any amount. I discovered that Amazon.com was one of the few places where I could enter any gift card amount I chose. So, I used my prepaid debit cards to buy Amazon.com gift cards worth $0.76, $1.69 and $6.00, which I emailed to myself. The best part: I can combine all of those gift cards to use on a single Amazon.com purchase if I want to.
It took me a matter of minutes to look up the balances on my prepaid cards and convert them to Amazon gift cards to make the most of this found money. It's definitely a worthwhile exercise if you have small balances left on some prepaid debit cards — time to look through your wallet and junk drawer!
Share this post