Yorkshire Pudding
| Updated:
Yorkshire Puddings (more commonly known as Popovers here in the States) are among my favorite food from my husband's native England. Being from South Yorkshire himself, my husband misses eating them regularly, and likes to reminisce about his grandmother's dinner plate-sized puddings that she served with gravy as an appetizer. Yorkshire Pudding is not a dessert at all, but rather a bread-like alternative to dinner rolls. It is most often served with roast beef and gravy (its bowl-like shape is an excellent receptacle for the latter).
My mother-in-law sent over a nice little book for my husband this past Christmas called The Great Book of Yorkshire Pudding. Though I had made Yorkshire Puddings many times in the past, I hadn't found a recipe that I was truly pleased with. I was optimistic that the recipe and tips in this very thorough little book would help me finally make good puddings that rose properly and had the right consistency.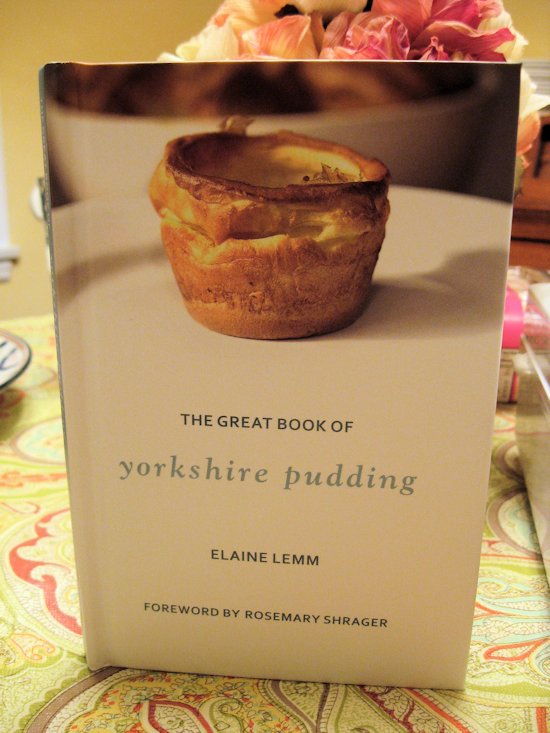 And I was not disappointed.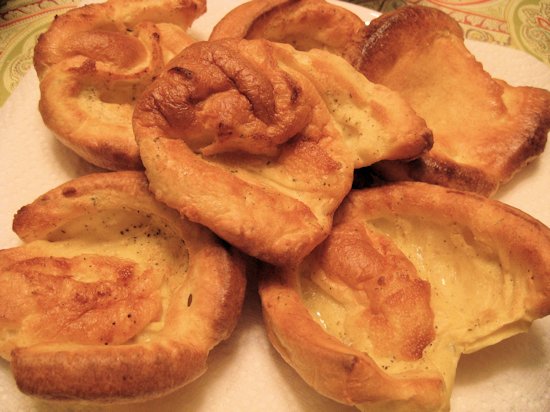 I served these for dinner tonight with some braised beef, gravy and peas. My husband was a happy man!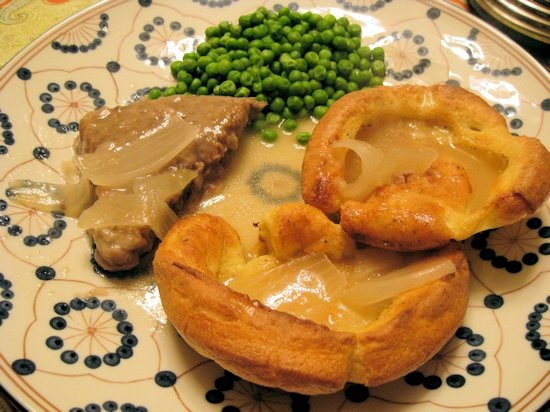 You can buy special "popover pans" here in the U.S., but there is really no need. As the book mentions, you can use a regular muffin tin, or larger pans depending on the size and shape you want to achieve. I used a muffin top pan, which worked well (I adjusted the cooking time and the amount of oil used).
Here's the recipe, adapted from The Great Book of Yorkshire Pudding by Elaine Lemm
Yorkshire Puddings
This should yield at least a dozen in a regular muffin tin.
4 large eggs
3/4 cup milk
3/4 cup flour
pinch of salt
2 Tablespoons cold water
Vegetable oil
Instructions:
Mix the eggs, milk and salt together until foamy (it is best to use an electric mixer). Allow the mixture to rest for about 10 minutes, until the bubbles dissolve. Slowly add the flour to the egg and milk mixture, mixing well until the consistency is smooth with no lumps. Allow to rest in a cool part of your kitchen (but not the refrigerator) for at least 30 minutes.
Heat the oven to 450 degrees. Add 1/2 teaspoon of vegetable oil to the bottom of each muffin cup. Place the pan with oil in the oven and heat for about two minutes, until piping hot. Meanwhile, add two tablespoons of cold water to the pudding batter and mix well. Remove the pan from the oven and immediately fill each muffin cup 1/3 full with batter. Return to oven and bake for approximately 20 minutes, or until the puddings have risen to their full extent and have turned golden brown.
Note: The cooking time will vary with different types of pans (the ones I made tonight took only 10 minutes in the shallow muffin top pan I used). Also, feel free to experiment with flavoring the batter–though it's probably not as authentic, I like to add pepper and herbs like sage or rosemary to mine.
It was nice that the book was so easy to adapt to American measurements and oven temperature, and it's full of great serving ideas, like chili-filled puddings or caramel apple Yorkshire pudding (yum!). There's even a gluten-free Yorkshire pudding recipe. It might be a bit difficult to procure this book in the States, but it's definitely an interesting read if you want to learn more about traditional British cooking.
DISCLOSURE: This website is monetized with affiliate links. I earn a small percentage of the sales price when visitors make purchases through affiliate links. Thank you for your support!
Share this post