Wish4Snow: 77kids launches a holiday season charity initiative…and a giveaway! (ENDED)
| Updated:
NOTE: The giveaway has ended! I will announce the randomly selected winner in a separate post once the winner responds to my email to claim the prize. Thank you for the great response!
I am so grateful that I was able to attend an event for area bloggers and their children at my nearest 77kids store on Monday morning! We were invited to view the holiday window display and peruse the store before it opened for the day. If you're not familiar with 77kids, it is the newest line of stores from American Eagle Outfitters. They are opening stores nationwide, but you can also shop online if there isn't a store near you. I had never visited a 77kids store, but I left very impressed. It is definitely on my list of places to shop for Mr. Boy.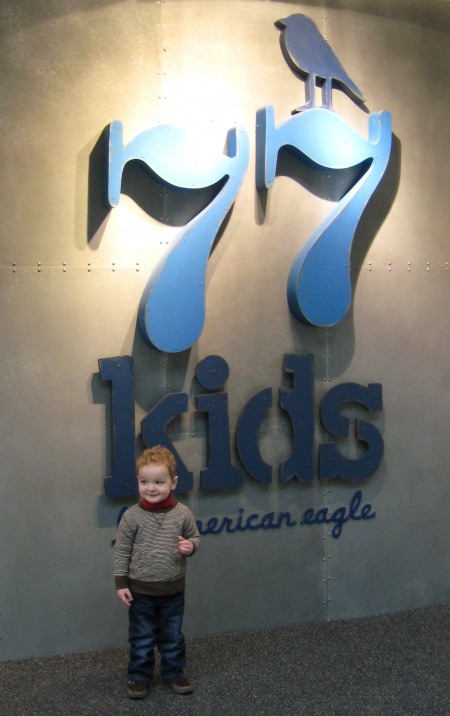 After enjoying a nice breakfast we viewed the cute and interactive holiday display window. Kids can press the two buttons to race skiing birds down a snowy slope.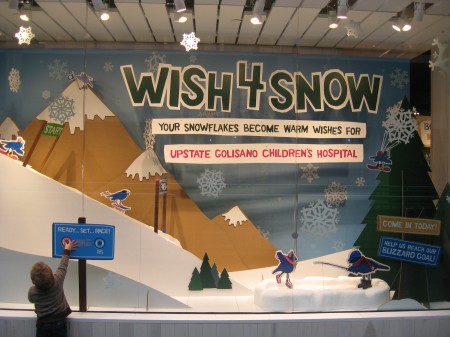 Just inside the entrance we were greeted by a grouping of mannequins that pretty much summed up the 77kids winter collection: warm, cozy, and trendy! I wasn't aware that 77kids can outfit children of all ages, from infant through middle school.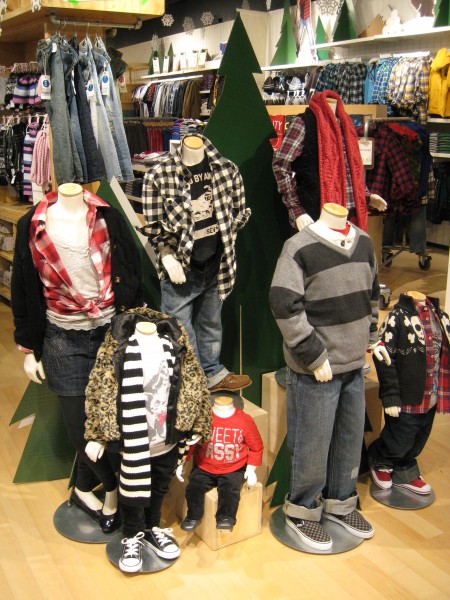 I particularly loved the Little77 section of the store, devoted to babies. Tucked away in the back, it is chock full of cute clothing and even accessories, like blankets from well-known brands Aden + Anais and Little Giraffe, and board books from DwellStudio.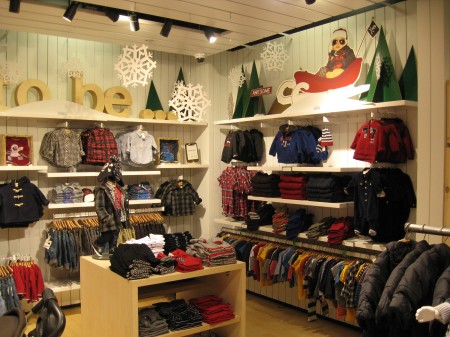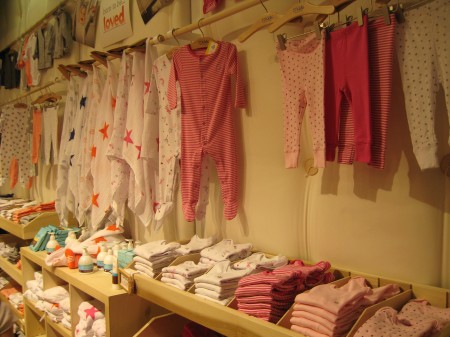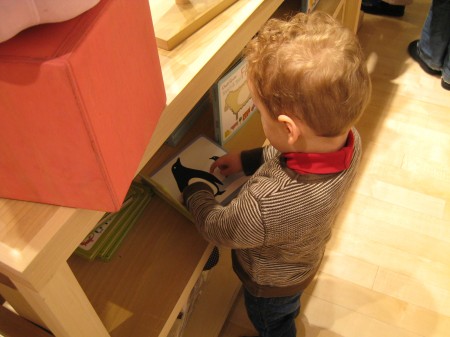 From a design standpoint, I really appreciated the store layout and all of the little details incorporated to make it a fun and functional place to shop. Mr. Boy had an absolute blast exploring!
A projector traces images across the floor (a bird on the girl's side, a jolly roger on the boy's side), which disappear as soon as the child reaches the spot…only to pop up someplace else!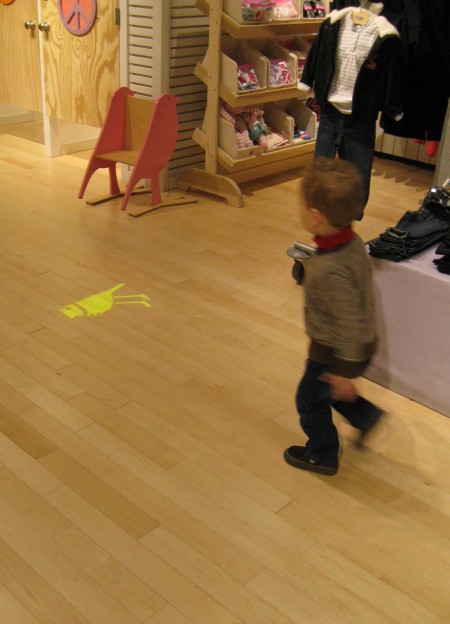 The boy's dressing room looked like a clubhouse. I liked the clothing hooks made from skateboard wheels.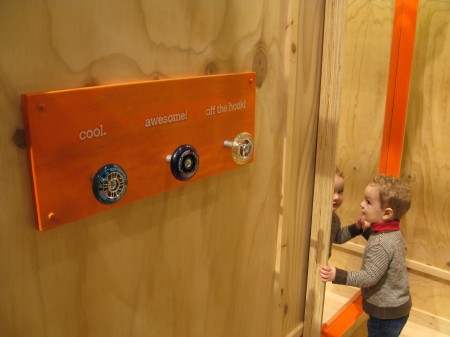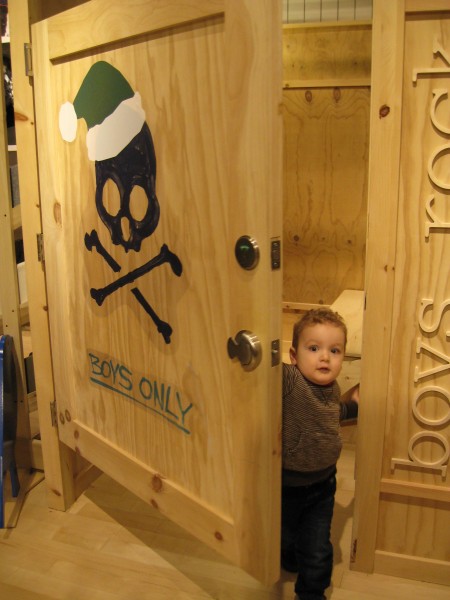 Hmmmm…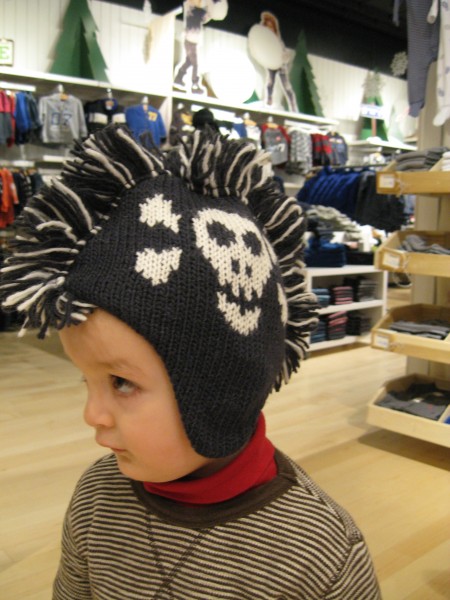 Cool photo machines can be used to virtually try on clothes (everything's more fun with technology!), or print fun snapshots.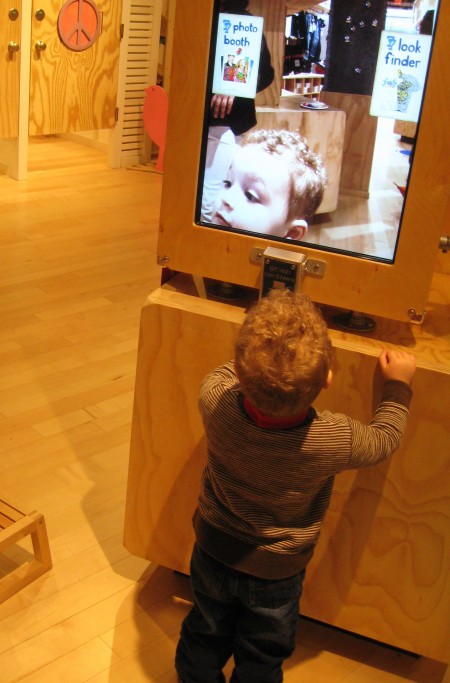 There is so much more I could say about this cute store. I had so much fun browsing! But I want to get to the reason we were all there Monday morning; promoting a fantastic charity initiative for the holidays.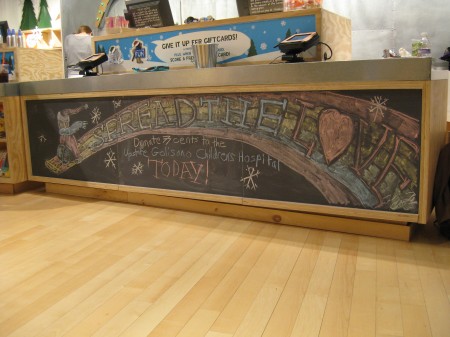 77kids is raising money for childrens hospitals in-store and online. In store you can donate 77 cents or more to decorate a paper snowflake that will be added to the "blizzard wall". Proceeds from the Syracuse store that I visited will benefit Upstate Golisano Children's Hospital. This cause is near and dear to my heart because my little nephew was hospitalized there for several days when he was six months old. It is a wonderful facility, and they took excellent care of him!
You can also help online: 77kids has launched a special website where you can create a virtual snowflake for free. Once 100,000 snowflakes are created, they will donate $25,000 to children's hospitals!
DISCLOSURE: I am promoting the Wish4Snow charity initiative in collaboration with 77kids and The Motherhood, and have been compensated for my involvement. The opinions expressed in this post are completely my own.
DISCLOSURE: This website is monetized with affiliate links. I earn a small percentage of the sales price when visitors make purchases through affiliate links. Thank you for your support!
Share this post