When eBay goes terribly wrong
| Updated:
I've had the same eBay account for ten years. I don't use it an awful lot, but I have snagged some great bargains. I recently started selling in earnest which has worked well. Overall, my experience on eBay has been nothing but positive, and that's why I was shocked when I was scammed recently while shopping for a Christmas gift.
I was looking for a very specific gift, and I needed a real bargain to be able to afford it. I found just what I was looking for, and the starting bid was a price that fit in my budget. Better yet, shipping was free! If I could win the item for close to that starting bid, I could cross one important gift off my list without blowing my budget. Since the seller had several of the same item listed, I thought my chances were good, and indeed I won the item for the minimum bid, $34.95. I was thrilled.
It was all downhill from there. I won and paid for the item on a Friday night. The seller's listing promised quick turn-around and shipping within three business days. I heard nothing over the weekend and waited until Tuesday afternoon to inquire when I might expect my item to be shipped. Shortly after I sent off the email, the seller marked the item as shipped through eBay. The next day I received an email message from the seller apologizing for the delay and telling me that the item had been sent. I would receive a tracking number (they claimed to ship everything by FedEx) once their "system updated".
A few more days went by without a tracking number or a box on my doorstep, and a number of red flags had me worried. First, I saw that the item I had purchased was relisted twice by the seller, one time selling for $10 more than I had paid. I wanted to believe that the seller simply had multiple of the same item, but the incoming feedback was telling a different story. While the seller's feedback had been overwhelmingly positive when I made my purchase, now negatives were starting to trickle in. People who had made purchases a week or two before me were starting to claim that they never received their items. Oh no! I emailed the seller again asking for reassurance that I would receive my item, and never heard back.
I always read a seller's feedback before I bid on eBay. This seller had sold thousands of items with 99.9% positive feedback. At the time I made my purchase, the seller had only 3 negative feedback in the past month, and they seemed like honest mistakes. Now, the seller's feedback page looks like this: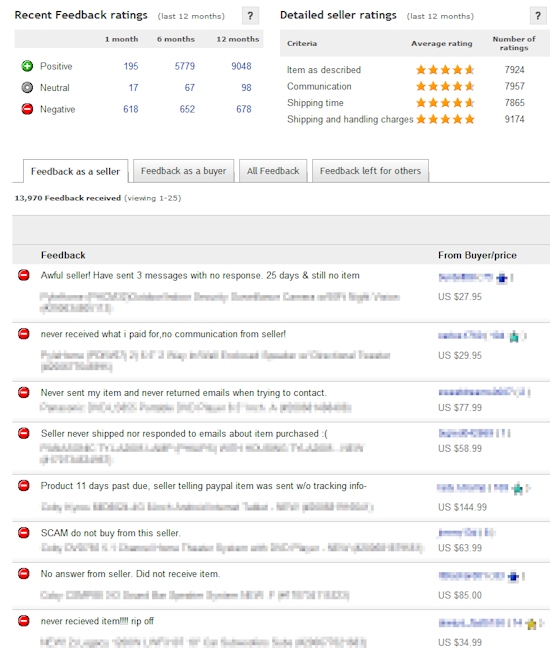 The seller's "Top-Rated Seller" badge from eBay was only removed (most likely by their automated system) after the feedback dipped below 97% positive. Although there are no longer any active listings for this seller, there were active listings for several days after the negatives started pouring in. Based on other feedback I read, I believe other buyers had disputes already in progress when I unwittingly made my purchase. eBay's system failed to warn consumers of a problem seller who took thousands of dollars from them and failed to deliver.
What to do if this happens to you
While I was very worried that I wouldn't find the same item at a comparable price in time for Christmas, I wasn't concerned about the money. Both eBay and PayPal offer resolution services that will get you a refund should you find yourself in the same situation. To ensure that you are protected, always complete the transaction through eBay. Never give a seller your payment information through email or by phone.
The resolution process is frustratingly slow. I found that eBay would not allow me to dispute the transaction until the seller's estimated delivery timeframe had passed. However, PayPal allowed me to launch the case two days earlier. I paid for the item on November 25th, filed the dispute on December 7th, and just received my refund today, December 19th. Fortunately I only had $34.95 to wait for–other buyers are out hundreds of dollars right before Christmas. Some buyers were brand new to eBay and didn't know what to do to get their money back. I contacted one of them to help them out, and hopefully this article will help point others in the right direction. I hope eBay will reach out to these buyers as well.
Don't forget to leave negative feedback for a bad seller–by doing so you can help prevent other buyers from falling into the same trap.
I don't want to scare anyone away from eBay. Like I said, I've been using it for years without a problem. For some reason this seller suddenly went rogue and was able to scam a lot of people out of their money before the negative feedback started to warn others away. I won't name the seller at this time, since it appears that his PayPal account has been locked down and he is no longer selling on eBay, but rest assured I will give you the information if I catch this seller listing any auctions in the future.
For me, there was a happy ending–I found what I was looking for on another website and ordered it on Free Shipping Day. It cost me just $10 more than my eBay "bargain", and it arrived today. It's perfect! I hope the hundreds of other buyers who found themselves in the same boat were able to find alternative gifts. It's an awful time of year to experience something like this.
UPDATE: Shortly after I posted this, I received an e-mail from eBay stating that the listing I bid on has been removed for security reasons. It provided instructions to get money back, and warnings about dealing off of eBay or paying with other methods. I don't know if it was just a coincidence or if someone from eBay read this post, but thank you eBay! I assume that this seller's other listings will have been removed as well, and I'm grateful that the newbie buyers who I saw on the feedback list will have some help getting their cases resolved.
UPDATE 2: Looks like this seller is no longer a registered user on eBay. We won't need to worry about this account scamming anyone again.
DISCLOSURE: This website is monetized with affiliate links. I earn a small percentage of the sales price when visitors make purchases through affiliate links. Thank you for your support!
Share this post