My local library has a reading circle for preschoolers every Monday morning at 10:00, and yesterday I took my son for the first time. I figured there would be a storyteller reading a book or two and maybe some music involved, but there was so much more! In just an hour's time the storyteller packed in singing, dancing, games and even craft projects. At 1 1/2, Mr. Boy is still a bit too young to really sit still for the story telling, but it was a nice opportunity to spend time with other kids.
Yesterday's theme was bears. We listened to bear-related music and stories, and the kids were provided with bear hats to wear. We finished off the hour with a cute craft project. I love the creative educational ideas that people come up with, so I wanted to share here. Unfortunately I didn't think to bring my camera to the story circle, but I snapped a few photos of our finished project.
First, we had to make our own bear. The other kids had done this the week before, but fortunately there were extra supplies so we could play catch up. We were provided with a cardboard cutout with googly eyes. Mr. Boy helped me apply glue to the surface with the paintbrush. I was laughing as I made a total mess with the glue, which poured out more quickly than I had expected. I was suddenly aware of the two decades it had been since I last did an elementary school project. Next, it was time to add the "fur", which was actually loose leaf tea. We sprinkled the tea onto the wet glue and then tapped off the excess. We were very happy with our finished bear.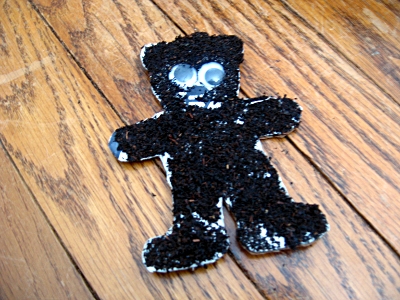 Once our bear was made, it was time to join in and make this week's activity: a cave! All of the kids were provided with half a shoebox with the lid glued on, spraypainted brown and accented with green paint splotches. There were various holes poked in the sides. The storyteller brought all manner of decorating items, including twigs, pine branches, grass and leaves. Mr. Boy really enjoyed helping mommy poke branches into the holes, but didn't quite understand that we were meant to leave them there. We finished our cave by placing leaves inside for the bear to sleep on.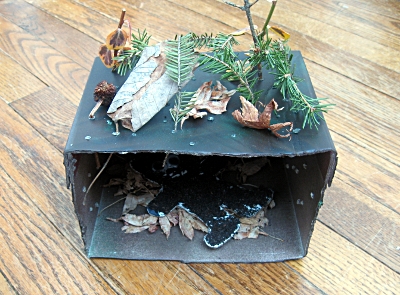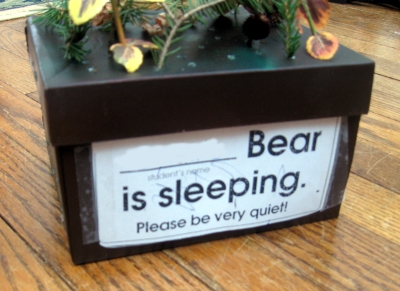 I was very impressed with the amount of care that went into planning this story circle, and the work involved in providing the craft supplies. The storyteller made a point of learning my son's name, and was very familiar with the other kids who were regulars. She addressed everyone by name and was very warm and friendly. For a free activity, this was very nicely done.  Although Mr. Boy is still a bit young for this, he did great and was very proud of his craft project.  We will definitely return for more!
DISCLOSURE: This website is monetized with affiliate links. I earn a small percentage of the sales price when visitors make purchases through affiliate links. Thank you for your support!
Share this post