Vendor Spotlight: Red Envelope
| Updated:
I first purchased from RedEnvelope almost ten years ago, when I was trying to find the perfect gift for my now husband who was living in England at the time. I remember being impressed by their assortment of unique products, and was thrilled to find just the right gift; I sent him a little metal dual alarm clock that would represent both of our time zones, it held pictures of the two of us in each of our home countries, and had our first initials engraved on the doors.
RedEnvelope has been around since 1999, and in case you were wondering where the name came from, their website has this to say: "The name RedEnvelope comes from a firmly held belief in Asian cultures that the color red is an auspicious symbol of happiness. Gifts are often presented in a simple red envelope – a timeless tradition that carries with it well wishes of prosperity, good fortune, appreciation and love."
I was happy to be given the opportunity to order from Red Envelope again after all these years. I found that they still offer a great assortment of higher end gifts in a variety of price ranges, and many of them can be personalized. If you don't know exactly what type of product you're looking for, the website is organized into categories, such as gifts for Christmas or other occasions, or you can shop by recipient.
Every year I buy my husband a pair of slippers, and I was happy to find that Red Envelope sells Acorn slippers (a brand I love). I chose a pair of Men's Spa Slippers ($34.95) for my husband and opted to have his first initial embroidered to make the gift a little more special. I had seen these slippers in a store before, so I knew the quality would be great, and the embroidery was very nicely done as well. I think he's going to love them (and hopefully he doesn't read this before Christmas)!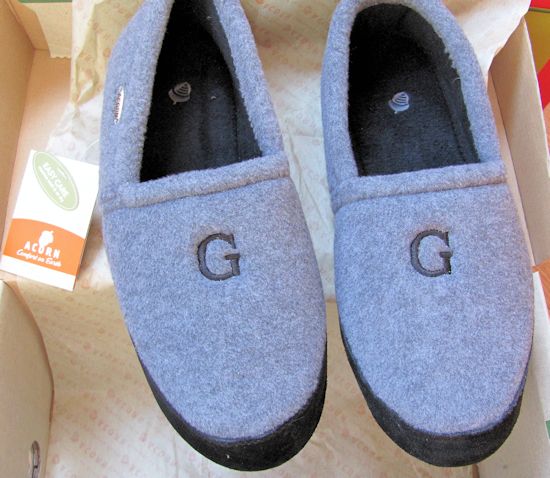 Perusing the site further, I came across a cute Night Before Christmas Activity Kit ($29.95) that sounded like it would be a great way to make Christmas Eve even more fun and special for Mr. Boy. The kit came in RedEnvelope's signature red gift box tied with a grosgrain bow, and includes a ceramic mug and plate, two packages of hot cocoa mix, a package of Mrs. Fields chocolate chip cookies for Santa, a copy of The Night Before Christmas poem and an activity book. For a little added cost I ordered a personalized letter from Santa addressed to my son that also mentioned our hometown to make it more convincing. I know he's going to love it.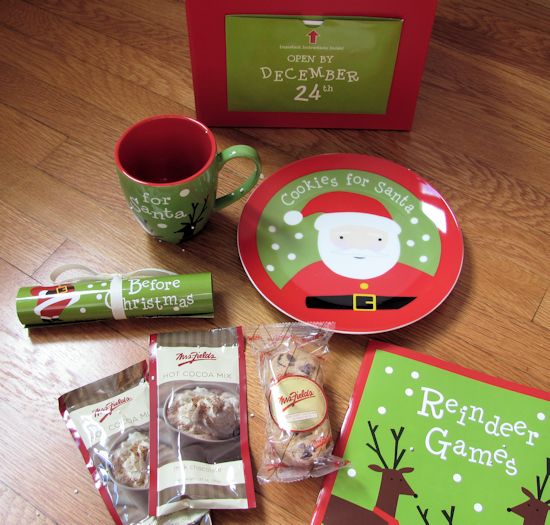 Now, because I believe in honest reviews, I will mention that I ran into a slight issue with delivery. When you place your order, the Red Envelope website asks you to choose a "delivery by" date, and the shipment is supposed to arrive on or before that date. I chose November 21st, and although the website's tracking indicated that everything was running on time, in reality the package didn't ship out until November 21st, arriving on November 24th. It didn't matter so much to me this time, but that would have been a major disappointment if I was really depending on that date. I emailed customer service to let them know. A customer service representative replied the same day to apologize, and he refunded my shipping fee! I felt that the situation was handled very well, and I'm sure it was a rare occurrence. I would definitely feel comfortable ordering from them again.
If you're looking for a special and unique gift, make Red Envelope one of the places you check first. They have all kinds of options in various price ranges and offer promotion codes to help you save a little extra. I was pleased with my purchase many years ago, and this was another great shopping experience from RedEnvelope.com.
DISCLOSURE: This website is monetized with affiliate links. I earn a small percentage of the sales price when visitors make purchases through affiliate links. Thank you for your support!
Share this post