Van Gogh inspired wall art
| Updated:
What do you do if you want a Van Gogh on your wall, but don't have the budget for a nicely framed poster? Paint!
The free paint sample I received recently combined with a break from my teaching job afforded me the opportunity to tackle a project I have been wanting to do. I have been in love with Van Gogh's "Almond Blossom" for years. Here's a picture of the real thing: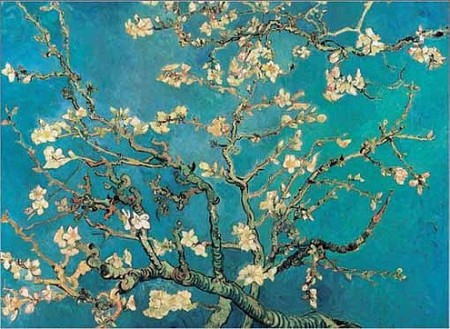 The stark contrast of white against my favorite blues and greens in the background just speaks to me, and the composition is surprisingly modern for its time. Van Gogh created the painting as a gift for his brother and sister-in-law after learning of the birth of his nephew, also named Vincent. It shows the influence of Japanese art prints on his artistic style during that time.
I purchased a 24-inch x 36-inch stretched canvas on sale at a craft store quite some time ago. I painted the entire canvas with my Valspar sample color (Twilight Meadow), then used diluted acrylic paints to tone it down a bit and bring in some shadows.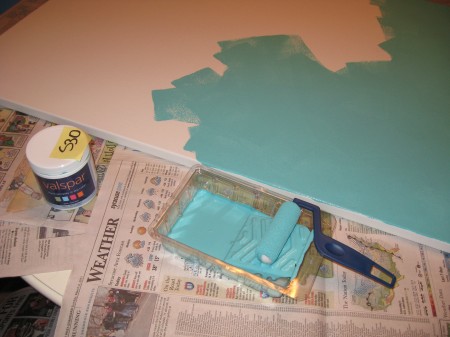 Using the original painting as a guide, I sketched the branches and painted them using acrylics. I then sketched and painted the blossoms. Of course it borrows heavily from the original, but is not an exact duplicate. I am so pleased with the end result! Although my painting skills are nothing compared to Van Gogh's, it evokes the same feelings in me as the original painting.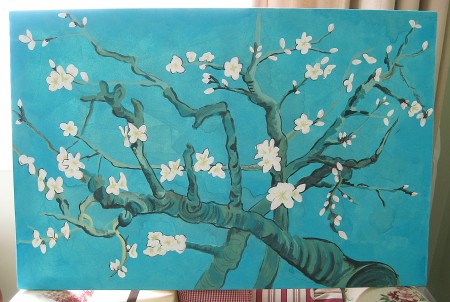 This will be hung in a nook in my hallway, above a beautiful Chinoiserie carved bench (once I get that area tidied up). I'll post a picture of the painting in its place once I get that far. I'm so excited to add some brightness and beauty to my boring hallway!
DISCLOSURE: This website is monetized with affiliate links. I earn a small percentage of the sales price when visitors make purchases through affiliate links. Thank you for your support!
Share this post