I've written before about all of the wonderful regional foods we enjoy here in central New York, and now I want to share another of my favorites: Tomato Pie. Growing up, my dad's side of the family (who hail from New Hartford, NY, near Utica) served this often. Whenever they mentioned pizza, this was what they were referring to. My Aunt Maria makes a wonderful homemade version, but there are also a variety of restaurants in the area that sell this delicious treat. Aunt Maria taught my brother Jason how to make her tomato pie recipe, and this evening I attempted it myself. It turned out wonderfully!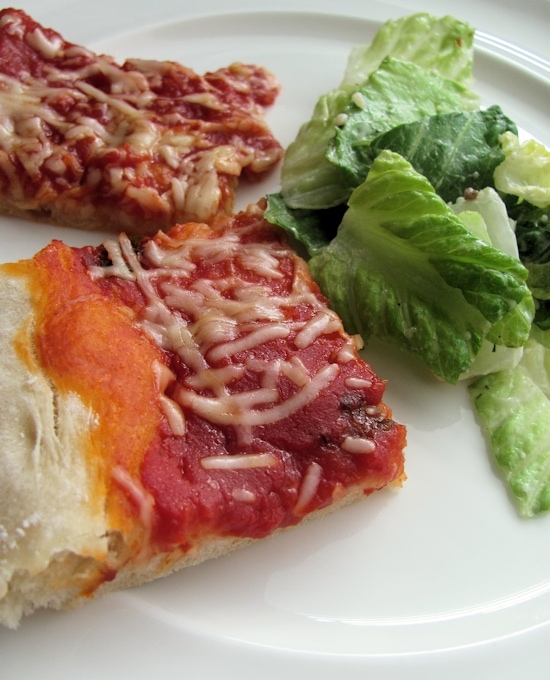 In other parts of the country, Tomato Pie might be made in a pie dish with a pastry crust. Here in central New York, tomato pie is a close relation to pizza, but with a few key differences. First, the dough is soft and somewhat spongy in texture (think focaccia bread). Second, the sauce is the star of the show (hence the name). And, finally, it is topped only with a hard cheese like parmesan or pecorino romano, not mozzarella. Tomato Pie is often served at room temperature–in fact, I think it tastes best that way! It's cheap and easy to make in large quantities, and since it doesn't need to be kept hot or cold, it's perfect to bring to a picnic or serve at a party.
Tomato Pie
Makes two pies, approximately 16×12 inches
Dough:
- 4 1/2 cups All Purpose Flour
- 2 1/2 cups Hot Water
- 1 packet Rapid Rise Yeast
- 1 tsp Salt
- 1 Tbsp Extra Virgin Olive Oil
- extra oil for greasing pans and bowl
- extra flour for spreading out the dough
Sauce:
- 1 29-ounce can Tomato Sauce (you may also use whole tomatoes with juice and puree in a blender)
- 6 cloves fresh Garlic, minced
- 2 Tbsp Extra Virgin Olive Oil
- 1/4 tsp Salt
- 1/4 tsp Pepper
- 1 tsp Granulated Sugar
- 1/4 cup Fresh Basil, chopped
Topping:
- 5 ounces grated Pecorino Romano or Parmesan cheese
Instructions:
Preheat oven to 400.
1. Combine dry ingredients for dough in a large mixing bowl (can be mixed with an electric stand mixer, or by hand).
2. Add hot water and olive oil, stirring until smooth. Note: this dough is very sticky compared to pizza dough. However, it should hold together like a dough rather than a batter. Add more flour if needed.
3. Grease a large bowl with olive oil. Place the dough inside and cover with a towel. Set aside to rise.
4. In a large saucepan, heat 2 Tbsp olive oil over medium heat. Once heated, add garlic and stir until golden brown.
5. Add tomato sauce, sugar, salt, pepper, and basil, stirring to combine. Simmer while you prepare the dough.
6. Grease two baking sheets with olive oil, then sprinkle with flour.
7. Divide dough in half and place on two baking sheets. Sprinkle dough generously with flour, then use fingertips to spread out onto pan.
8. Divide sauce between two pies. Bake for 10 minutes.
9. Remove pies from the oven and divide cheese between both pies, sprinkling over the sauce. Return to the oven for 5 minutes.
10. Allow pies to rest for 10 minutes, then cut into square pieces to serve. May be served hot or cold.