How I optimize wide closets with a single door
| Updated:
Old houses are notorious for their lack of closets. We are fortunate that ours actually does have decent closet space in all but one of the bedrooms, including an enviable walk-in closet that one of my sons ended up with.
However, two of the rooms have a wide closet with a single door, meaning much of the closet space is off to the side of the door, and rather inaccessible when using the typical closet layout of a rod placed the long way.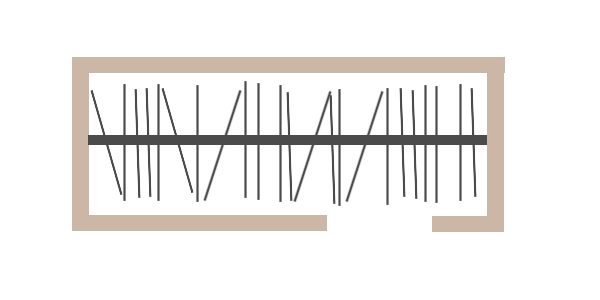 Even newer homes sometimes have this closet layout in order to preserve wall space for furniture in the room. I've learned how to make it work, but I don't think it's a good design to use on purpose.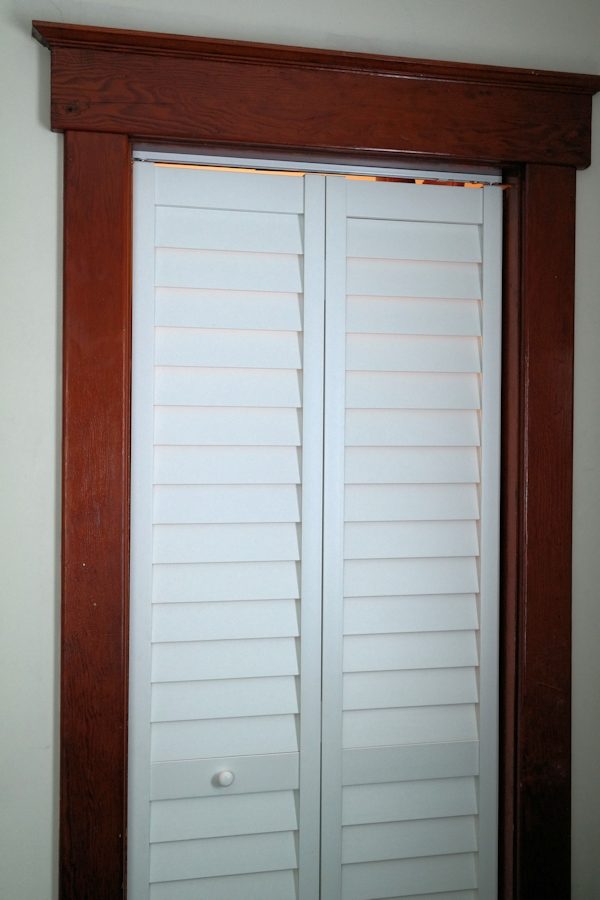 It was particularly problematic in the "master" bedroom. Not only did we hate packing all of our clothes into one closet and not being able to see half of them, but to make matters worse, our house came with a "bonus" very large, very heavy antique safe that the previous owner had shoved into our closet, rendering much of the vertical space unusable.
The safe is a long story. We can't find anyone around here willing and able to remove it. But anyway —
I realized when I was working on my younger son's nursery several years ago that I could rework this odd type of closet into a little walk-in by hanging closet rods along the depth of the closet instead of the width.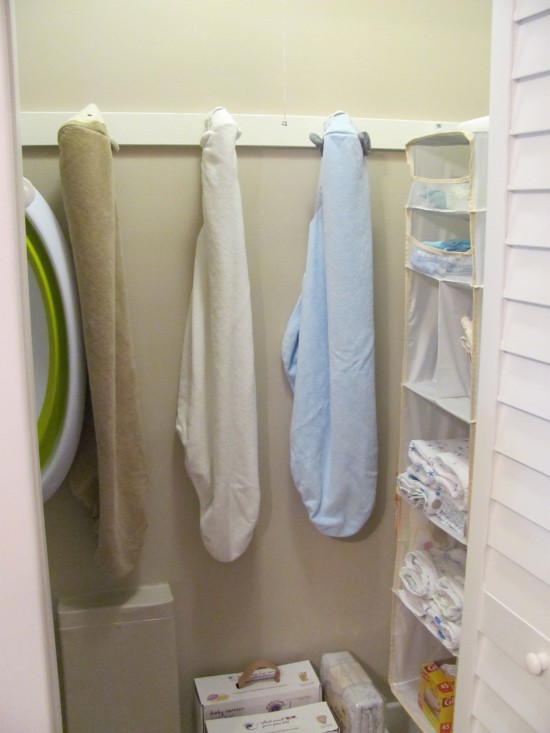 It worked out great in his room, so I did the same in ours. For a while, my husband and I each had a side of our little walk-in closet.
Back to that safe, briefly. It had been shoved in the closet before we moved in. My dad hired regular old movers to come one day, and they were able to move it out of the closet and into a corner of our bedroom before (thankfully) realizing their limits. And so the safe had sat there for years looking ugly and being in the way.
In a recent fit of desperation, it dawned on me to attempt using furniture slides to shove it back into the closet. Surprisingly, it worked! So now the safe is in the closet again, but I was able to tuck it into the back and turn it so that the beautifully hand-painted door is visible.
But once again it takes up a lot of vertical space, rendering that side useless for hanging clothes. I decided the closet would become mine, and we would find another solution for my husband's clothes.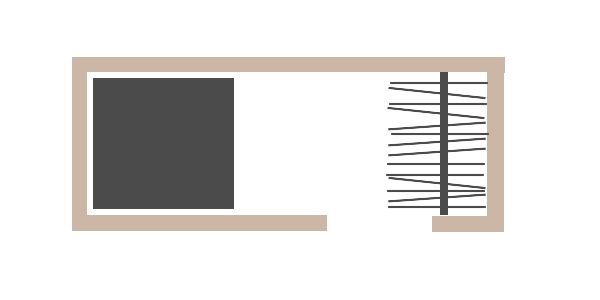 I love the little walk-in closet that I have now. True, I don't have a lot of width for hanging clothes, but I'm something of a wardrobe minimalist, so it works for me. Here's how I have it organized:
My husband installed wood shelves along the back and side walls, providing great overhead storage. We have high ceilings, so there is a lot of space up there!
To the right of the door you can see my hanging clothes (dresses, nice shirts, blazers and skirts). Velvet flocked hangers are a must because they take up less space than other types. They are also great for clothes because they keep them in place and don't stretch them out.
On the side shelf I have wire baskets that hold my scarves and my clutch bags.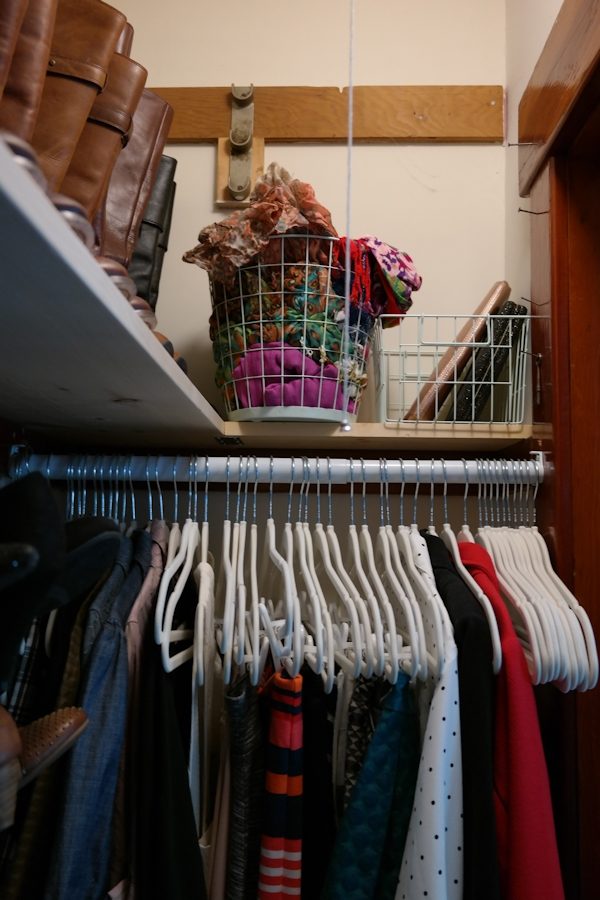 On the back wall is my shoe storage. Up on the shelf I store my boots. I use pool noodles from the dollar store to keep my tall boots in shape. Below that I have a wall-mountable shoe rack with space for 24 pairs.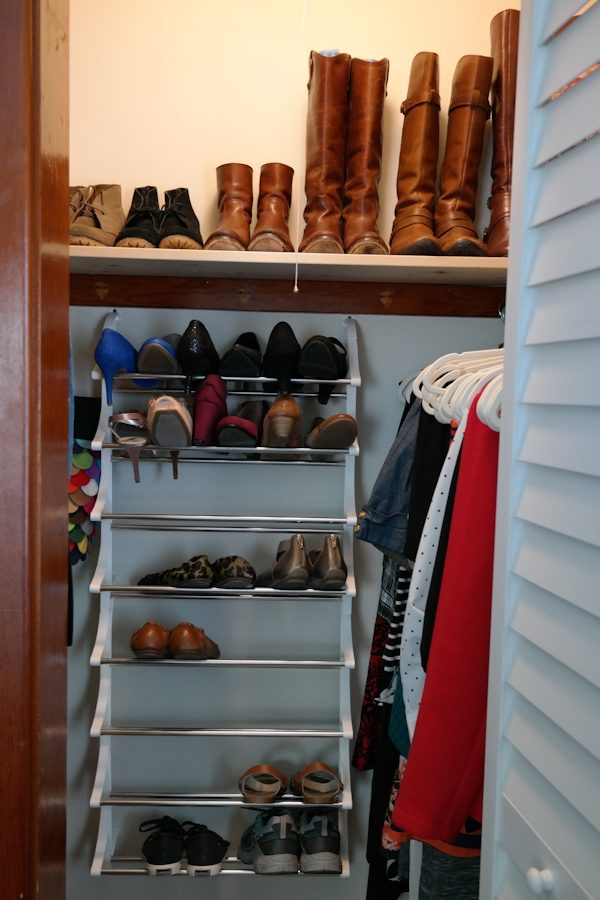 To the left is that stupid safe. I use it as a table for two sets of plastic drawers, which house sweaters. Up above on the shelf I store my handbags. I used dollar store magazine holders for the floppy bags that don't hold their shape. There is also a fabric bin that holds workout clothes.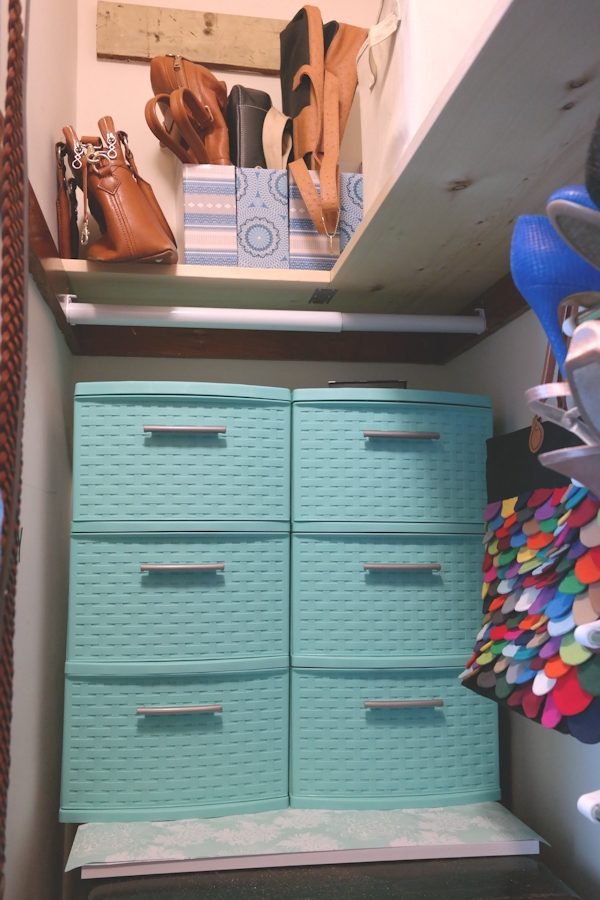 In addition to my closet, I also have a small 3-drawer dresser that serves as my nightstand. It holds my undies, t-shirts and jeans.
Since I evicted my husband from the closet, we needed a storage solution for him. I wanted a large, lovely wardrobe, but they're expensive and we needed something right away. We decided on some storage cabinets from Lowes that could hang clothes and had optional drawer kits.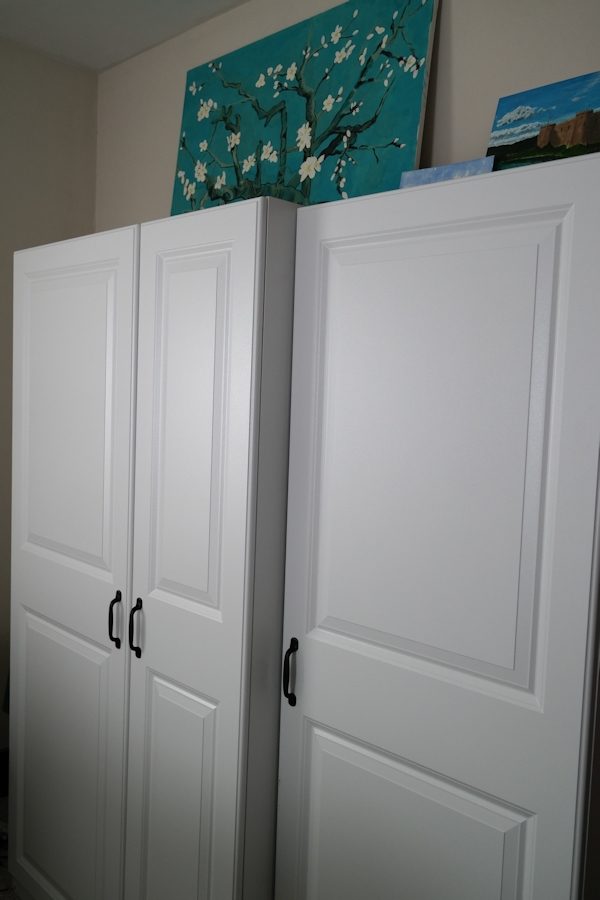 Now he has a nice large "closet" of his own, and we were able to get rid of the wide dresser that he was using for folded clothes.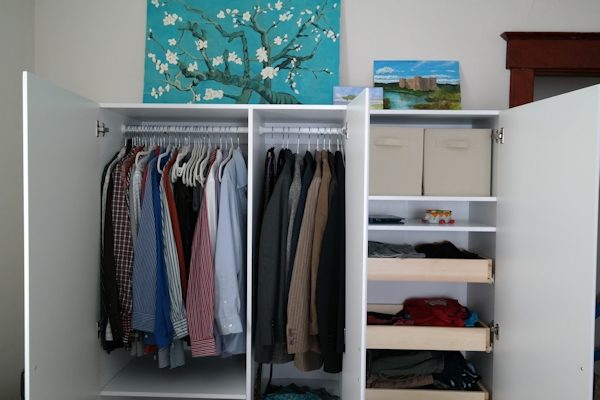 I'm kind of still coming to terms with the fact that it's not a perfectly distressed antique wood wardrobe that Joanna Gaines would pick out, but I think once I get the entire room painted and decorated, it will be OK. I'm supposed to be working on my perfectionism.
If you're dealing with a similar closet situation, try hanging the closet rods along the sides. Just make sure you have enough depth for the hangers. By making the switch, you may lose just a little bit of hanging width, but you'll gain accessibility and the feel of a mini walk-in closet.
DISCLOSURE: This website is monetized with affiliate links. I earn a small percentage of the sales price when visitors make purchases through affiliate links. Thank you for your support!
Share this post