Travel Abroad with a Toddler: How to Pack Light
| Updated:
When my husband and I learned that we would be traveling to England this summer for his sister's wedding, I was very excited and a little bit overwhelmed. It had been eight years since we had last traveled "across the pond", sans kids. There were countless relatives whom our boys had not yet met, and my husband had been pining for the place where he grew up. The trip was long overdue.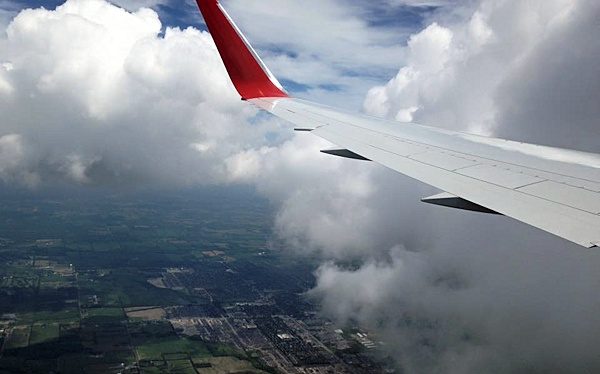 Our youngest turned two in May, and although he's rapidly becoming a big boy, we still relied on a lot of baby gear. The logistics of making sure we had everything we needed, and then managing it all while we traveled, seemed daunting at first.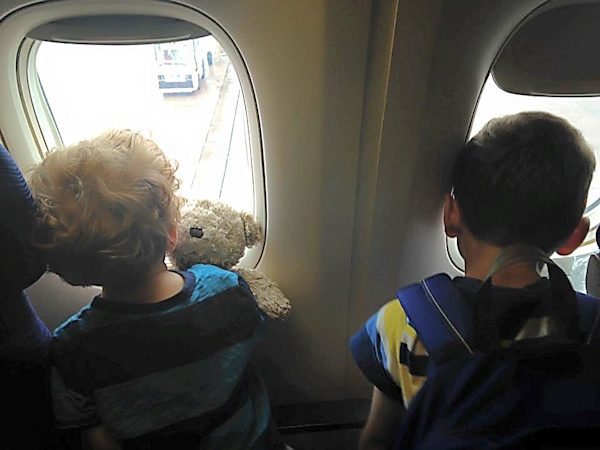 Fortunately we had many months to plan and I realized that keeping things as simple as possible was our best bet — both to preserve our sanity and to save some money.
Now that we've returned from our travels, I can share what worked for us. Although there are some big differences between England and Europe compared to the United States, the many similarities mean that it's not so hard to adapt. Travel abroad with a toddler need not be complicated and difficult.
Your family's needs will no doubt vary a bit from my own, but I hope these packing tips will help you rethink your own must-haves so you can have an easier, more adventurous time abroad with young kids.
Don't Bring
Separate luggage for kids
I'll admit that at first I envisioned each of my boys having his own cute little suitcase to bring on the plane. I looked at the ride-on Trunkis, adorable Orla Kiely carry-ons splashed with colorful car motifs, and even wee suitcases with board games built in to the shell. The more I thought about past experience and my particular boys, though, I realized that I wanted to wrangle as few things as possible.
So, there were no cute little suitcases for the boys. Instead each of them had virtually indestructible L.L. Bean backpacks for their carry ons. Our toddler used the smaller pack that had been his big brother's for kindergarten, and his older brother used his large school pack. We filled them with small toys, activities, a neck pillow and a small blanket each. They were stuffed full, but not heavy. I slung the toddler backpack over my shoulder while we made our way through the airport.
All of the boys' clothes and shoes went into one of our large suitcases. We packed almost all of our family of four's needs into two large checked bags, plus a small carry-on sized suitcase that we packed with toiletries and hair gadgets (we checked this bag, also). This was rather an impressive feat for us, given that the last time my husband and I traveled over for ten days, we had two large suitcases plus carry-ons for just the two of us!
Another important consideration was the rental car; we needed to drive ourselves from the airport to our hotel, about 36 miles away, with all of our luggage in tow. Cars in England tend to be small, and minivans are much more expensive to rent than a standard car. We saved money because we were able to rent a mid-sized car rather than a van.
The decision to travel with fewer suitcases proved fortuitous — after our first flight on the way over was severely delayed, and we found ourselves dashing through Pearson International Airport to arrive at our gate just in the nick of time.
A diaper bag
I decided to switch from a diaper bag to a large purse that I could use for multiple purposes while looking stylish. I was very fortunate to find an amazing Ora Delphine satchel in mint condition on ThredUp for about $50! It's a heavy-duty leather bag that has both short shoulder straps and a longer cross-body strap for versatility.
The inside was roomy enough for everything I needed to carry, but it lacked the organization that an actual diaper bag lends. I bought a handbag organizer to provide more pockets and to separate diapers and other toddler gear from the rest of my stuff. In addition to diapers, wipes and sunscreen, I was able to fit my camera, wallet, and my other needs. It was the perfect size to slip under the airplane seat, too.
Diapers, wipes and toiletries for the whole trip
Rather than fill up precious luggage space with enough diapers and wipes for the whole trip, we packed just what we would need while we were traveling, and for the day we arrived in England. I didn't want to bother with the carry-on liquid restrictions, and I've had many a container leak in checked luggage, so I didn't bother packing shampoo or body wash for anyone, either.
Once we were settled, we went to a supermarket to stock up on diapers, wipes and shampoo. While some things can be much more expensive abroad, the prices on these items were comparable to what we pay at home. Saving luggage space and weight would have been worth a little extra, anyway.
Sippy cups
At home we rely on sippy cups most of the time, but I realized it would be a hassle to pack a bunch of cups and then worry about cleaning them while traveling. Instead, I bought an inexpensive box of straws and slipped it into my purse. Any time my toddler needed a drink at the airport, on the plane, or on the road, I could accommodate him by using a straw with a cup or bottle.
A car seat
We have a hefty steel-framed Diono car seat. I love it, but it's a pain to carry around, even if it is designed to fold for portability. I knew I didn't want to lug a heavy car seat around the airport! Additionally, our car seat would not meet safety standards in England; in Europe, car seats do not have chest clips. Instead car seats are designed to have one point of release, enabling babies to be removed in an emergency situation as quickly as possible. I didn't know if it would actually be a legal issue using an American car seat abroad, but I didn't need much convincing to leave ours behind.
For the plane, I discovered an innovative product called the CARES Harness. It's the only FAA approved device of its type, and it utilizes the plane seat and seatbelt to fasten the child in. It retails for around $70, which isn't bad if you fly a lot, but since we rarely fly I decided to rent a harness instead. I had a great experience ordering from RentCares.com. My harness arrived nice and clean a few days before departure. Keeping track of the small carry bag was so much easier than lugging around a car seat!
I found the harness very quick easy to install, and the strap did not interfere with the tray table of the seat behind us. On both of my flights I did have flight attendants question me about the harness (apparently it's not as widely used as I thought). They carefully inspected the label on the red strap to make sure it was the same product shown in their booklet of approved devices, and then we were good to go.
I know my son would have been a bit more comfortable and relaxed in his car seat on the plane, but this was a trade-off I was willing to make so the airports would be easier for us to manage.
For the car, we ordered a car seat and a booster seat from our rental car company prior to leaving on our trip. Given our past experiences with rental car companies, I wasn't necessarily expecting this to go smoothly, but I was pleasantly surprised to find a nice clean car seat and a booster seat properly installed in our car when we checked in. While this did add to the cost of renting a car (about $150 for two weeks), we valued the convenience and having seats that met the safety standards in the country we were visiting.
Do Bring
A good stroller
I knew we would do a lot of walking in England, so a good stroller was a must. I had a luxe umbrella stroller at first, but it didn't handle our bumpy sidewalks at home, and I knew it wouldn't be up to the task on cobblestones and bricks abroad. This past spring I lucked out and got an amazing clearance deal on a Baby Jogger City Mini. It's relatively lightweight, has heavy duty fabric, and can handle any surface I've tried without much trouble. Best of all, it folds up by itself with a quick one-handed jerk of a handle on the seat — ideal when trying to navigate complicated places like the London Underground while keeping a hand on your toddler.
We flew Air Canada Rouge, and I was a bit concerned because Air Canada has one of the most restrictive stroller policies (they say umbrella strollers only). However, I researched online and everything I read said that they rarely if ever enforced their policy as long as the stroller isn't huge and bulky. Indeed, we were able to gate check our stroller both times, no questions asked. The only minor snag we ran into was upon landing back at home when the luggage crew missed the gate check tag and sent our stroller along with the checked baggage instead.
Our stroller survived cobblestones, train rides, buses, the London Underground and even a trip along a beach unscathed. It was a workhorse, and far superior to any umbrella stroller I've tried.
I wish I had brought
Toddler sized headphones
I had hoped that our toddler would sleep for both flights, but I should have known that it wouldn't happen on our daytime flight back home. A movie on my iPad would have kept him docile for a while if I hadn't been struggling to keep my adult-sized headphones on his head. It wasn't long before we both gave up.
Snacks for the plane
Snacks for the kids completely slipped my mind. I did save the dessert from one of our plane meals to give my toddler later, but having something to nibble on throughout the flight would have been another thing to keep him quiet and happy for longer.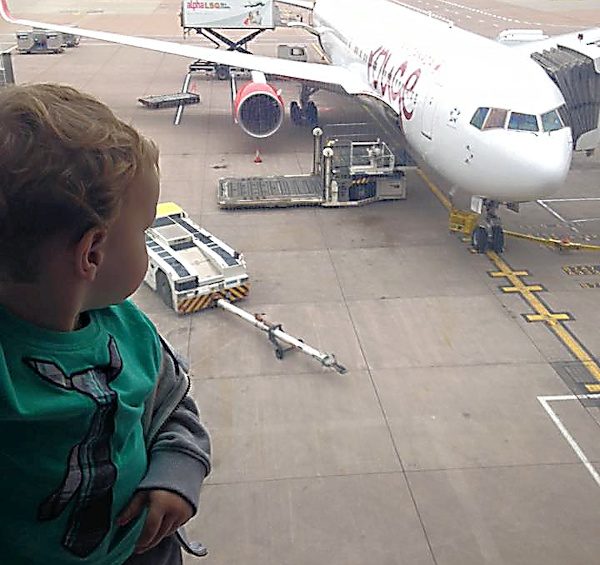 I've always tended to be an over-packer, so I was really pleased by how well we were able to minimize the number of things we packed for our two week trip.
Although traveling on a plane with a toddler was everything it ought to have been, having less stuff to keep track of really helped make our trip run more smoothly.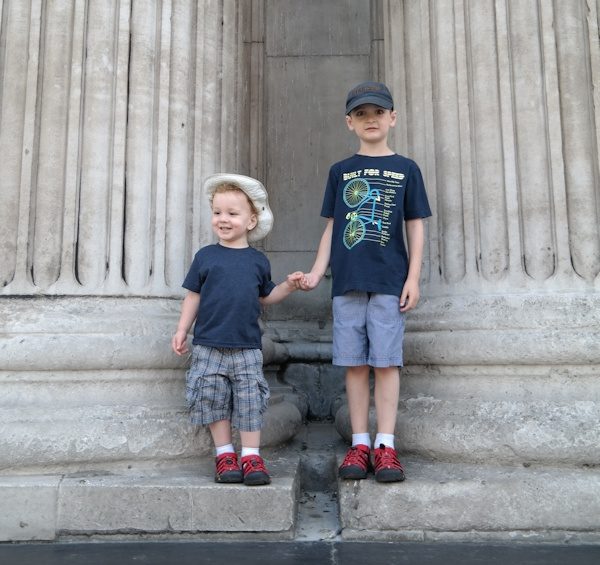 Traveling abroad as a family with young kids was much easier than I anticipated. I can't wait to do it again!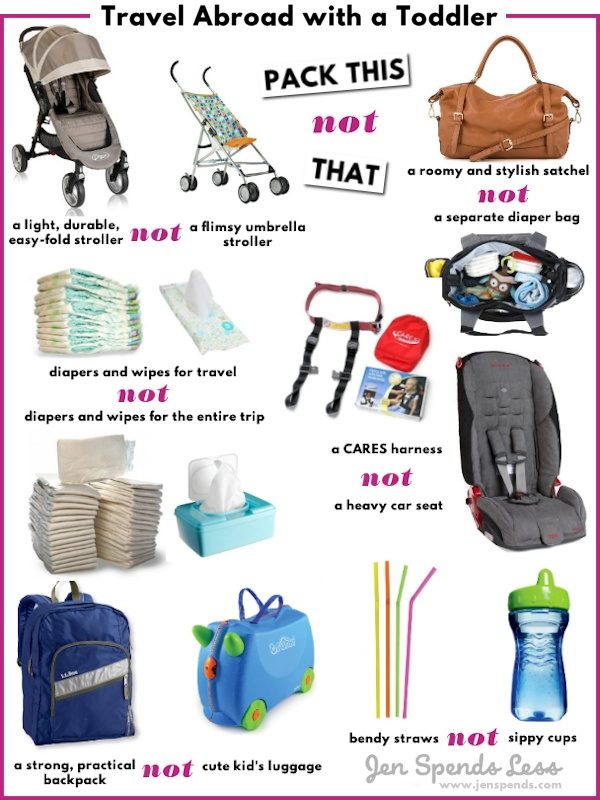 DISCLOSURE: This website is monetized with affiliate links. I earn a small percentage of the sales price when visitors make purchases through affiliate links. Thank you for your support!
Share this post