Toys that just might distract from your real electronics
| Updated:
I've been wondering why toy companies seem so intent on making children's electronics look "chunky" and "fun" and "colorful" and even "friendly", when it's obvious that all kids really want is something that looks and operates like the real thing.  Okay, okay, what they really want is the real thing, whether it's your cellphone, laptop, camera, etc., but that's just not practical, or safe.  I don't know any tots, my son included, who are fooled or satisfied by baby toy versions of their favorite gadgets.  I do know several tots who happily tote around their parents' old cell phones (batteries removed, of course).  I suppose older kids are probably drawn to fun cartoonish kid stuff, but in my experience, the toddler set is more concerned with mimicking Mommy and Daddy (how flattering!).
I have been happy to come across a few electronics items for pre-schoolers recently that resemble Mommy and Daddy's gadgets more closely than other toys do.  Although the games and learning activities are far beyond the average 1 or 2 year old, I think that with close supervision these toys are perfectly safe for a young one's button-mashing and pretend play.
First up, we have two items from Leapfrog:
Chat & Count Cell Phone (ages 18 months to 3 years)
around $14.99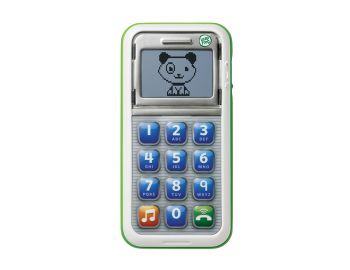 Leapfrog's description:
Fun learning in a smart little phone! Sing along to songs about counting and phone routines, explore more than 15 phone activities and call on Scout for learning fun as you trade calls and voicemails with your puppy pal. Parents can connect to the online LeapFrog® Learning Path for customized learning insights and ideas to expand the learning.
I like that it looks much more realistic than many other toy cell phones for this age group, and the display is engaging.  My son loves puppies!
Text & Learn (ages 3 to 6 years)
around $21.99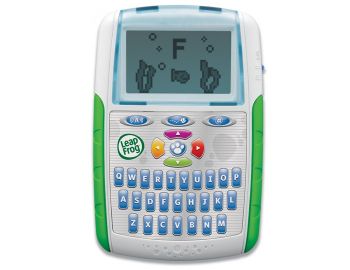 Leapfrog's description:
Text and Learn is designed to let little learners play in a grown-up way!  Children can exchange text messages with their puppy pal Scout, check Scout's planner to see what his week entails and more in the pretend browser mode.  Other learning modes offer practice with letter matching, shape identification and QWERTY keyboard navigation through silly animations and sound effects.  Children also explore letter names and sounds.  Parents can connect to the online LeapFrog® Learning Path for customized learning insights and ideas to expand the learning.
This one caught my eye while I was browsing for Christmas ideas.  It resembles a Blackberry (my son loves playing with his Grandpa's Blackberry), though it is bigger, and has a nicely sized screen.  The keys are raised bumps rather than individual buttons, making this safer and easier to clean.  Although my 1-year-old son is far too young to engage in any of the learning activities, the buttons captivated his attention and he enjoyed seeing the puppy on the screen.
I have been searching for a somewhat realistic and engaging toy laptop that would at least be safe for my son, if not exactly age appropriate.  I liked this offering from Fisher-Price:
Fun 2 Learn Color Flash Laptop (ages 3 to 7 years)
around $30.00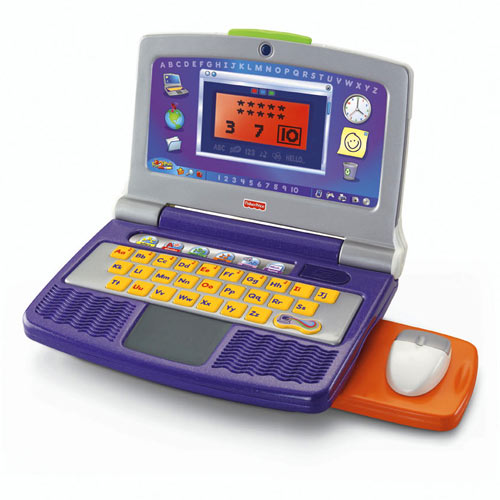 Fisher-Price description:
It's a laptop just for kids—full of learning, laughter, and a super-cool, color-changing screen! Six game modes are full of fun ways to discover letters, phonics and numbers, with delightful games, mazes, music and sounds, exciting animation, surprises and more. High quality sound & volume control for quiet play. Requires 3 AA batteries.
This item has been redesigned, I think for the better.  Its predecessor was adorable, but much less realistic (the mouse was modeled to look like, well, a mouse…of the squeaky, whiskered variety).  The new version has many features that make it look like Mom and Dad's: a faux webcam, a touchpad (I believe it is only decorative, but I could be wrong), and a real-looking mouse that clicks.  The mouse is fastened to the mousepad, which slides underneath the laptop for safe storage.  A unique feature is the backlit screen, which changes color during activities, or with the press of a button.  Kids like screens that do something, and this fits the bill.  The keyboard is set up alphabetically and doesn't necessarily look "real", but my son was drawn to the bright yellow keys and really enjoyed testing this toy at the store.  My one disappointment upon seeing this in person was the quality of the plastic case, which seemed rather cheap.  Overall, the functionality was good, and I think this might keep tiny fingers from my keyboard.
Speaking of which… as I was typing something yesterday, my little boy decided he would "help".  I was quite shocked to discover his contribution at the end of a comment I was about to submit: 'po0p-
Have you found any great toys that your kids think are as good as the real thing?  Please share in the comments section!
DISCLOSURE (what's this?):  I am not affiliated with any of the companies mentioned in this article.  This article represents my own views.
DISCLOSURE: This website is monetized with affiliate links. I earn a small percentage of the sales price when visitors make purchases through affiliate links. Thank you for your support!
Share this post