Tour our sentimental Christmas tree
| Updated:
I'm a very sentimental person, so rather than aiming for some kind of overall "look" for our Christmas tree, I like to fill it up with ornaments that have special meaning for our family. Now that this year's tree is up and decorated and the presents are all purchased, I thought it would be fun to sit back, relax, and share some of my favorite decorations that adorn my family's tree.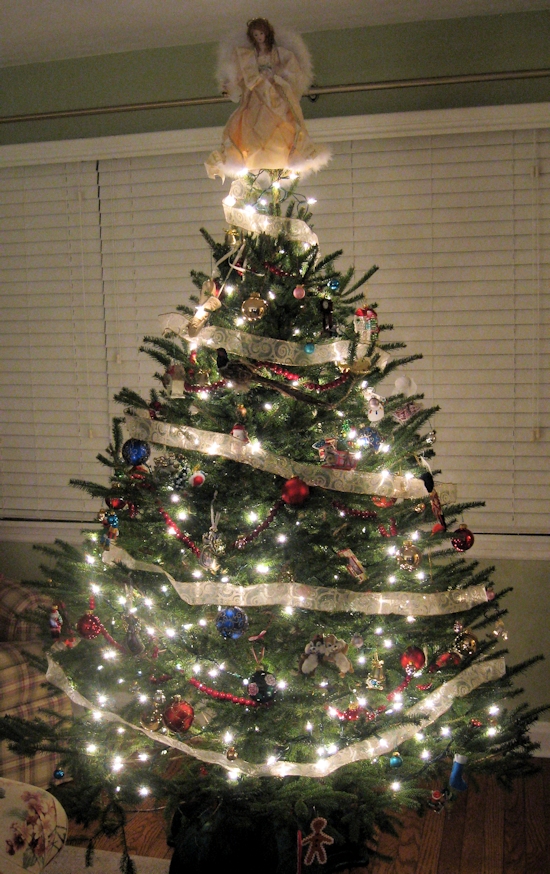 As I've mentioned before, I always look for a nice Fraser Fir. I love the sturdy branches, the short needles that aren't too prickly, and the airiness of it–the white lights fill the spaces and make it glow. Our first year as a married couple, my husband and I purchased the basics like glass bulbs in various sizes (we both find the tiny ones to be a pain because there are so many, but I love the way they look). Some painted wooden beads on string lend the look of cranberries, but we can use them every year. Some sparkly translucent ribbon dresses things up a bit more.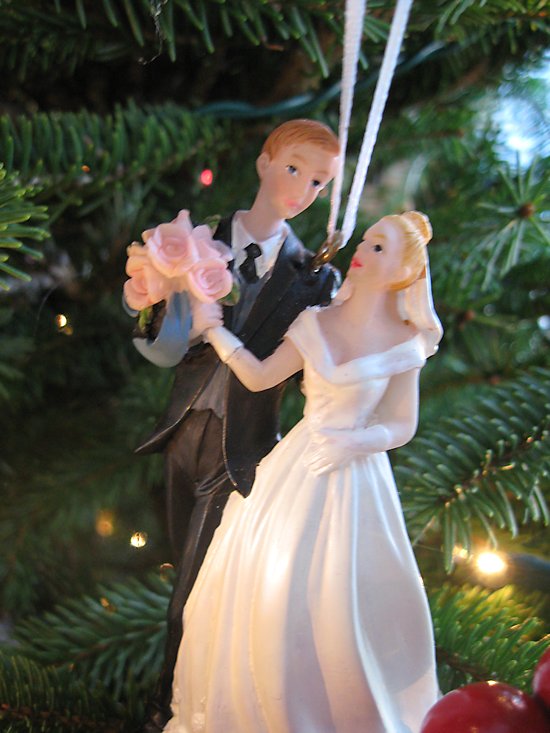 My husband gave me this ornament to celebrate our first Christmas as a married couple. I'm still wondering who the blonde chick is. He says it was the best one he could find. I thought about painting her hair, but I think it's more fun to tease my husband about it each year.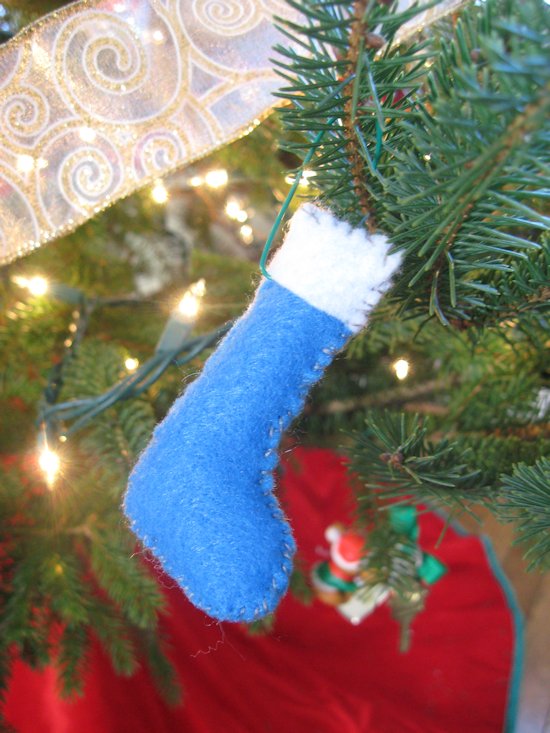 I was a bit overzealous about making sure our first Christmas together was perfect, and starting new traditions together. I bought kits to make my husband and myself each a beautiful felt Christmas stocking complete with gorgeous sequined embroidery. I very much underestimated how long it would take, and to this day neither stocking is completed. My cheeky husband took matters into his own hands and sewed together this tiny Christmas stocking for himself (it's about two inches tall).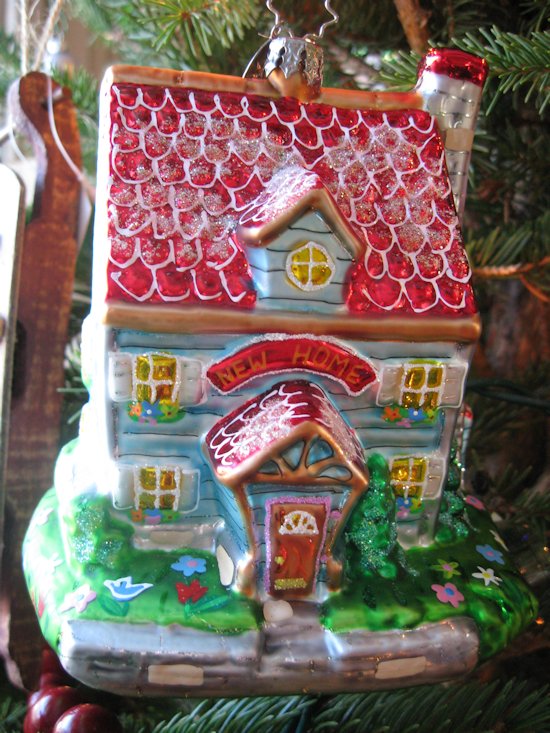 We moved into our first house in the fall of 2006. After much inquiring from coworkers who were seemingly anxious to see our house and the improvements we were making, I planned a big housewarming and invited people my husband and I worked with. It was more or less a major flop. After rushing to paint the dining room and finish up various other projects, then making enough hors d'oeuvres for an army, only two people from my workplace actually showed up. However, a carload of people my husband worked with came to celebrate with us, and they brought along this gorgeous glass ornament as a gift. He hadn't worked there for long, and it was quite a distance for them, so it meant a lot.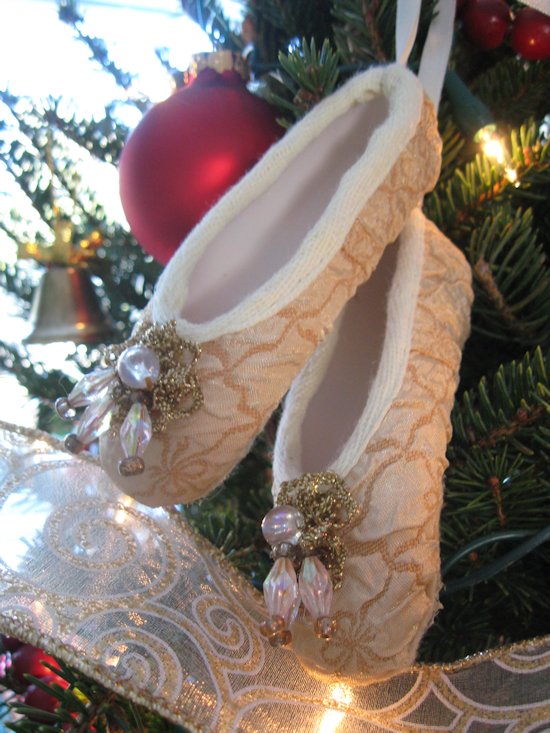 I never took ballet lessons, but my very first job other than babysitting was being a store clerk in a dancewear shop. I learned so much, and became fascinated with beautiful ballet costumes. For some reason I just love the look of pointe shoes and would love to own a pair even though I can't use them.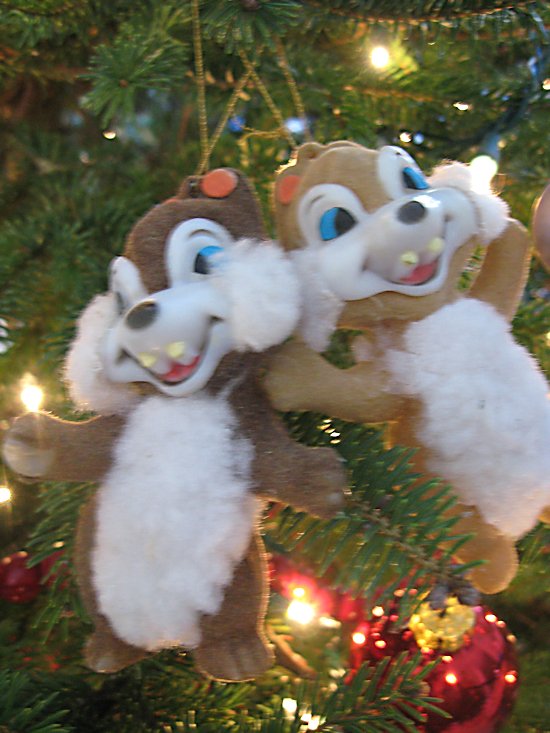 My grandpa and I were very close and he always called my house to tell me when there was a "special" on TV. Chip and Dale cartoons were his absolute favorite. My grandpa loved animals, a trait that he passed down to me. He bought these Chip and Dale ornaments for my sister and me in 1983. They remind me not only of my grandpa, but also of one of my best Christmases ever–the year I woke up to two hamsters in a brand new cage next to my bed. I'm sure you can guess what I named them.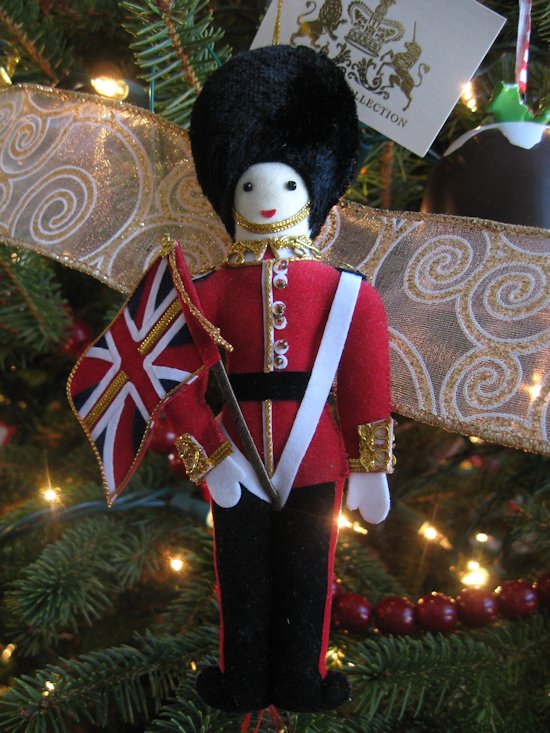 I picked out this velveteen royal guard ornament in a gift shop near Buckingham Palace. Watching the elaborate changing of the guard was one of the many experiences I enjoyed during our most recent trip to England in 2007.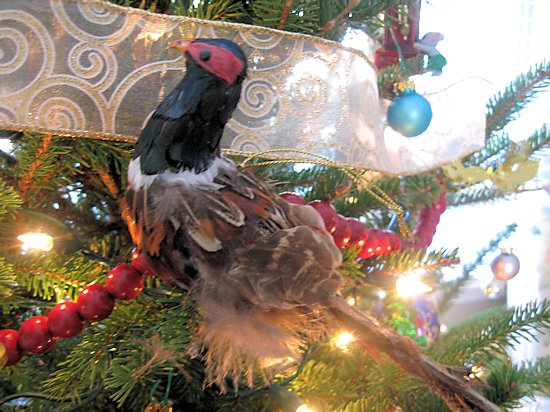 Also to commemorate our 2007 England trip, my husband gave me this feathered pheasant ornament. We spent part of our trip staying in a quaint guest cottage in the Yorkshire Dales. The setting was idyllic, and we found a pheasant nesting along the driveway that led to the cottage. We checked in on her every time we walked past.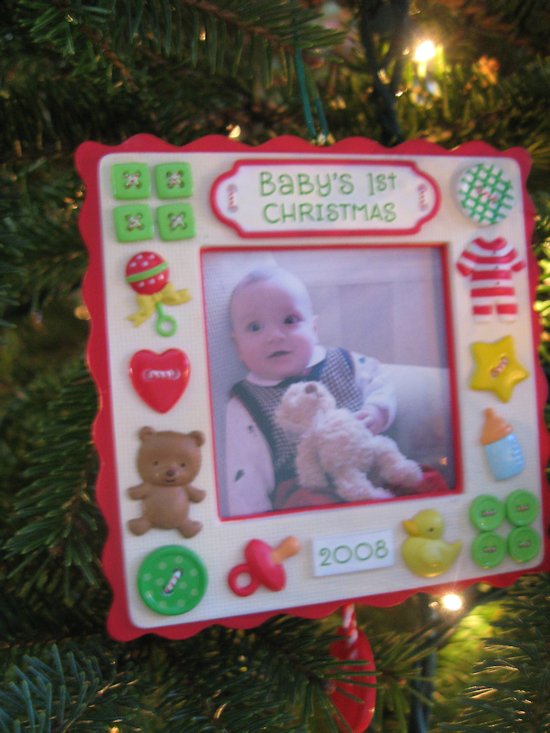 Of course Christmas became more fun and magical after our little baby boy arrived! He celebrated his first Christmas at five months old and was very cooperative as I set him up for various homemade portrait shots.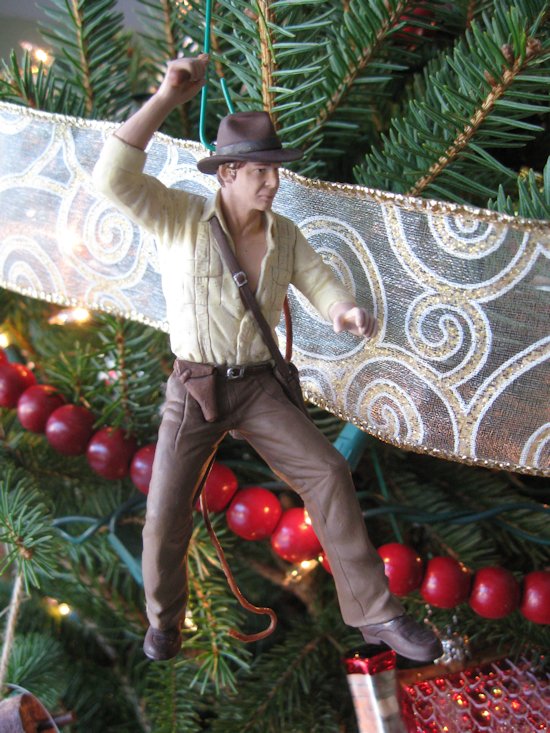 I thought I would receive some kind of sweet mommy Christmas ornament for my first Christmas as a mom, but this is what I got from my men instead. And it really couldn't be more perfect. I just love the fact that my husband thought I would enjoy an Indiana Jones ornament. Although I am a girly girl in some ways, I also have a strong tomboyish streak; I enjoy action and spy movies, video games, cars and ice hockey. I'm so proud to be a mommy of a little boy. It's fun that we enjoy some of the same things. (It doesn't hurt that I had a crush on Harrison Ford when both he and I were younger, either.)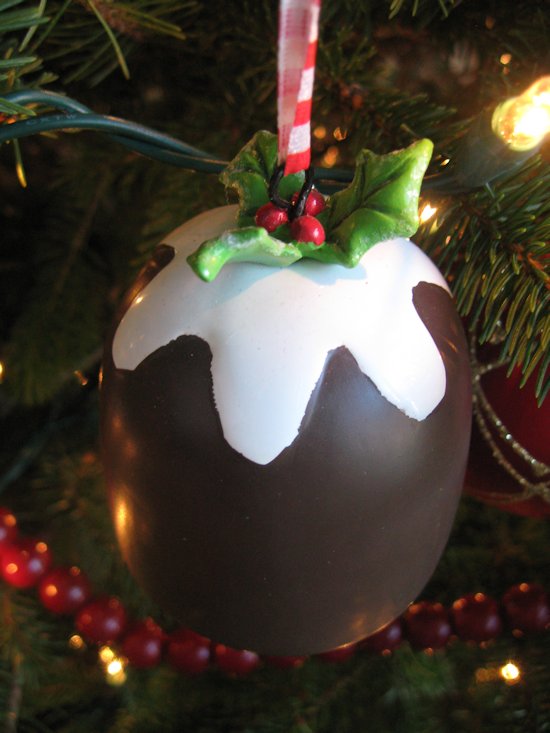 Christmas pudding with nutmeg sauce (his mum's, in particular) is one of my husband's favorite holiday treats. I was delighted to find this ornament (which is also a bell) stateside.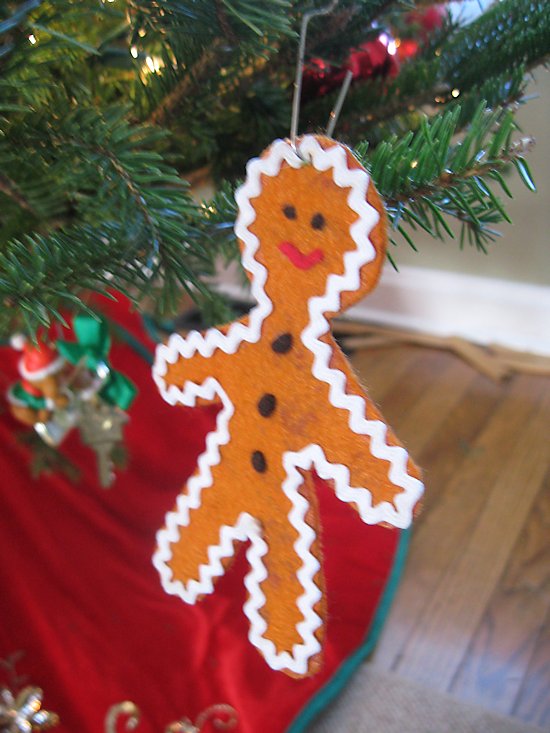 My mom and dad had very little when they were just starting out. Mom made a variety of felt Christmas ornaments to decorate their first tree, and I always loved seeing them on the tree each year as a little girl. This year Mom spent time making homemade gingerbread cookies with my son, and she gave him one of her ornaments to place on our own Christmas tree to commemorate the occasion. It will remind me to always make the most of what I have.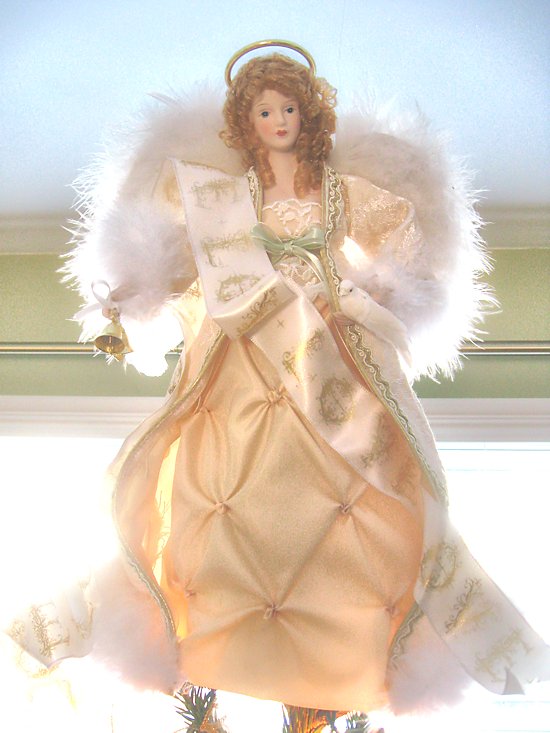 The angel was always my favorite part of the Christmas tree when I was growing up. I thought she was just gorgeous (truth be told, she had a Dorothy Hamill haircut, a gold pipecleaner halo and was rather tacky). I wanted a beautiful angel for our house, too. I ended up making this one myself because I couldn't find one in a store that I really liked. My mom helped me create the clothing out of fabric scraps, and I glued "real" hair onto the porcelain head I purchased. She holds a pair of bells in tribute to one of my favorite holiday movies, "It's a Wonderful Life", and the dove in her other hand symbolizes my love for animals. Her sash, a ribbon printed with the word "love" reminds me that with love, all things are possible–including having a warm and happy home with a man who moved here from 3,000 miles away against all odds.
I hope you enjoyed this little glimpse into our home this Christmas, and wish that the days leading up to Christmas are relaxing and joyful for you, too.
DISCLOSURE: This website is monetized with affiliate links. I earn a small percentage of the sales price when visitors make purchases through affiliate links. Thank you for your support!
Share this post