Totally Together book review
| Updated:
It seems like I am constantly reading self-help books in an effort to iron out my personality quirks. Cleaning in particular has always been a big challenge for me, for a number of reasons. First, I am rather impulsive. When I have a good idea, I run with it and let everything else go to shambles while I finish my project (unfortunately cleaning is rarely one of those projects). Next, I am a perfectionist. I can't just tidy up a room–I expect it to be magazine-ready when I'm finished. I have difficulty seeing the proverbial forest for the trees, and often get caught up in the minutiae, like reorganizing cupboards, rediscovering items of sentimental value, or figuring out the perfect furniture arrangement. I think I subconsciously feel that if I don't have the time or energy to clean a room to my ludicrous standards, then why bother at all? Writing all this down makes it all sound very silly of me, but I know others can relate to how one's psyche can impair one's ability to just get things done.
A friend and I were recently giggling together about our mutual lack of housekeeping prowess and the ridiculously high standards we hold ourselves to. "I hate to say it, but you will probably never change," she said. Maybe so, but I'm determined to try! That's why I jumped at the opportunity to review a new housekeeping book called Totally Together: Shortcuts to an Organized Life, by Stephanie O'Dea. The author's name may sound familiar if you have ever visited her popular website, A Year of Slow Cooking. Turns out convenient meal-making isn't the only thing she has down to a science.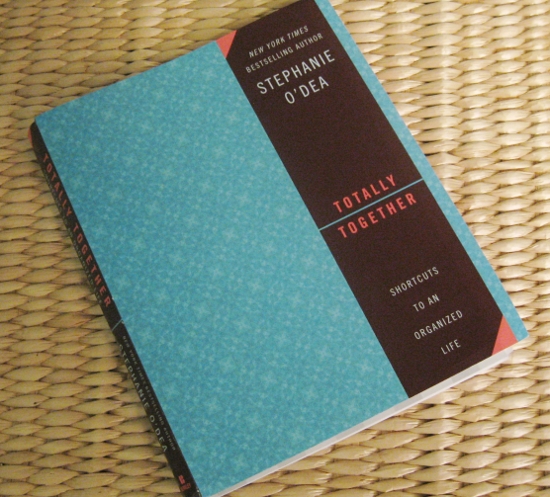 I have read other books and websites devoted to the housekeeping-challenged, and I have found all of them to be helpful to some degree. That said, the other methods I have tried have all shared the same drawback; they take too long to learn. I just don't have enough time to read and study a lengthy chapter book or in-depth website and commit the strategies to memory, all while working from home and raising a toddler. I get distracted and veer off course when I'm told to buy organizational items, or create complicated charts that my new-found methods depend upon.
I found the format of Totally Together to be very different from everything else I've tried. When I first received the book, I thought "Oh, great…I hope I have time to read this!". However, I discovered that the actual reading material consumed only the first 45 pages of the 171-page book. Could something so brief really help me?
Totally Together included some familiar themes that I have read about before, like keeping your kitchen sink empty, using menu plans and chore lists, and easy-to-remember acronyms. Where it differed was that it gets straight to the point. O'Dea does not spend time psychoanalyzing, examining the why's of messiness or dwelling on self-esteem issues. The result is a quick and easy read that I was able to finish in one night before bed. The remaining pages are devoted to weekly chore charts, menu planning charts and a grocery shopping checklist. I like that the book is spiral-bound so it lies flat and is easy to write in or copy from–it's the minute details like this which make things a little easier for a perfectionist like me.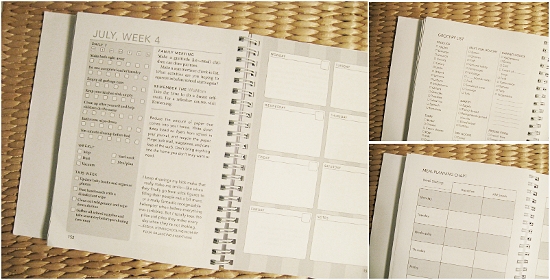 The book begins with an introduction to Stephanie O'Dea's "Clean Less, Play More" philosophy. She uses a variety of shortcuts to maximize a few minutes of cleaning time each day. She also touches on time management and the importance of being able to say "no" if you're the type who overcommits to "time-wasters" outside the home. Next, she introduces "The Daily 7 for a Highly Successful Household", with a paragraph or two that describes each of the seven simple chores necessary to keep a home tidy all the time. Her PROM method (Purge, Remove, Organize, Maintain) helps tackle bigger cleaning jobs when time allows. I enjoyed her chapter about family cooperation, and her lists of kid-appropriate chores (organized by age) gave me some great ideas to involve my son in daily cleanup rather than trying to handle it all myself while he undoes my handiwork.
I finished the book with a positive, can-do feeling. I realized that I was overcomplicating things when I thought about cleaning, and I wasn't making the most productive use of my time. I'm really optimistic that this book will make a difference for me. Even if you've already found another system that works well for you, I think Totally Together would serve as a nice complement to what you already know. If, like me, you have often wished that you could apprentice yourself to one of those enviable people who seems to always have their act together, let Stephanie O'Dea show you how.
About the author
Stephanie O'Dea is a New York Times bestselling author, award-winning blogger, and mother of three. Before becoming an author, Stephanie ran preschool centers for underprivileged kids. She graduated from San Francisco State University with a degree in English Literature and holds an Early Childhood Education Administrative Certificate. O'Dea has appeared on "The Rachael Ray Show" and "Good Morning America" and has been featured in publications such as Real Simple, Woman's World, Prevention, the Washington Post, the New York Post, the Los Angeles Times and Publisher's Weekly.
For more information:
www.stephanieodea.com
www.totallytogetherjournal.com
Buy it on Amazon.com
Totally Together: Shortcuts to an Organized Life
Win it! (ENDED)
The publisher of Totally Together would like to send a copy of the book to one lucky reader!
To Enter
Leave a comment below telling me about your biggest housekeeping challenge.
Extra Entries
You may leave one comment for each additional entry type that you complete below (or that you have already completed in the past):
– Like Jen Spends on Facebook
– Follow Jen Spends on Twitter
Rules
Open to U.S. and Canadian residents age 18 and older.
One entry of each type per person, limit two entrants per household.
Contest ends at 9:00 p.m. ET on Friday, August 12, 2011.
One winner will be chosen randomly from all eligible entrants and notified by email. If winner does not respond within 48 hours, a new winner will be chosen.
If this is your first time commenting on Jen Spends, your comment will be held for moderation until I have a chance to approve it. It should appear soon!
DISCLOSURE: This website is monetized with affiliate links. I earn a small percentage of the sales price when visitors make purchases through affiliate links. Thank you for your support!
Share this post