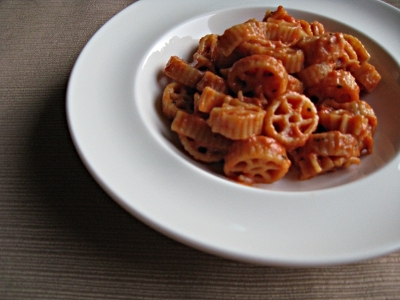 I have been making almost all of my son's baby food since he started solids at six months old. I hope someday soon I'll be able to document and share some of my experiences – it's been something I have truly enjoyed! Once he started to approach one year, I realized that I couldn't feed him purees forever, and he increasingly wanted to get his hands into his food and feed himself. So, I set about finding simple recipes that wouldn't upset his tummy, and wouldn't introduce "junky" ingredients into his system. I wanted him to have the same fun foods that all toddlers love, but the healthier ready-made options are expensive, and the cheaper products include ingredients I just don't want him to eat yet (have you ever read the ingredients list on a can of SpaghettiO's?)
Following is a tasty and easy pasta recipe that I developed, that my little boy gobbles right up! Use whatever age-appropriate pasta shape that you prefer. I have used wheels and pasta rings, but other shapes would work great too. This recipe contains no added salt (beyond what is found in the cheese), and no sugar. It is appropriate for children who have mastered Stage 3 baby foods. It's tasty enough for mommies and daddies too! Enjoy!
Toddler's Tasty Tomato Cheese Pasta

Copyright JenSpends.com – August 2009

Ingredients:
1 6-ounce Can Tomato Paste (with tomato as only ingredient)
5 Cups Water
1 Clove Garlic, minced
1/2 Pound Pasta Wheels (or pasta shape of choice)
4 Ounces Mild Cheddar Cheese, freshly shredded
1/4 Cup Whole Milk
1 Tablespoon Unsalted Butter
1 teaspoon Basil (fresh or dried)

This recipe yields approximately eight toddler-sized servings.

Instructions:

In a large saucepan, whisk together tomato paste and minced garlic with 5 cups of water.

Heat on high until boiling. Add pasta, and return to a boil. Reduce heat to medium and simmer for 15 minutes (or until pasta is soft), stirring frequently to prevent sticking. The liquid should reduce down significantly. If it reduces too much, just add more water.

While pasta is cooking, grate the cheddar cheese.

When the pasta has finished cooking, remove from heat. Stir in the shredded cheese until melted, then add the milk, butter and basil. Stir gently until combined.
I like to make large batches of food for my son and freeze the leftovers – it's as convenient as popping open a jar! I freeze the food in regular ice cube trays covered with plastic wrap, then pop the cubes into a freezer bag to be used as needed. This recipe freezes very well! To reheat, simply add a small amount of water and heat in the microwave or over the stove.
For a printable version of this recipe, click to visit Tasty Kitchen.