The Pioneer Woman cooks
| Updated:
I first discovered Ree Drummond's cooking website, The Pioneer Woman Cooks about a year ago when I was considering launching my own cooking website and was researching existing blogs.  I quickly determined that I didn't have the time, expertise or the camera to be a successful food blogger, but "PW" left a lasting impression.  Her entire website became one of the few that I visit daily.  She is a talented photographer, with a great (clean) sense of humor and an interesting life story.  And she has a huge readership.  I felt like I had been living under a rock for not knowing her site existed.
This past Christmas my husband gave me one of the items that had been at the top of my list, The Pioneer Woman Cooks cookbook.  Although all of the recipes are also available on her website, it is nice having some of the best ones at hand with the flip of a page, for those of us not willing to risk bringing the laptop into the kitchen.  It's not just a cookbook either; she included many tidbits about life on the ranch, and her very interesting life story.  And of course there is beautiful photography in abundance.  I think it's the first cookbook I've ever actually read.  For any Pioneer Woman fan, this book is a treasure.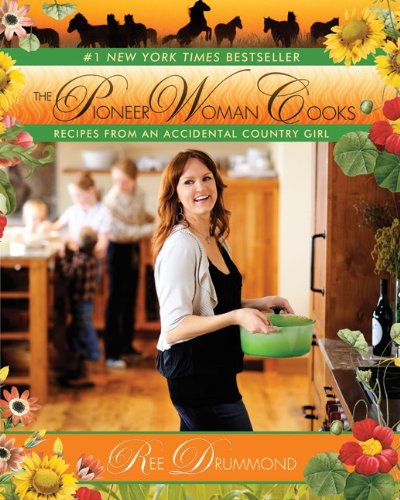 Why do I love Ree's recipes?  Because when she says something is delicious, it really is.  It comes out that way.  Her instructions are always spot-on.  Between the great step-by-step photography and the simple (sometimes humorous) instructions, I always feel like I can do it, too.  "Bake at 350 degrees for 45 to 50 minutes, or until no longer jiggly like my bottom," read the instructions for her delectable Strawberry Shortcake Cake.  Her recipes aren't always quick and simple, but they are real and use unpretentious ingredients.  I love providing my family a nice homemade meal that tastes great.  I also love that Ree hates bananas just as much as I do.
Ree cooks for cowboys and hungry ranch kids whose high metabolisms I could only dream about having, so her hearty recipes are usually only an occasional treat in our house.  Sometimes I tweak ingredients slightly to make a recipe healthier (like low-fat cream of mushroom soup in place of heavy cream) or to use ingredients that I have on hand.  I have found the recipes to be very adaptable.
Here are the recipes I have tried (and loved) so far:
Chicken Parmigiana
Chicken Scallopine
Christmas Cookies
Strawberry Shortcake Cake
Potato Bundles
Shrimp Pasta in a Foil Package
White Chicken Enchiladas
Comfort Meatballs (also in the cookbook)
You probably already know about The Pioneer Woman…but if you don't, be sure to head on over to her site and explore.  It's one of my favorites!
Links
The Pioneer Woman Cooks (the cooking section of ThePioneerWoman.com)
The Pioneer Woman Cooks Complete Recipe Index (although there are a few recipes she hasn't added yet)
The Pioneer Woman Cooks cookbook (click to purchase through Amazon.com)
DISCLOSURE (what's this?): I don't know Ree Drummond at all.  I am an affiliate of Amazon.com, and this post contains affiliate links.  If you choose to purchase the cookbook through one of those links, I will receive a small percentage of the purchase price, which benefits my family.
DISCLOSURE: This website is monetized with affiliate links. I earn a small percentage of the sales price when visitors make purchases through affiliate links. Thank you for your support!
Share this post