The Imaginarium Natural Wooden Dollhouse…that I bought for myself
| Updated:
I am not generally inclined toward making frivolous purchases (or at least I like to think so).  That's why I felt slightly ridiculous when I returned from a recent shopping trip with a dollhouse.  For myself.  I also felt more than slightly giddy.  I have been interested in miniatures for as long as I can remember.  One of my aunts had an amazing canister full of various miniature items that she had collected in her travels, and she would open it up for me to explore when I visited (that is until I tried to light a miniature match).  One of my favorite Christmas gifts was a dollhouse that my mom painstakingly built and furnished for my sister and me.  We loved it, perhaps a little too much, as it ultimately fell to pieces…but I think Mom is happy we played with it.
In addition to being fascinated by miniatures, I have an architecture degree, a passion for interior design, and an unhealthy obsession with the elaborate homes in Architectural Digest.  All things considered, dollhouses are a relatively inexpensive and easy way to use my creativity–certainly easier than working full-scale with clients, contractors and budgets!  I have been wanting to decorate my own dollhouse as an adult for quite some time.  I even picked up a rather decrepit and ugly dollhouse that was being given away for free on the side of the road.  I ultimately decided it was unsalvagable, and put it out by the road again, where it was promptly picked up by another bargain hunter.
I was in Toys R Us recently looking for a little Easter gift for Mr. Boy when it caught my eye.  A wood dollhouse on clearance, marked down from $89.99 to $59.98.  I didn't buy it then, but I couldn't forget about it.  It was a ridiculous thing to purchase at a time when every penny counts, but the wheels in my head were churning out ideas, and I thought about what a precious thing it would be to pass down to my theoretical future daughter that I might have someday (she even has a name).  A few days later I found myself back in Toys R Us, opening up the box to scrutinize the quality, and ultimately bringing it to the cashier while silently berating myself.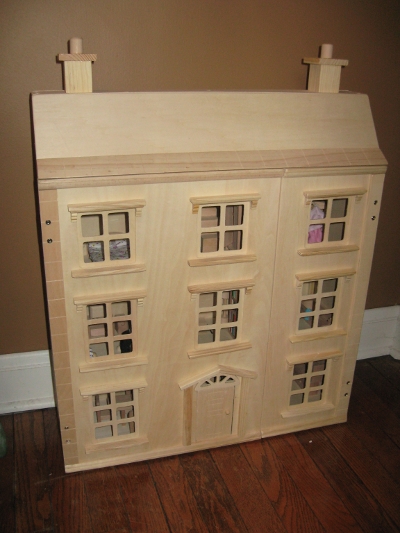 Dollhouses are not cheap.  Even the most basic "puzzle" dollhouses made out of flimsy splintering wood can be pricey.  But this one was made to be played with.  The wood was sanded smooth.  The walls were thick and reinforced with sturdy wood framework.  It even came with wooden furniture, wooden dolls and accessories.  This Imaginarium dollhouse is essentially a knock-off of similar, but more expensive, products made by Pintoy and Plan Toys.  Much of the furniture is ugly, and the dolls are slightly weird, but overall it would make a very cute plaything as-is for a little girl.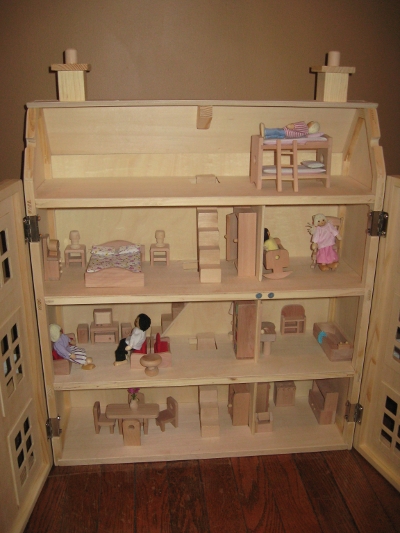 But I am going to give it a complete makeover.  This dollhouse will eventually be converted into a Georgian mansion.  The exterior walls will be brick.  It will have a slate roof with copper flashing.  The interior will eventually be furnished with half scale miniatures, either purchased or made by me.  I am going to rework the staircases so they are correct for the scale, and may divide up the rooms further.  I have big plans.
I couldn't wait to take the dollhouse out of the box and put it together, and that's exactly like I did, while my hubby watched the NCAA final.  The assembly was very straightforward with the help of easy-to-read diagrams.  Holes were drilled in all the right places, and the structure is held together with screws.  The front of the dollhouse opens with two doors, which are held closed with magnets.  The front roof also comes off to reveal the attic.  I wasn't expecting much as far as quality, but I was pleasantly surprised.  This is a very sturdy house.  The interior is divided into 6 rooms plus an attic, and at half-inch scale will be very large indeed.  It took me about an hour to put together.
It will take a long time to be able to afford the materials and carve out the time to work, but I am excited about having a hobby to enjoy, and can't wait to get started!  I will definitely share my progress here.
DISCLOSURE: This website is monetized with affiliate links. I earn a small percentage of the sales price when visitors make purchases through affiliate links. Thank you for your support!
Share this post