TGIFSD: Finish your holiday shopping on Free Shipping Day
| Updated:
I have been shopping online for years and thought I knew just about every trick to save money, but somehow I completely failed to get the memo about Free Shipping Day. Thankfully my friend Amy enlightened me and I was able to take advantage of a super low price on an item I needed at a website that usually has rather high shipping costs.
Founded in 2008, Free Shipping Day now has thousands of participating vendors (from big-name websites right down to eBay and Etsy sellers) who promise free shipping in time for Christmas. Visit the official website to browse or search for a particular vendor. Many companies have promo codes for free shipping, while on other sites it's automatic. Some offers are better than others–certain websites have free shipping thresholds but many have no minimum purchase requirements. For 2011 the promo began at 12:00 a.m. EST on December 16th and ends at midnight December 17th.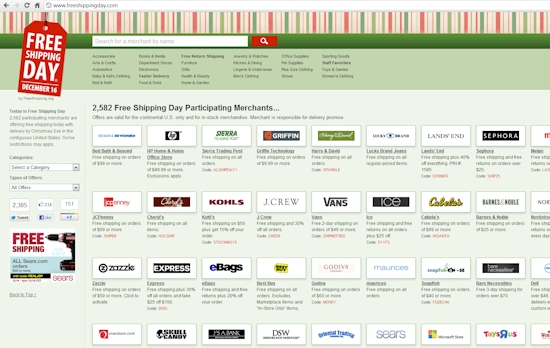 Although it's a bit last-minute for my taste, it's nice to know that you can still save some serious money online even if you skipped other heavily promoted sale days like Black Friday or Cyber Monday. Don't forget to follow my other online shipping tips to maximize your savings! To find free shipping deals, visit www.freeshippingday.com.
DISCLOSURE: This website is monetized with affiliate links. I earn a small percentage of the sales price when visitors make purchases through affiliate links. Thank you for your support!
Share this post