Tea travels to Bali for Spring 2012
| Updated:
I enjoyed the Mexico-themed clothing that Tea Collection put out last fall, and was eager to see what their next collection would entail. As you may remember, Tea plans each clothing collection around a specific destination that the designers have researched and immersed themselves in. The theme for Spring 2012 is Bali, and I was delighted to have another opportunity to review their latest offerings.
With so many cute options, it was difficult to choose! I especially liked the colorful Katak Tee and the Safari Scooter Jacket, and lamented the fact that I don't have a little girl yet as I lost myself in the adorable girl's collection. I finally decided on the Tiger Jungle 5-piece Wardrobe Set for Mr. Boy. Tea offers wardrobe sets for both boys and girls with a variety of mix-and-match pieces. Not only does this take the work out of planning outfits, but it also stretches your dollar–the wardrobe sets are less pricey than the items purchased individually.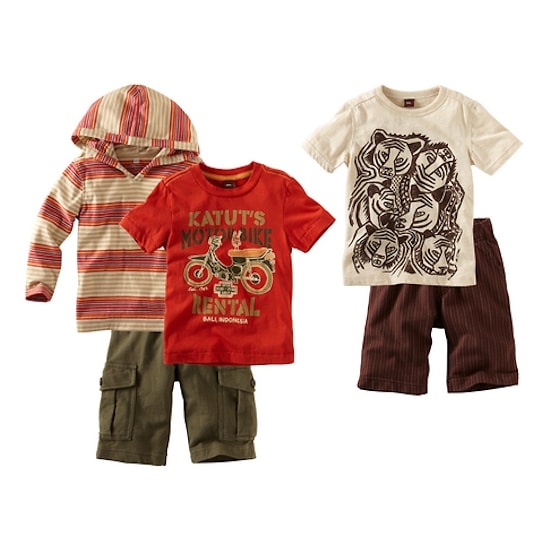 As with the fall collection, I love the earthy colors used in the Bali clothing. The Tiger Jungle set features my favorite orangey-red, shades of olive green and chocolatey brown. The set includes two t-shirts, a lightweight hoodie and two pairs of knit shorts that fall just below the knee. I knew my son would want to try on the Motorbike Tee first–he has a longstanding fascination with them, and thanks to Daddy's British influence, he does use the term "motorbike".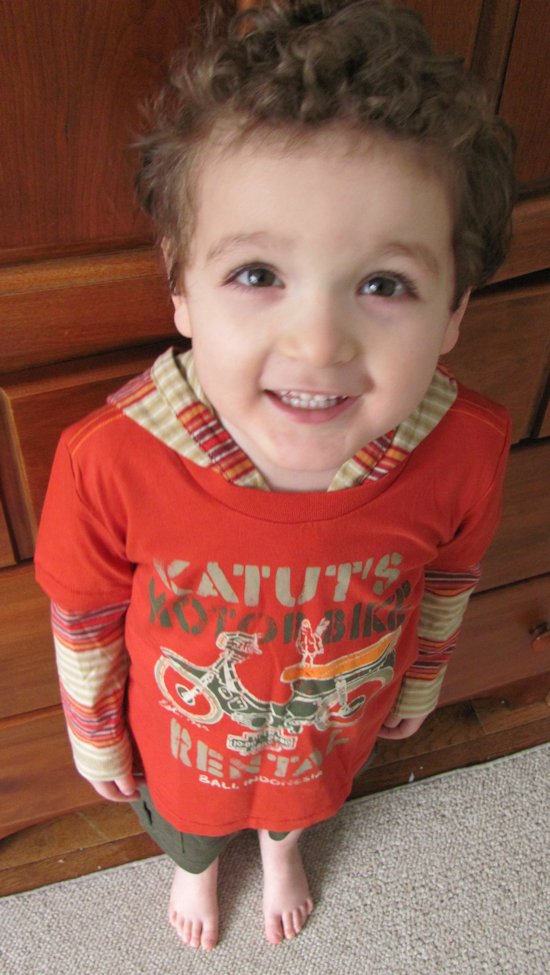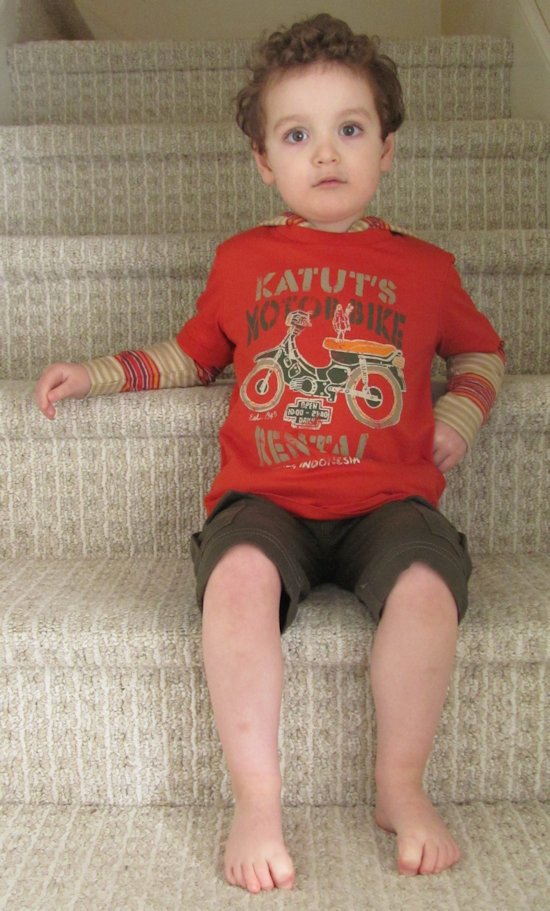 He wasn't as keen on the Tiger Jungle Tee at first–"tigers are scary". Once we talked through that, he loved his comfortable outfit, and it looked so cute on him.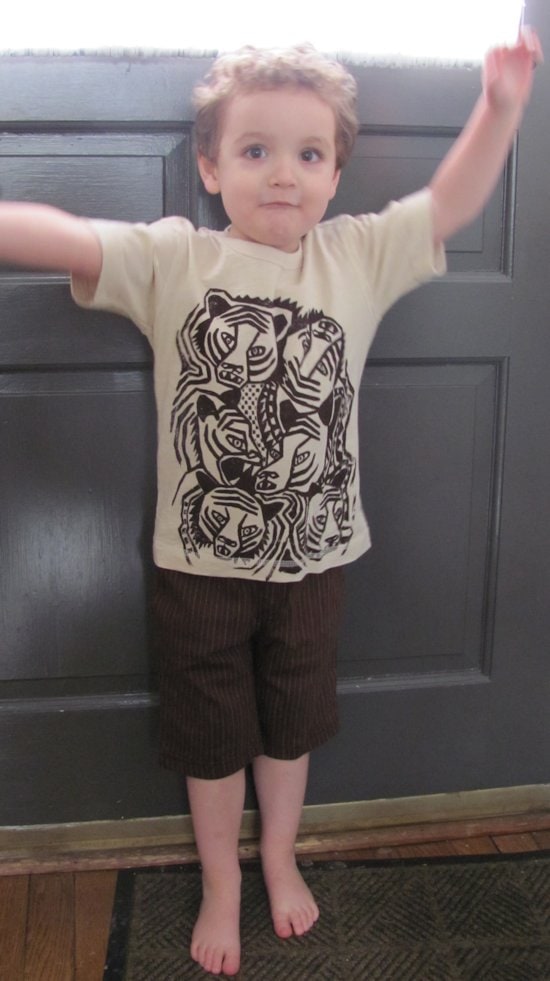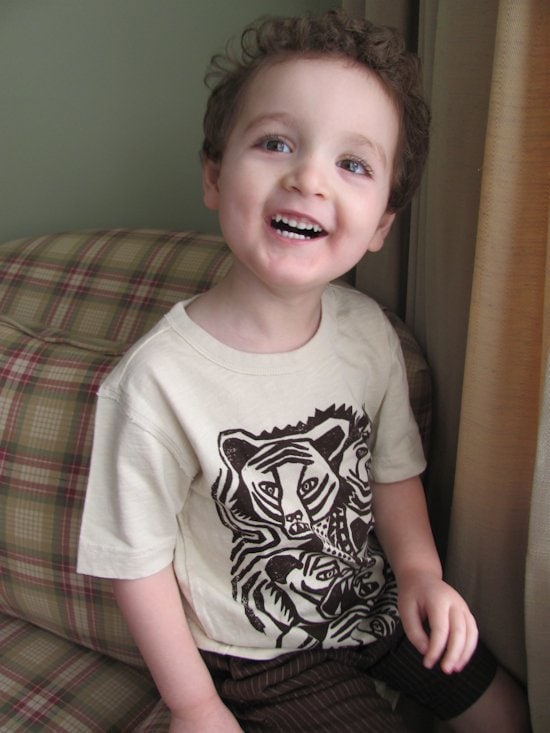 I was once again very pleased the quality of the materials and the craftsmanship of the pieces I received. All of the items were soft and comfortable for my son and I was happy to find that all of the shirts were tagless. I was unsure about the shorts when I ordered them since they have an elastic waist rather than an adjustable waistband, and my son (though he has some baby pudge) is rather tall and lean. Both pairs of shorts fit perfectly–the waists were small enough for him, but stretchy enough that they will allow him to grow. The knit material is a nice change from the stiff cotton weaves or denim that I usually buy, and I'm sure they'll be much better to play in. I can't wait until we have some warmer weather so Mr. Boy can romp around in his stylish, comfortable new clothing.
I wrote last time about Tea's attention to detail, and that applies even to the shipping. Tucked into the box was a "Let's Go There" activity book that teaches interesting facts about Bali. Tea will post completed activity pages on their blog and even select a few budding artists to receive gift certificates. It was a nice added touch.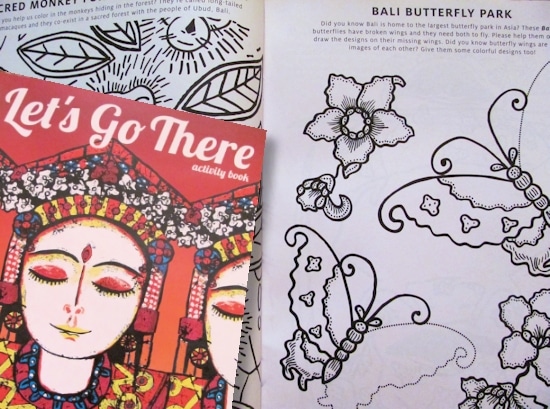 Tea has produced another delightful array of quality clothing that introduces us to the colorful island culture of Bali. I can't wait to see what they come up with next!
DISCLOSURE: This website is monetized with affiliate links. I earn a small percentage of the sales price when visitors make purchases through affiliate links. Thank you for your support!
Share this post