Survive winter with Carmex healing lotions and creams
| Updated:
Here in upstate New York we've experienced our first snow accumulations and even though the calendar doesn't say so, we've accepted that winter is here! It's tough spending about half the year with cold, gray weather, especially when there are so many factors that can make your skin feel dry and uncomfortable. There's the frigid, dry air, more frequent hand-washing to fend off colds and flu, forced air heat, and hot showers that you wish you could stay in all day. My hands in particular are awful during the winter–they get very dry and cracked, and I'm already starting to see that again.
I wrote previously about how Carmex can help keep your lips healthy, but did you know they make great lotions and creams for your skin, too? Over the years I've tried a variety of products with varying results. Now, as part of the Carmex Blog Squad, I can share how new Carmex skincare products work for my skin.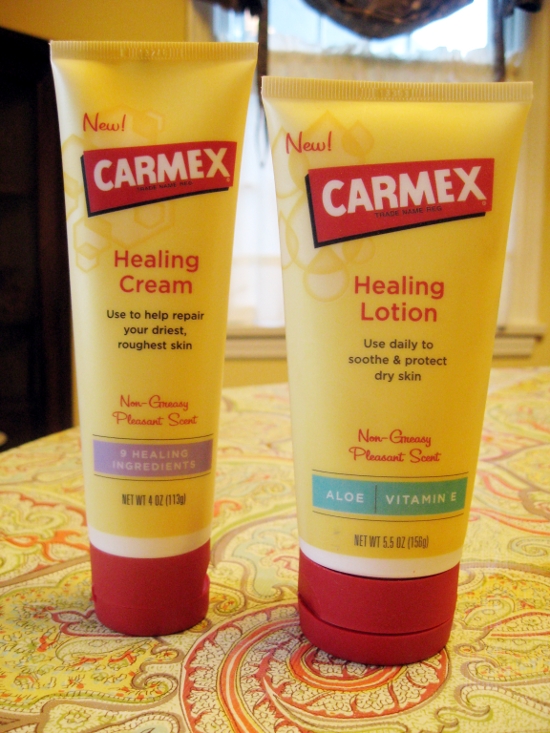 I received a gift package containing tubes of Carmex Healing Cream and Healing Lotion in full size that I can keep on my desk and travel size that I can throw in my purse. The Healing Lotion, which contains Aloe and Vitamin E, is intended for daily use to help protect skin and keep it from becoming too dry. The consistency seemed a bit thicker than other lotions I have tried in the past (and to me, that's usually an indication that it will work better). The Healing Cream is intended for more intensive care for especially dry areas like hands, feet, elbows and knees. It is thicker and more concentrated than the lotion and contains "9 healing ingredients". I've used it on my hands, and it helped immediately. The soft and nourished feeling had real staying power–it was at least a couple hours before I felt that I needed to reapply.
Both the cream and the lotion absorb quickly and leave a soft, but not greasy feeling as promised. I've always disliked lotions that take forever to rub in, and then leave me feeling like my hands are slippery because I've applied too much. As a busy mom, I don't have a lot of time to sit rubbing lotion into my hands, so I appreciate that Carmex products are a quick solution that works well. Both products have a pleasant fragrance that reminds me of baby powder with a hint of vanilla.
Carmex skincare products are definitely in line with the quality I expect from Carmex, and I liked these better than other similarly-priced products I have tried. You can buy Carmex skincare products at a variety of stores (check their website for a printable coupon). Carmex products are not tested on animals.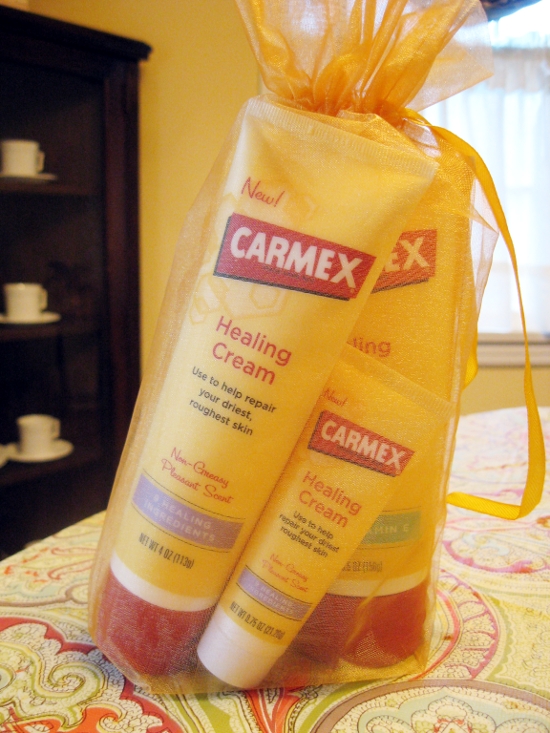 Win it!
Carmex has a gift pack just like the one I received for one lucky reader! You will win Healing Cream in 4 oz and 0.75 oz tubes, and the Healing Lotion in 5.5 oz and 1 oz tubes.
Use the Rafflecopter form below to enter (this may take some extra time to appear). If you are viewing this via email or an RSS reader, please click to my website to see the Rafflecopter form and enter. The contest will end on Saturday, December 3, 2011 at 12:01 a.m. ET.
UPDATE: The contest has ended. If you are visiting from Online Sweepstakes, I apologize for the confusion – apparently their system interprets "midnight" differently than I do. Since I have always understood the date to change at 12:00 a.m., midnight on Saturday, December 3rd has already come and gone. I will make sure to avoid this mix-up next time.
DISCLOSURE: This website is monetized with affiliate links. I earn a small percentage of the sales price when visitors make purchases through affiliate links. Thank you for your support!
Share this post