Support your local shops on Small Business Saturday
| Updated: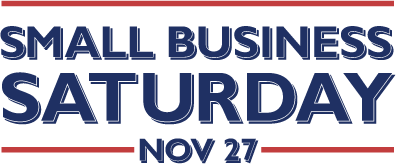 All we seem to hear about this time of year is Black Friday and Cyber Monday, when big box stores and giant websites pull out all the stops to encourage frenzied spending. While I rely on great deals as much as the next struggling family, I also know what it's like living in a place where there are very few "mom and pop" shops. It isn't pretty. That's why I was very interested when I heard about the "Small Business Saturday" movement, intended to encourage consumers to remember their local small businesses as they prepare for the holidays. My very first job was at a small business, a little shop that manufactured dancewear right on the premises and sold it all over the world. The retail and small business world fascinated me then, and it still does now.
Here are a few interesting facts from the official Small Business Saturday website:
"For every $100 spent at local small businesses, $68 returns to the community." -Civic Economics
"Small businesses employ half of all private sector employees." -Small Business Administration
"Small businesses represent 99.7% of all employer firms." -Small Business Administration
"For every year over the last decade, 60% to 80% of new jobs were generated by small businesses." -Small Business Administration
American Express is the main sponsor of this movement, and there might be something in it for you. If you are an American Express cardholder, you can receive a $25 credit on your statement if you shop at a small business on Small Business Saturday (click here to enroll)!
My mom and I love visiting various gift shops in our area that sell handmade and vintage items that you can't find just anywhere. It's fun hunting down unique gifts in old buildings with lots of character. I love the ways that different shopkeepers add their own personal touches to their spaces.
I value the wonderful little shops in my area where I can see and test products first-hand and have my questions answered by sales staff. Sometimes it costs a little bit more to shop locally, but I consider it an investment in my community. We all lose out if our small businesses go under! I hope you will join me in supporting local small businesses this holiday season and year-round!
DISCLOSURE (what's this?): I am not affiliated with the Small Business Saturday movement in any way. This post was my idea!
DISCLOSURE: This website is monetized with affiliate links. I earn a small percentage of the sales price when visitors make purchases through affiliate links. Thank you for your support!
Share this post