Couscous Tabbouleh Salad Recipe
| Updated:
Do you want to make tabbouleh, but can't find bulgur wheat in your grocery store? No worries! You can substitute couscous for bulgur in tabbouleh, and it will still taste delicious.
My grandmother used to make tabouleh, and I liked it from a very young age. It's a nice refreshing salad-type dish that originated in the Middle East.
I had been wanting to make the recipe for years, but one thing stood in my way: I couldn't find one of the main ingredients, bulgur wheat, anywhere!
Bulgur wheat isn't terribly exotic, and most people should be able to find it in their grocery stores (near the rice, usually). I'm sure I wouldn't have to drive far to find it myself, but since I have a one-year-old to take care of, I'm all about convenience (and thrift).
I realized while eating couscous one day, that it had similar texture to bulgur, and that couscous would probably work out great as a substitute for bulgur wheat! I don't like couscous much on its own, but I knew that mixed in with all the wonderful fresh flavors in tabouleh, it could be delicious.
I looked around to see if anyone else had made tabouleh with couscous, and I wasn't disappointed. The simplest, easiest recipe I came across was Basic Tabouleh Salad from Berry Bundle. It is so so easy to make, and tastes fabulous.
I served it on the side with salmon burgers for dinner last night. Tabbouleh tastes even better after chilling in the refrigerator, so you may want to make it in advance.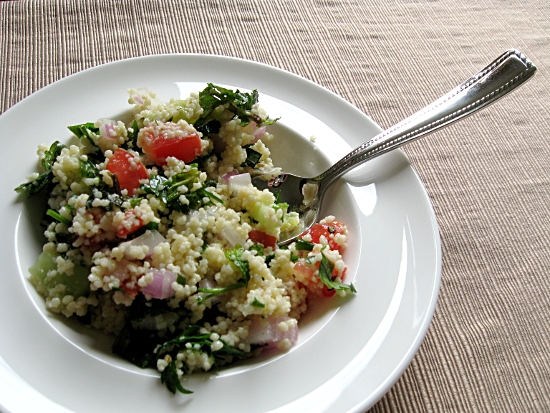 Mary from Berry Bundle graciously allowed me to copy and share her recipe, so here it is:

Couscous Tabbouleh Salad
Author:
Berry Bundle Blog
Recipe type:
Vegan, Sides, Salads
Ingredients
1 cup dry cous-cous (preferably whole wheat)
Approx. 1 to 1½ cups packed fresh parsley leaves (this ends up being about one of those standard-sized bunches you find at most grocery stores; it can be the curly or flat variety)
Approx. ½ cup packed fresh mint leaves (again, about one of the bunches you find at the grocery store)
1 clove garlic, minced
2 tomatoes, chopped
1 small to medium sized cucumber, chopped
3 T olive oil
3 T lemon juice
1 tsp sea salt, or more to taste (Note: I used Kosher salt, because that's what I had on hand)
1 tsp freshly ground black pepper, or more to taste
and I also added:
1 red onion, chopped
Instructions
Place cous-cous in a bowl. Bring one cup of hot water to a boil, then pour it over the cous-cous; cover and let stand for about ten minutes. Fluff with a fork.
In a small bowl, combine lemon juice, olive oil, salt, garlic and ground black pepper.
Mix parsley and mint in a food processor until finely chopped. If you don't have a food processor, just get out your chef's knife and have at it.
Combine all ingredients in a large bowl.
Notes
Tabouleh may be served cool or at room temperature. The flavor will improve if you let it stand for awhile.
DISCLOSURE: This website is monetized with affiliate links. I earn a small percentage of the sales price when visitors make purchases through affiliate links. Thank you for your support!
Share this post