When it comes to Philips Avent bottles, it seems moms either love them or hate them. I read lots of Avent bottle reviews before deciding to use them for my son, and one of the most frequently cited problems was leakage. After careful consideration, I chose to use Avent bottles despite the potential problems. I was very surprised one day when a bottle did leak, and it was every bit as bad as the reviewers made it out to be! My son's peaceful bottle feeding was interrupted as he was absolutely doused in formula pouring out the special air vent. I had purchased eight rather pricey bottles and was dismayed that I may have wasted my money. Between the money I spent and the fact that I really did like the bottles for a variety of reasons, I decided to search for a solution instead of tossing them out.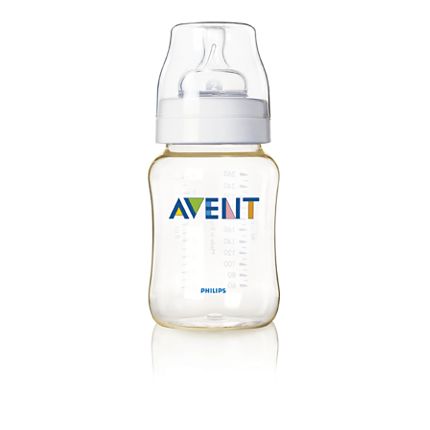 It seems that Avent bottles have a "sweet spot" that you have to hit when screwing the nipples on.  While some people seem to instinctively tighten just enough, I wasn't so lucky most of the time.  I found all sorts of solutions online, including one highly technical assembly guide written by a dad who had thoroughly examined the air vent system. In the end, the fix turned out to be relatively simple: use the cap!
Make sure you follow the instructions when assembling your Avent bottles. Both the nipple (or teat) and ring should be wet before they are fastened together to ensure an airtight seal. I usually reassemble the rings and nipples together after washing them so they're ready to go when I need them.  Next, pop the clear plastic cap onto the nipple ring. To screw the nipple onto the bottle, make sure you hold it and turn it by the cap only! As soon as the cap turns independently of the ring, the assembly is tight enough. Simple, right? I was delighted to find this solution, and it has worked the vast majority of the time for me. On the rare occasion that a bottle does still leak, completely unscrewing the cap and refastening using the guidelines I just listed will do the trick. To further prevent leaks, it is best to avoid mixing formula in the bottle. It can certainly be done (and in fact I do it much of the time), but small amounts of formula may splash out. If you do choose to mix formula in the bottle, just wrap a cloth around it as you're shaking.
Until you get the hang of it, you may want to test the bottles prior to feeding them to your baby.  Hold the filled bottle upside down for a few seconds, and then turn it right side up.  A properly sealed bottle will not leak.  Another indication that your Avent bottle is sealed properly will be tiny air bubbles appearing (and making a quiet "buzzing" sound) on the surface of the liquid near the nipple ring as you feed your baby; this indicates that the "Air Flex" system is working as it should.
Despite the somewhat quirky vent solution, I am still a big fan of Avent bottles.  I think the simple design really does work, and unlike Dr. Brown bottles, there aren't tiny parts to keep clean.  Perhaps an improved ring design and/or clearer instructions could help more moms avoid the pitfalls of this otherwise great bottle. I hope this solution works for you!