Sponsored product review: SeaPak Shrimp Scampi
| Updated:
A representative for Rich Products Corporation recently contacted me to see if I would be interested in reviewing some of their brands. I was more than happy to oblige! This is the first of three posts in a series.
I love seafood, but I tend to avoid buying any at the grocery store because it kind of intimidates me. I just don't have that much experience preparing fish or shrimp, so I always worry about cooking it too little or too much. My husband can do amazing things with fresh fish, but I am more inclined to buy the frozen stuff with easy instructions on the box. I have usually been very underwhelmed by such frozen products, and they're not something I necessarily look forward to eating.
In any case, I was happy to have the opportunity to review a frozen seafood brand that I had never tried before. I was familiar with SeaPak, but had never purchased any of their products. Although shrimp is their mainstay, they also make frozen fish products such as Popcorn Fish or Ahi Tuna Steaks, and other seafood offerings like Maryland Style Crab Cakes. My grocery store carried only shrimp products, but that was fine with me–shrimp is my favorite. After much deliberation I decided to go with the Shrimp Scampi, which was on sale for $4.99 (regular $5.99).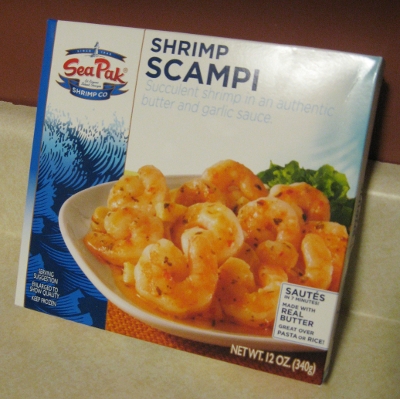 My husband will tolerate shrimp, but it's not his favorite thing to eat. He prefers it hidden among other flavorful ingredients. There was a pasta recipe right on the back of the box that looked great, but since we had pasta the night before I wanted something a little different. I decided to try a pizza. I bought a roll-out pizza crust, some fresh broccoli, artichoke hearts and mozzarella cheese for additional toppings.
The box says that it contains 2 to 3 servings. Unlike other frozen products I have tried, the serving size seemed very adequate. The shrimp were fairly large, and there would be plenty to divide between two people. The frozen shrimp are completely coated in butter and herbs. All I needed to do was heat up my pan, open the package and empty the shrimp into the pan to saute for 7 to 8 minutes. It was really very fool-proof.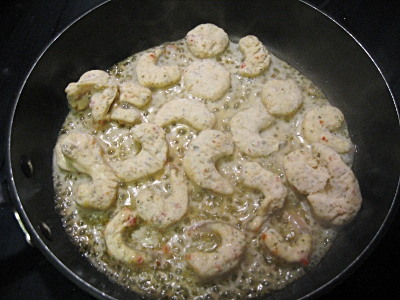 The butter melts quickly and creates a nice sauce. After the shrimp had been cooking for about 5 minutes, I added in my fresh broccoli.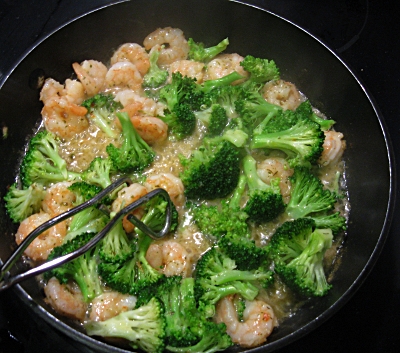 I rolled out my pizza dough and topped it with the shrimp and broccoli mixture (including the buttery sauce), then added the artichoke hearts and cheese. I skimped on the cheese because I didn't want the pizza to be too greasy (or unhealthy).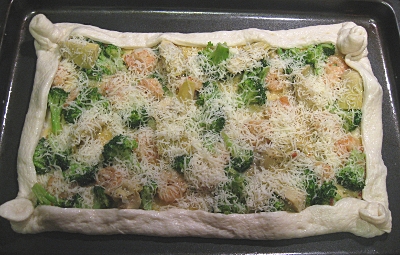 I baked the pizza according to the instructions on the pizza crust package and the end result came out great. Not only did my husband eat his shrimp pizza, he wanted seconds!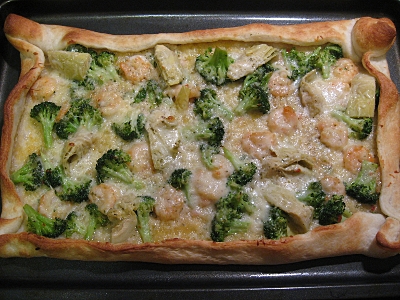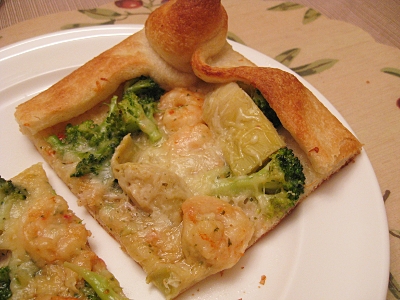 The SeaPak Shrimp Scampi was truly delicious. Each piece was fully peeled and deveined. It had a great texture and a fresh taste. I felt that it was definitely a high quality frozen product and worth the price.
You can find SeaPak products at most major grocery retailers and they occasionally offer coupons. At my store they are located in the seafood department, not in the frozen food section where you would find fish sticks and the like. If you love seafood but don't want the hassle, then definitely give SeaPak a try!
DISCLOSURE (what's this?): Rich Products provided me a coupon to receive a Seapak product free of charge in order to facilitate my review. I was not compensated in any other way, and the opinions expressed in this article are my own. Thank you, Rich Products!
DISCLOSURE: This website is monetized with affiliate links. I earn a small percentage of the sales price when visitors make purchases through affiliate links. Thank you for your support!
Share this post